Ethereum (ETH) has run into a key resistance against Bitcoin (BTC). We may now be looking at the beginning of a major downtrend in the altcoin market as the buying frenzy has come to an end. Investors have become more risk averse as economic situation worsens worldwide. Stock markets across the globe are in panic over the growing uncertainty due to the Coronavirus outbreak as well as developments in US politics. This could be the catalyst that brings about the next major decline in the stock market and the commodities market. This is also why I think we could see 2014 repeat not only in the stock and commodities markets but also in the cryptocurrency market.

When Ethereum (ETH) was rallying against Bitcoin (BTC), I expected the pair to test the 200-day moving average before the next potential decline but we can see on the daily chart that ETH/BTC just pierced through that 200 MA and has since been surging higher without any significant retracements along the way. This is not a healthy development in any market because rallies like these almost always lead to a major correction sooner or later. In the case of ETH/BTC, we have now seen a clear rejection at an important trend line resistance which means that we can now expect the beginning of the next downtrend from current levels at least down to the 200-day moving average.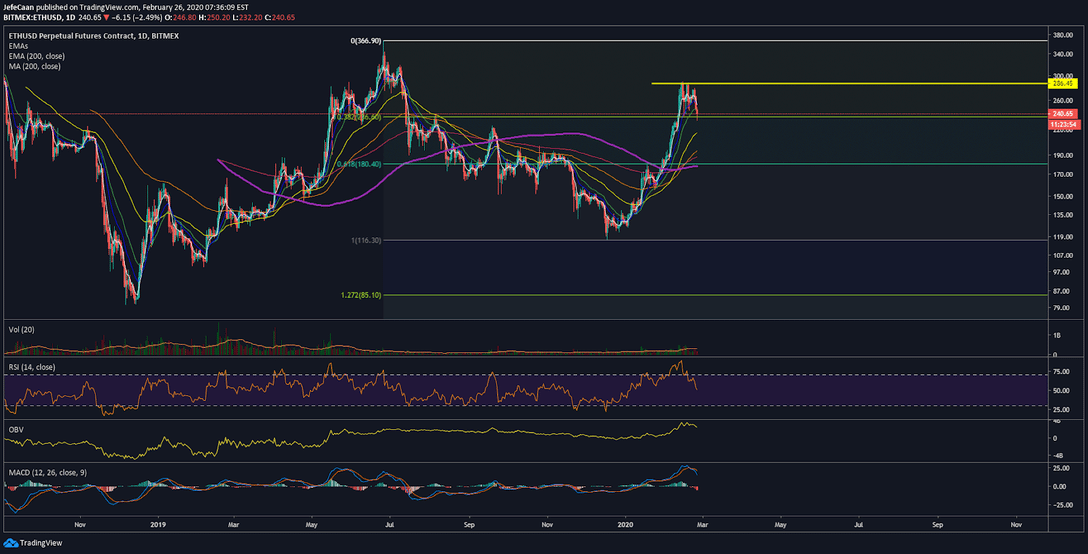 The daily chart for ETH/USD shows how the price has now declined down to the 38.2% fib level. If it breaks below that level, then we would expect a decline down to the 61.8% fib level which also happens to coincide with the 200-day moving average. This would be the perfect level to expect Ethereum (ETH) to find some sort of a short-term support. That may also be a good point to consider some short-term bullish positions.
At the moment, the outlook remains bearish. ETH/USD seems to be in no position to rally higher from here. We already saw it invalidate the ascending triangle and it is now clear that the market makers and whales are running out of options to keep the retail bulls excited about a rally to the moon. As uncertainty grows and people get more concerned about the Coronavirus, they are going to be more concerned about how they are going to go to work and keep their jobs rather than thinking about the next all-time high in Ethereum (ETH). I think it is high time to recognize ground realities and accept that people are very unlikely to be thinking about Ethereum (ETH) or other cryptocurrencies when stock markets are crashing and businesses and employees worldwide are struggling.