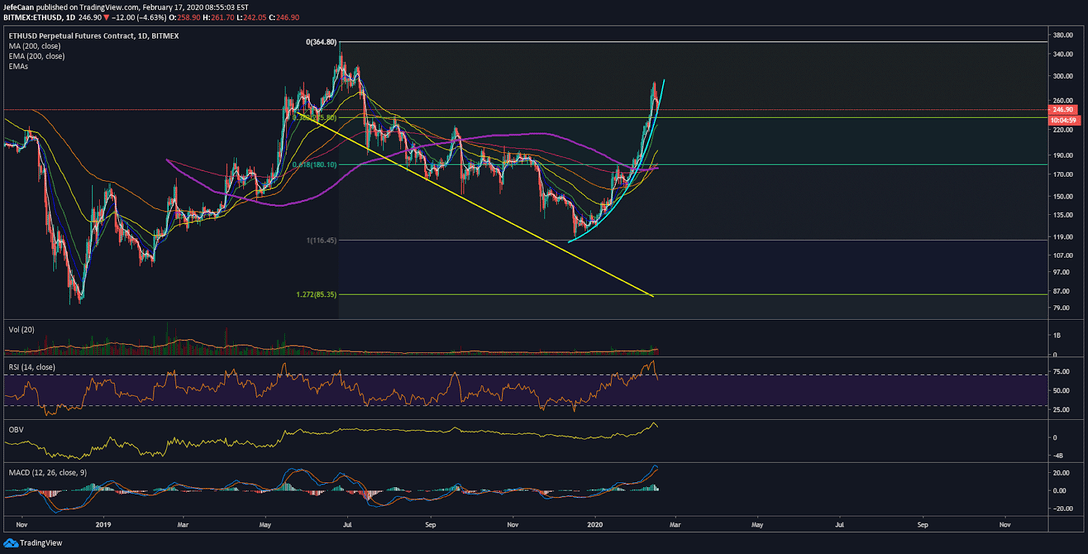 Ethereum (ETH) has crashed hard these past 48 hours. It could crash even further in the next few days. However, it is likely to find some sort of support on the 38.2% fb retracement level and rally one more time before the next downtrend kicks in. The parabolic uptrend that we see on the daily chart for ETH/USD has yet to be broken despite the recent pullback. This means that we could see Ethereum (ETH) rise towards $300 in the near future as unlikely as it may seem. Big moves like these in a market are never to be trusted because there is always a strong motive behind them.

There are two types of motives at play here. The first is profiteering. The big players want to cash out and take retail money while they do so. There were plenty of long positions liquidated today and yesterday and there may be further liquidations in the near future. However, they are not going to push this so far and that brings us to the second motive which is to get people used to such strong pullbacks. Why? So, traders don't panic when they do this again when the price actually tops out and begins a major downtrend. There is also a third motive and that is to get a lot of bears excited so they can be shaken out on the way up.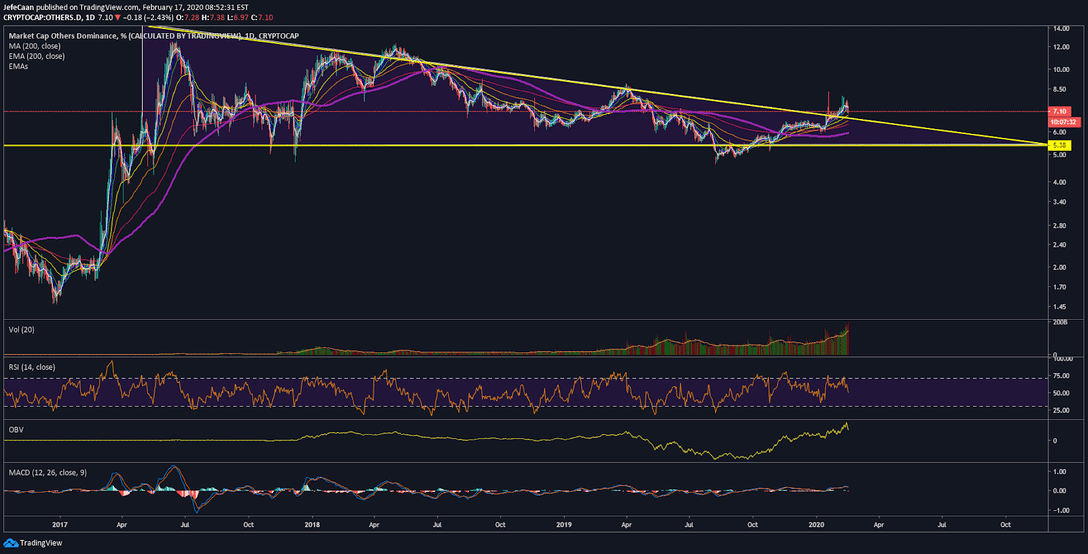 Technical analysis is important because for most of us that is the only reliable way to ascertain what is going on and what could happen next. However, this does not have to be the only way. There are tools and resources now that can help us track movements of the whales and if we can get behind them on time, we can end up making very profitable trades. At Crypto Daily we are very close to making some of these tools live for our readers and subscribers in the weeks ahead.
The daily chart for Altcoin dominance (Others.D) shows that the descending triangle has been broken to the upside but the uptrend is still intact. This means that we may yet see another rally in the altcoin market before the next major downtrend. I would like to reiterate that the next downtrend in the altcoin market is going to be extremely devastating and unlike anything that we have seen before. It is therefore important to approach all bullish positions with extreme caution as the market may be just one potential rally away from the next major downtrend.