Ethereum (ETH) has just run into resistance at the 61.8% fib retracement level against Bitcoin (BTC). On the ETH/USD front it is still surging higher but it appears to have hit the wall against Bitcoin (BTC). We can also observe on the daily chart for ETH/BTC that the pair has run into a strong trend line resistance. The manner in which the pair has been pumping recently is obviously a sign of manipulation but there's more to it. This is also a sign of desperation. There is a reason the big players in this market are in such haste; they are running out of time to trap in retail traders because the stock market is ready to begin its next downtrend and they want to pull their money out of the market before that happens.

The upcoming halving has provided them the perfect opportunity to prey on retail traders but they have to get as many of them excited as they can by printing large green candles. However, they also have to be careful not to let too many people get on the other side of the trade at good prices. Most professional traders in this market that have even a year or two of experience in other financial markets can tell what is really going on here and what might happen next. There is a reason why financial giants like Goldman Sachs and Morgan Stanley want nothing to do with cryptocurrencies. They know where it is headed. They are never late to the party regardless of what your favorite crypto shiller or group leader might have you believe.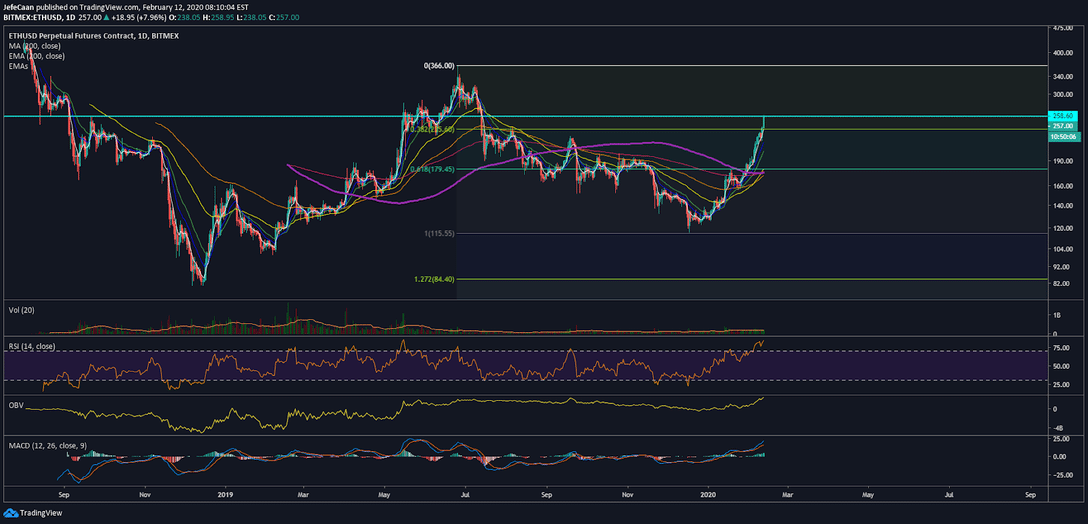 The daily chart for Ethereum (ETH) shows that the price now at a decision point. A weekly close above $258 will be bullish for ETH/USD whereas a close below might lead to further downside. In our yesterday's analysis we explained how ETH/USD may still have room to rally as the 38.2% fib retracement level around $235 had not been tested. It has finally been tested now and this is a point where we would want to look for bearish entries.
It is important to note that regardless of where we see the market headed next, it is extremely unwise to get in front of these pumps. The people that control this market are perfectly capable of printing more of such pumps. Their only concern is that if they pump it high enough, the big guys on Wall Street will jump in to short the market and they don't want to be paying to them because they know they can't. There is not enough retail interest to make that happen. All that we are seeing now is just temporary pumps to excite the average retail trader but the big players playing these games are smart enough to know their limits. Unfortunately, for the average retail trader, it is going to end in tears when the big players dump their coins on them crushing their halving dream just as they did last year with Bakkt.