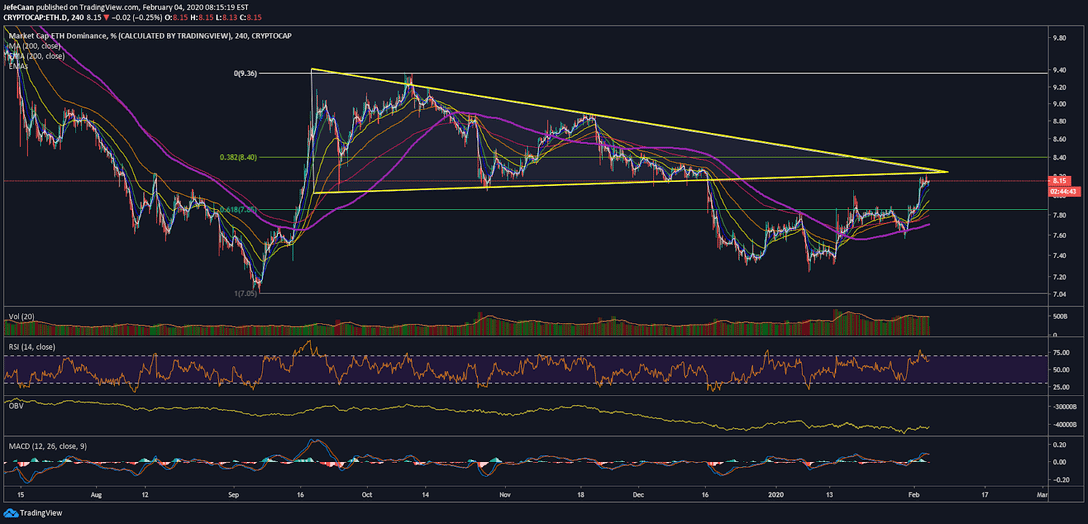 Ethereum (ETH) dominance broke out of a key symmetrical triangle to begin a strong downtrend. However, in mid-January we saw it attempt to rally higher and so it embarked upon an uptrend. Now, we have finally seen it reach a decision point. The 4H chart for Ethereum Dominance (ETH.D) shows that it has run into the trend line support turned resistance that it previously broke below. This is an important decision point for Ethereum (ETH) and it will determine which way the cryptocurrency swings in the weeks and months ahead. It will also determine the outlook of the altcoin market for the foreseeable future. As of now, the probability of Ethereum dominance breaking this key resistance is very low.

The past few weeks have been bullish for Ethereum dominance. We saw something similar in September, 2019 but it did not last for long. As we saw in the months after, Ethereum dominance started to decline again. We have yet to see it take out the September, 2019 lows but if it faces rejection this time and heads lower, that is exactly what we would expect it to do. Even if the altcoin market falls harder compared to Bitcoin, most retail traders would assume that it is happening because people want to take their money out of other coins and put it into Bitcoin to profit off the potential halving rally. This therefore gives the whales a perfect alibi to do what they want with the altcoin market for now. They might even do it to encourage the exodus to Bitcoin because it is easier for them to manipulate Bitcoin which is what they would need to do a lot in the weeks and months ahead.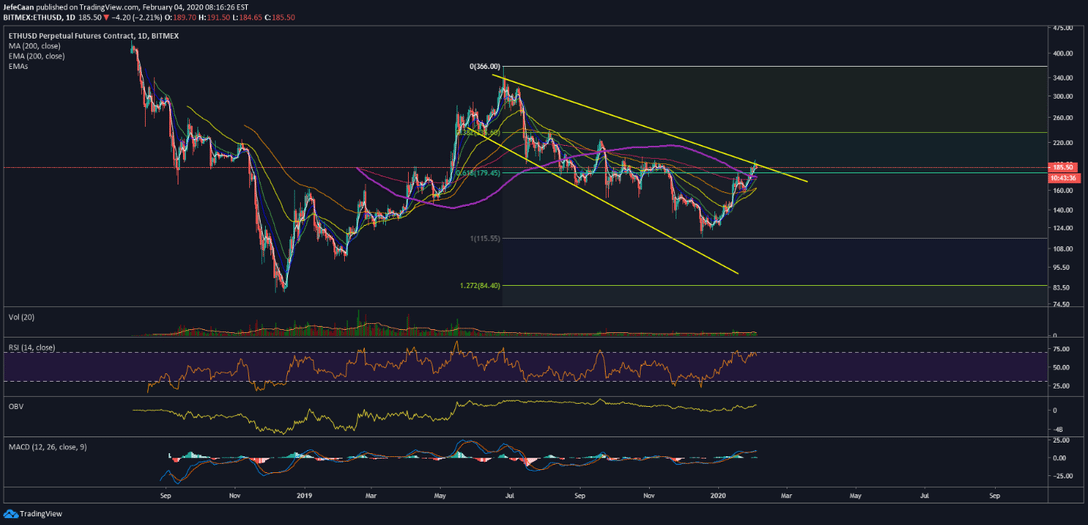 Ethereum (ETH) is preparing to begin its downtrend within the descending broadening wedge that it has been trading in. We need to wait and see a break below the 200-day moving average for confirmation. So far, the price remains above the 61.8% fib level but we can see how the next decline might look like. It might be far more devastating than what we have seen before and the price would end up testing the December, 2018 lows before the end of the year.
This is going to be an important year for most financial markets. Events leading to the US election would be expecting to create a lot of volatility in the stock market and therefore in the cryptocurrency market. In my opinion, the outcome of the upcoming election might determine whether the correction turns into a crash or not, but I think we will see correction regardless of who gets elected. This correction is likely to see ETH/USD decline below the previous low of $80 to $56 or lower towards the end of this bear market.