Ethereum (ETH) correction seems to be finally over for now as the price is now trading above a key trend line support. However, as long as it remains below the 200-moving average on the 1H chart, there is the risk of a decline to the 38.2% fib level once again. That being said, the recent move seems to have paved the way for an ascending triangle to come to completion. If the price starts to go up from here, we could soon see the beginning of the next uptrend that could propel ETH/USD towards $300 and potentially higher than that in the weeks ahead. Halving FOMO is still strong despite the recent crash and the big players are going to do everything they can to capitalize on that.

In our yesterday's analysis, we talked about ETH/USD declining down to the trend line support. We expected it to happen more gradually over the weekend but instead it happened quite aggressively in just a matter of minutes. In my opinion, this is even more bullish for Ethereum (ETH) short-term because the market makers and the whales did not want it to get out of hand. They wanted the correction over and done with so the next uptrend could begin. It should also be quite clear to us at this point that this is the kind of manipulation in the market that we keep on talking about. It could be to the upside or to the downside but it is manipulation nonetheless. As long as this goes on, investors from traditional markets are not going to take this market seriously.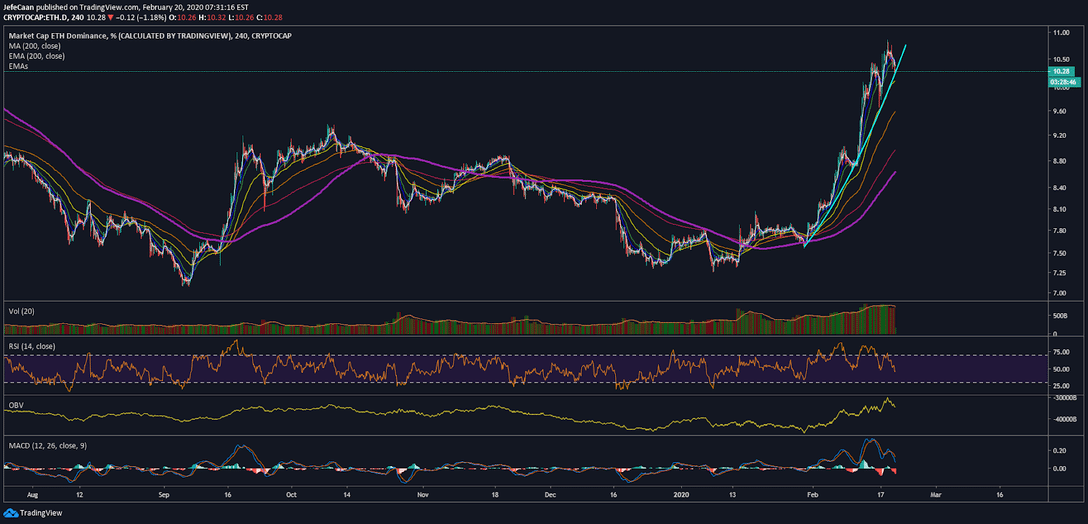 Now that we have discussed how ETH/USD could shoot towards $300 in the near future, let us talk about the risks. We can see on the 4H chart for Ethereum Dominance (ETH.D) that it has been in a parabolic uptrend. Now, it is true that this uptrend has not been broken yet but we have to realize that at some point it will be broken, most likely before halving.
When Ethereum (ETH) dominance breaks this uptrend, we would see the beginning of a major downtrend not only in Ethereum (ETH) but the rest of the altcoin market. This is why it is important to realize that this is all a part of a major bull trap. There is nothing long term bullish about a pump like this which is far from sustainable. However, at the same time we also need to acknowledge that as long as there are retail bulls who would board the FOMO train, it will keep going till it gets overloaded and skids off the tracks.