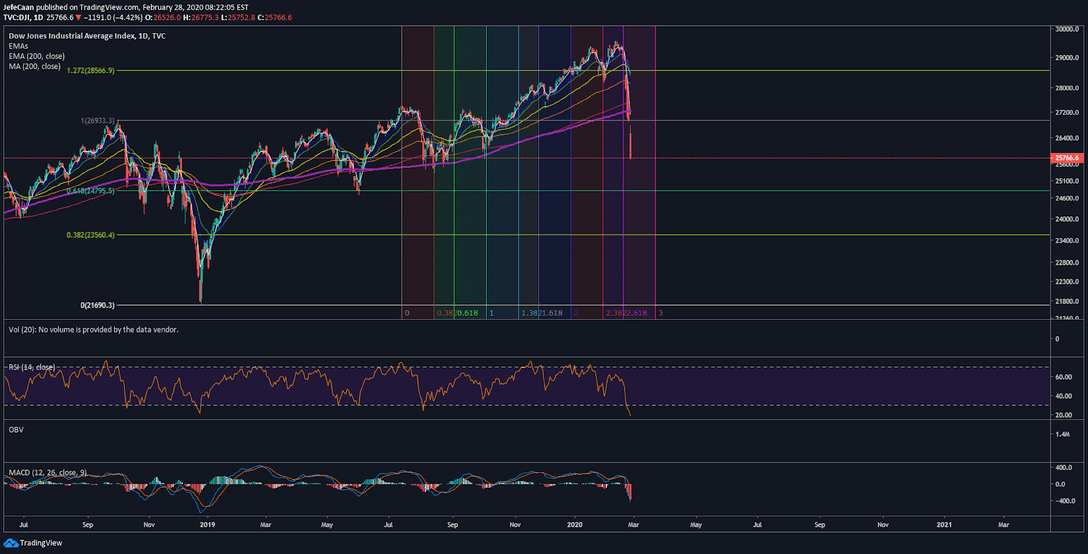 The stock market is in serious trouble with the Dow Jones (DJI) declining by 1,200 points in one day, the biggest ever such decline in history. This is a reaction to rising concerns over the outbreak of Coronavirus and its impact on global businesses and markets. The cryptocurrency market also saw a reaction to the previous decline and it crashed hard below $9k but we have yet to see a reaction to the recent crash. Bitcoin (BTC) has now declined down to $8,432 and has filled the CME Futures gap on the last trading day of the week and the month.

Bitcoin CME Futures also expire today and with this gap being filled, there is the possibility of a temporary relief rally in the near future. However, it is important to realize that as sell pressure mounts up in other markets, BTC/USD may not be able to hold its ground. After all, this is not a one-time event. This is a growing development that we have here and the Coronavirus situation is getting worse, not better. The outbreak has now taken the shape of a pandemic. Previously, it was only confined to China and it was being hoped that this is just an epidemic and will be contained but now with its spread outside of Asia, that is certainly not the case.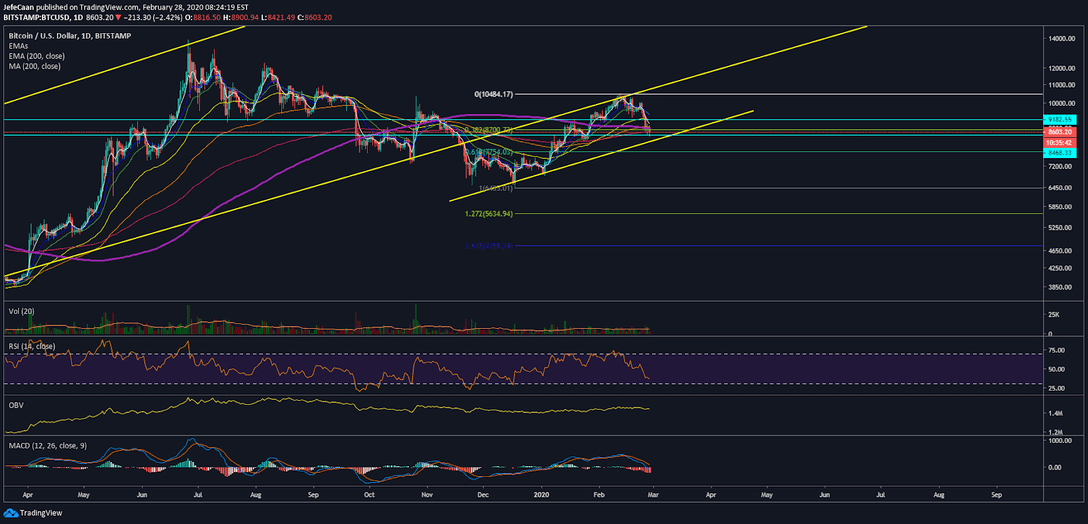 The daily chart for BTC/USD shows that Bitcoin (BTC) was not in a good shape even before the Coronavirus situation. The price had declined below an important trend line support which has now become an important resistance that the price has already faced a rejection at. The most probable scenario now is another decline below the existing trend line support which would see the price begin a major downtrend.
We have previously mentioned that BTC/USD might decline to $1k in 2021. However, with the growing threat of Coronavirus and its impact on businesses especially in China, things could get worse a lot sooner than anticipated for the cryptocurrency market. Most miners are still based in China and with the situation in China worsening by the day, people are not allowed to leave homes and work. This would have serious implications for Bitcoin (BTC) and the rest of the cryptocurrency market. This is why I think Bitcoin (BTC) is likely to be the most affected if the Coronavirus outbreak worsens and we could easily see the price decline down to the 200-week moving average in a matter of weeks if the market continues to decline like this.