Bitcoin (BTC) is running out of time to sustain its bullish momentum. It has declined close to 2% for the day but it is likely to trade sideways for a while. The game plan seems to be the whales and market makers encouraging retail traders to go for altcoins, not Bitcoin (BTC). They want them to bag their favorite altcoins just before the beginning of a major downtrend. The daily chart for BTC/USD shows that Bitcoin (BTC) is running out of room and will soon have to begin the next downtrend. The fib time zone shows the price breaking past the 61.8% level and is now on the verge of breaking out of the rising wedge that it has been trading in since the beginning of the year.

It is important to realize that this is a time where everyone from retail traders to crypto fund managers are bullish on the market but certain things are not the same as before. First of all, there is no real trading volume. Most of it is driven by the whales that keep pumping the price up with large buy orders. If there was real interest in the market that could push BTC/USD to a new all-time high at this stage, we would not see the big players in this market act so desperately. In addition to that, the stock market remains very vulnerable and could begin a major downtrend anytime soon dragging Bitcoin and the rest of the market down with it. The establishment and Wall Street is increasingly concerned about the growing popularity of Bernie Sanders and his success. This coupled with the Coronavirus situation is shaping up to be a major catalyst that could bring the market down.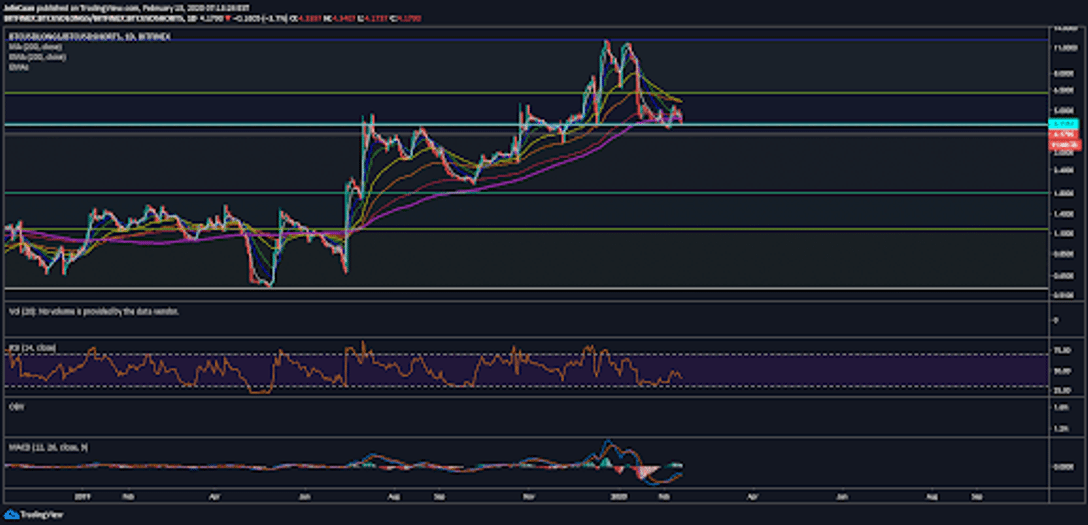 Bitcoin's own technical indicators also indicate a major downtrend as inevitable considering the manner in which the price has surged. Even during the parabolic run up of 2016-17 we saw how BTC/USD declined by 30-40 % during most parabolic rallies as it kept surging higher. So, even under the bullish case, we cane expect a similar retracement in the market in the near future. The daily chart for BTCUSDLongs/BTCUSDShorts shows how the market might be on the verge of a major downtrend as Longs appear all set to decline against Shorts.
The formation that we see on this chart now could soon shape up to be a Head and Shoulders formation. That would be in line with our expectations because we expect a major stop hunt below $10k. At the moment, the market makers and the whales are printing sharp retracements followed by pumps to make retail traders accustomed to sharp declines so they won't panic as much when the big crash kicks in. Unfortunately, this will only hurt the average trader as always as most would be liquidated or left holding the bags when the market begins the next inevitable downtrend in the not so distant future.