Bitcoin has been struggling to break past the 38.2% fib retracement level for the past two days. It has finally succeeded and the price is trading above $9.7k now but can it really stay there for long? In my opinion, it is quite simple and comes down to how BTC/USD reacts around the 38.2% fib level around $9,679. Bitcoin has been increasingly printing similar fractals and if that is the case this time then we might be seeing a pattern from mid-February repeat again. For the price to decline further, it will have to close below the 38.2% fib level on the 1H chart and at least face one rejection there. After that when the MACD sees a bearish crossover, we will have confirmation that Bitcoin is going to fall further.

So far, Bitcoin does not seem to have the strength to rally further. It appears that the price is now more likely to test the 200-moving average once again on the 4H time frame. This has happened before during the last parabolic uptrend. We saw the price decline to test the 200-moving average once again before it started to shoot up and complete the move. That being said, it is important to realize that we are talking about the 200-moving average on the 4H time frame not the 1D time frame. I do not see the price declining that low. That would mean breaking the bullish momentum that we still have here. It is not in the interest of the whales and the market makers to let that happen just yet. They want to keep the sentiment optimistic before halving.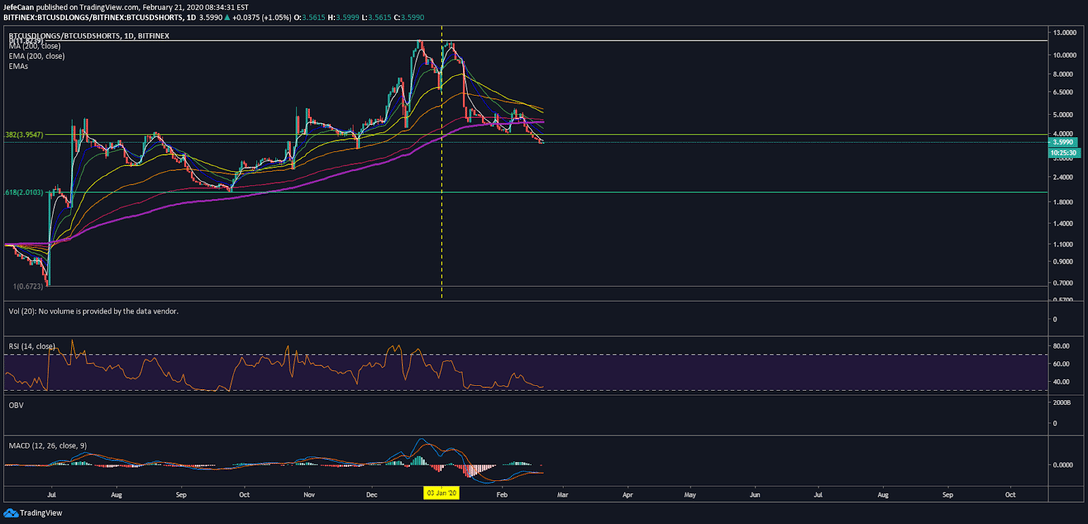 The daily chart for BTCUSDLongs/BTCUSDShorts shows us what could happen if this chart plays out symmetrically which it rarely does. In case it does, it would be a doomsday scenario for the bulls because we would see the reversal of the trend that started in April, 2019. This means that the pattern would change from people trying to long the market to people looking to short the market. Something like that would only happen when we have seen enough blood in the market which we will.
I have mentioned this before as well that the Bitcoin bubble has not popped yet. The next downtrend is going to be devastating. However, it is not going to happen when everyone is expecting it. Far too many people are waiting for Bitcoin (BTC) to decline down to $9k and $8.5k at the moment which means they are out of the market and waiting. The lowest I see it declining would be to the 200-moving average on the 4H time frame again with a wick potentially lower. After that it is likely to rally towards $11.7k and it will make all these traders waiting for $8.5k FOMO once again.