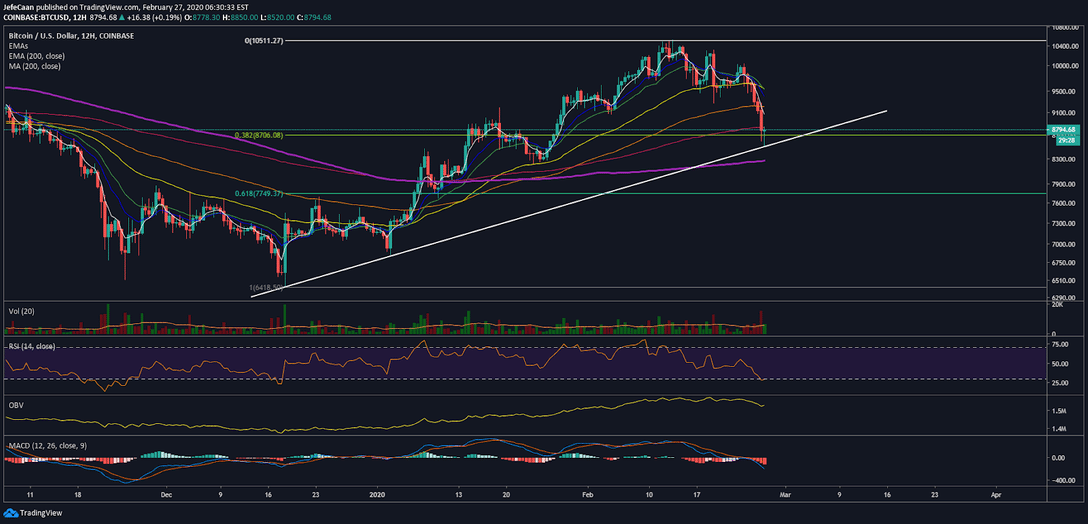 Bitcoin (BTC) is unlikely to hold the current trend line support. After yesterday's close above the 200-day moving average, retail traders rushed in to buy their favorite coins giving the market makers and the whales another opportunity to pull the price lower. The 38.2% fib level that is currently holding the price is unlikely to do that for long. We are more likely to see a decline down to the trend line support in the hours to come and I don't think it is going to hold. The bulls have clearly lost momentum and BTC/USD is struggling to break past the 200 EMA on the 12H chart. The next decline could be to the 200 MA but I would not be surprised if the price crashes below it.

At the moment, there is still a lot of fear in the market and if things were different, we would be looking to enter long positions as contrarians but the fear is different this time. Investors on Wall Street are very concerned about the Coronavirus outbreak and its impact on the market. That coupled with Bernie Sander's success in the primaries is another factor leading to uncertainty in the stock market. As we saw the S&P 500 (SPX) decline below the 50-day EMA, the cryptocurrency market declined as well. There is a strong correlation between the two which I have been discussing for more than a year now. There are still a lot of traders and analysts that flat out deny any correlation without taking the time to compare both charts and see it for themselves.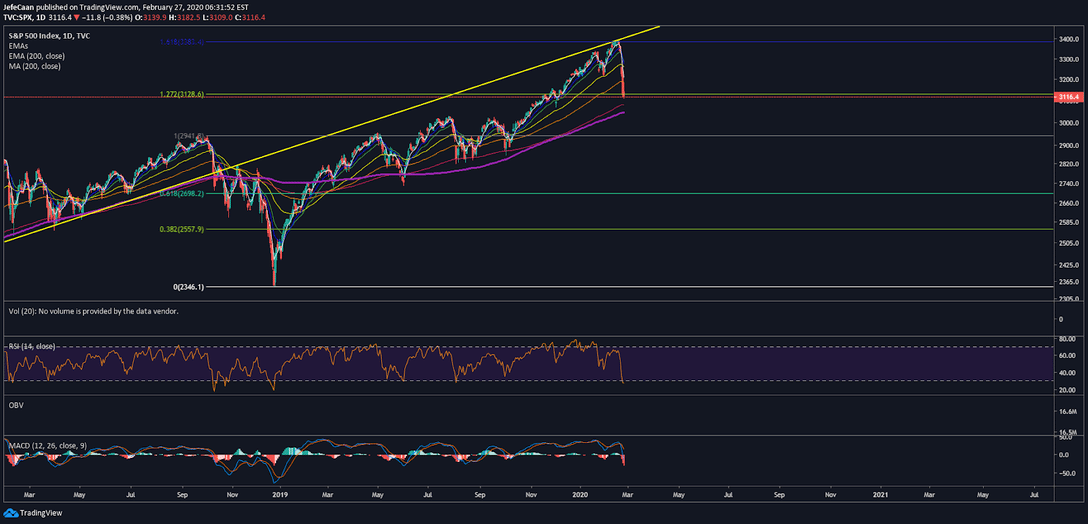 This daily chart for the S&P 500 (SPX) clearly shows a strong rejection at the 161.8% fib retracement level and a sharp decline afterwards. It is no surprise that Bitcoin (BTC) and the rest of the crypto market is doing the same now. Yesterday, the index closed below the 1.272 fib level which means that there may be further downside to come in the near future.
As long as the index remains below the 100-day EMA, we would be expecting a decline down to the 200 EMA and then the 200 MA before any potential reversal. A decline below that might actually lead to a devastating crash down to the 61.8% fib level which is still possible. A retest of the 200 moving average would be very important in determining what to expect next in the stock market and therefore in the cryptocurrency market.