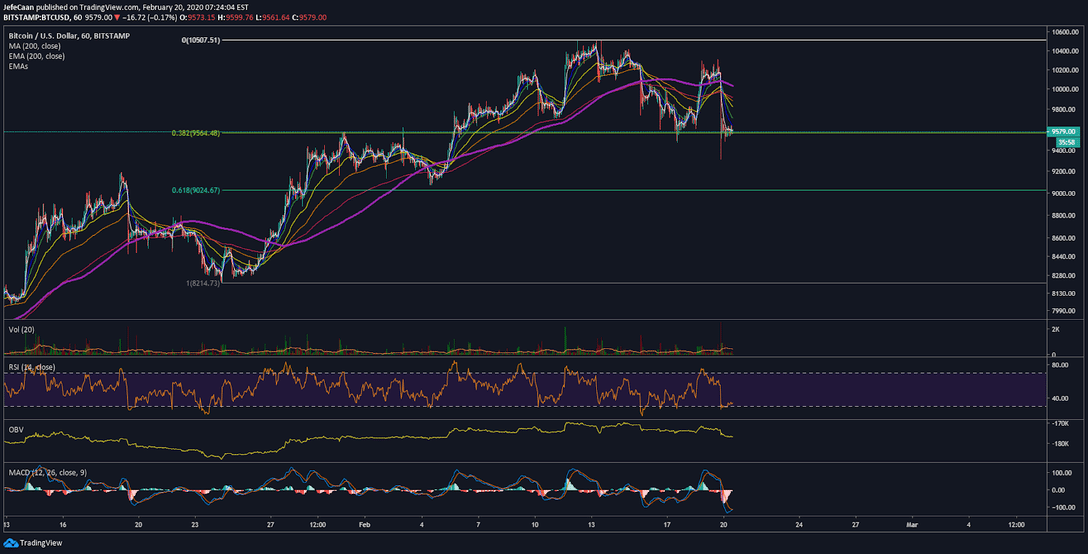 Bitcoin (BTC) crippled the bullish resolve after it crashed by almost $1k in a matter of minutes. This was a surprising move that happened out of the blue and shook out many retail bulls. There were almost $148 million worth of longs liquidated on Bitmex alone. Other major exchanges saw similar liquidations as tables turned on the bulls and the bears were all of a sudden in control. However, as with all abrupt moves like these, it is always important to see follow through. The manner in which this dump happened means that the big players don't want there to be a follow through as they don't want this to get out of hand.

The way BTC/USD crashed is a sign that the whales and market makers wanted to run those stops below $9.7k without giving the bulls a chance to protect themselves. They also wanted this correction over and done with so the rally can ensue. As we can see now on the 1H chart for BTC/USD, the correction is finally over and Bitcoin is ready to surge higher as it has found support on the 38.2% fib level which corresponds to $9,564. That being said, there is no reason to be complacent and expect a rally to $12k from here without a risk management strategy in place. This is a volatile market and things can change very quickly. This is why it is important to always remain prepared for all eventualities.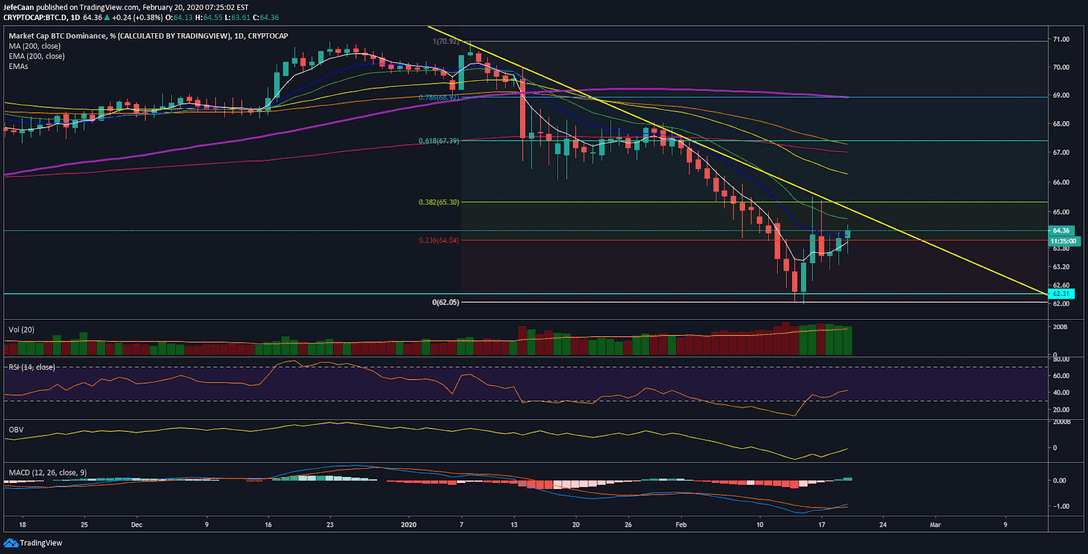 Even though I expect BTC/USD to rally towards $12k before halving, if we see Bitcoin dominance (BTC.D) break trend line resistance and rally higher from here, we might see the trend reverse a lot sooner than expected and Bitcoin (BTC) may then not end up testing $11.7k or higher. So far, it appears very probable that BTC/USD will climb back above $10k but that could change quickly and if it does, we need to be prepared. The whole rally from $6.7k onwards has been mostly a result of sheer manipulation. There is no reason at all to trust any of it.
While I expect BTC/USD to decline to $1k towards the end of this bear market, most likely in 2021, I have to say that the sentiment has turned quite bearish at the moment. Sometimes, Twitter is a very good indicator of what the market might do next. Most of the popular crypto accounts are suddenly more comfortable expecting a decline below $9k. This coupled with the technicals could mean that we might be done with the correction here and BTC/USD might be all set to rally towards $11.7k from here. The price of Bitcoin (BTC) bounced very strongly off the 200-moving average on the 4H time frame yesterday. As long as it remains above the 200 MA, the bulls have no reason to worry.