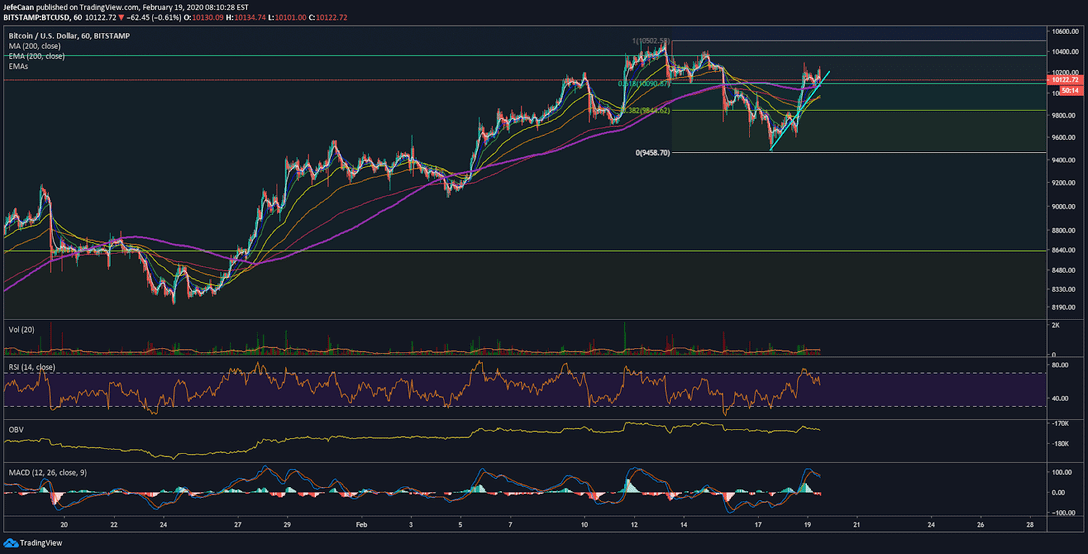 Bitcoin (BTC) has found support above the $10k level. We can see on the 1H chat for BTC/USD that it is already trading above the 200 moving average and has bounced strongly off the support at $10,090. This is heartening for the retail bulls who have long been anticipating a rally before halving. This would further strengthen their belief that there is indeed going to be a rally. At this point, it is hard to argue that BTC/USD could decline any time soon. The price has shown signs of strength and could rally further from here to our previously stated target of $11.7k and potentially towards $12k towards the end of this bullish advance.

There are many traders who have previously been super bullish but they are now waiting for a pullback to $8.5k. In my opinion that is not likely to happen because it will stop the FOMO train and the whales and market makers do not want that. As I have mentioned before, this is going to be a major bull trap and if the price were to decline to $8.5k, it would discourage a lot of people from FOMO'ing into the market again. So, the most probable scenario that the big players might have in mind at the moment is to keep the FOMO train going and get as many retail bulls onboard as possible. Meanwhile, they will keep liquidating impatient retail bears that are restlessly trying to get in front of this train.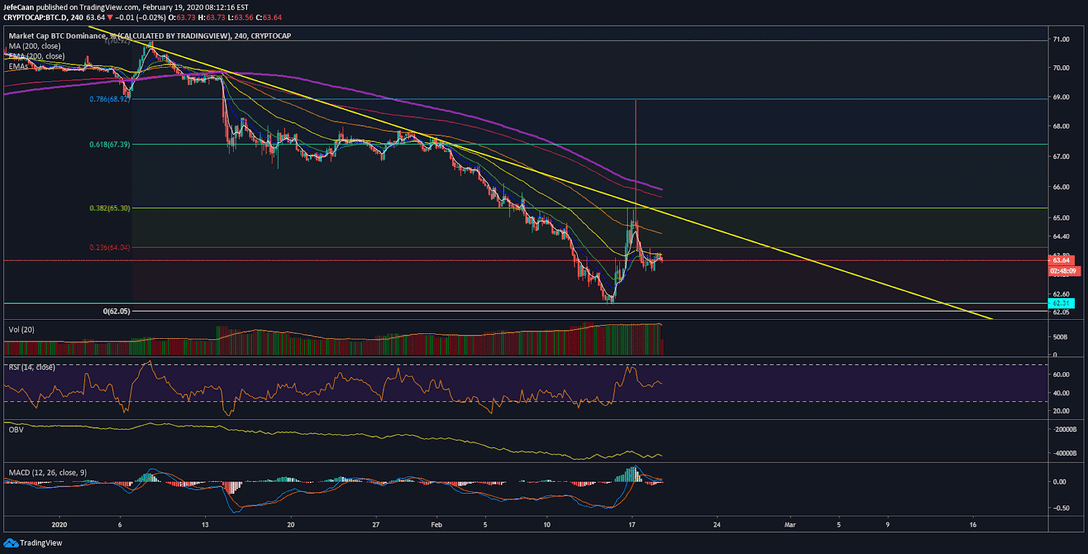 The 4H chart for Bitcoin dominance (BTC.D) shows a strange looking wick to the upside. This is something we have not seen in a long time. It also marks the level of confusion in this market. Many traders still don't understand why everyone is trying to buy altcoins when we have the Bitcoin halving up ahead and BTC/USD should be the one expected to outpace the rest of the market. When the price crashed below $9.7k recently, we saw Bitcoin dominance (BTC.D) skyrocket because altcoins experienced some serious pain.
Recently, there have been instances of altcoins bouncing off strongly after double digit losses. If BTC/USD trades sideways, we can expect many of these coins to keep rallying higher. There is certainly plenty of room for the market to rally before the next halving but it is very important to understand the risks. Chasing the market at this point is a very dangerous game because you would be buying into the FOMO which is never a good idea. Needless to say, someone has to sell to someone to lock in profits at the top and it is always the big players in the market that do it to unsuspecting retail traders. It is therefore very important to have a risk management strategy in place and be prepared for all eventualities.