Bitcoin (BTC) appears vulnerable to decline lower now that the bulls have lost momentum and the price has declined below $10k. In all fairness, saying the bulls have "lost momentum" seems so ludicrous when you know what is really going on. However, for the sake of neutrality and being unbiased, let's just say that is what is going on at the momentum. The price seems to be forming a head and shoulder formation at the moment which could lead to a potential decline down to the $9.3k level from current levels. If the price finds support there, we could expect another rally towards $10k or slightly higher to test the $10.5k level.

Most traders on Crypto Twitter are inexperienced optimists or pessimists but there are realists too that call it like it is. To most of those realists, it is not a question of if BTC/USD will decline below this rising wedge but when it will decline. That decline is expected to pull the price down to the 200-day moving average around $9k where Bitcoin will have to decide what to do next. The most probable scenario is that it will head much lower to begin its downtrend before the upcoming halving. Even if we set technical analysis aside for a while, it makes no sense to think that all these people that are expecting a rally to the moon before the next halving would be right. Why? There's too many of them! At the moment, we have 68% of the trades that are long on Bitcoin compared to only 32% that are short.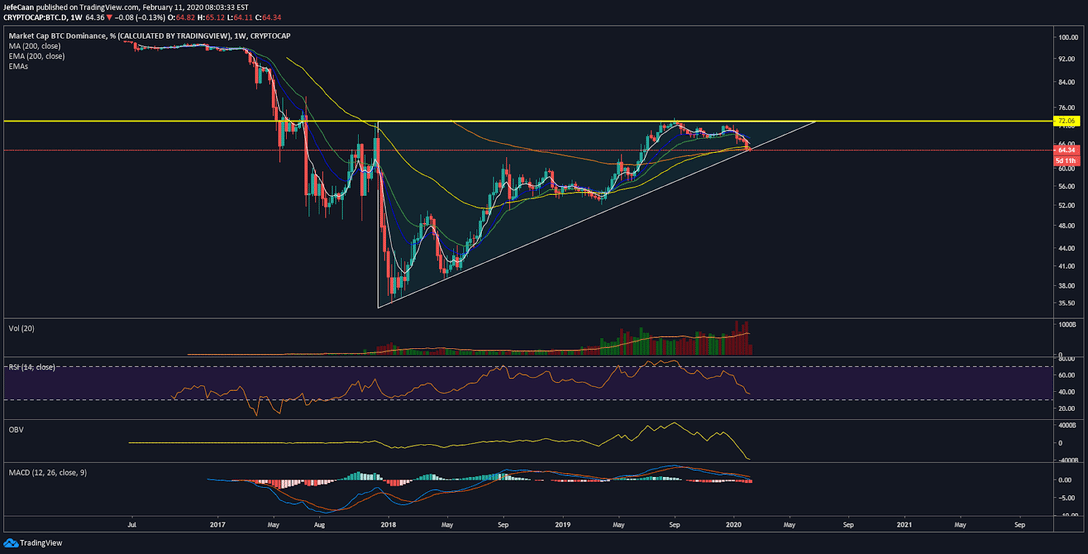 Bitcoin dominance (BTC.D) recently took a hit when altcoins started to rally aggressively against Bitcoin (BTC) and everyone started talking about an altcoin season. We saw last week close above the 100-week exponential moving average but it has since declined below it. If we see a close below the 100-week moving average this week, an altcoin rally could be expected in the near future.
However, if we do not see a bearish close on Bitcoin dominance (BTC.D), we can expect a new uptrend to begin soon which could soon push Bitcoin dominance (BTC.D) past the ascending triangle to levels north of 75%. This would be devastating for the cryptocurrency market in general and altcoins in particular. While everyone is rushing into bullish trades just before the upcoming halving, few realize that if BTC/USD crashes this time, it will be different than anything that we have seen before and Bitcoin (BTC) could enter a prolonged bear market.