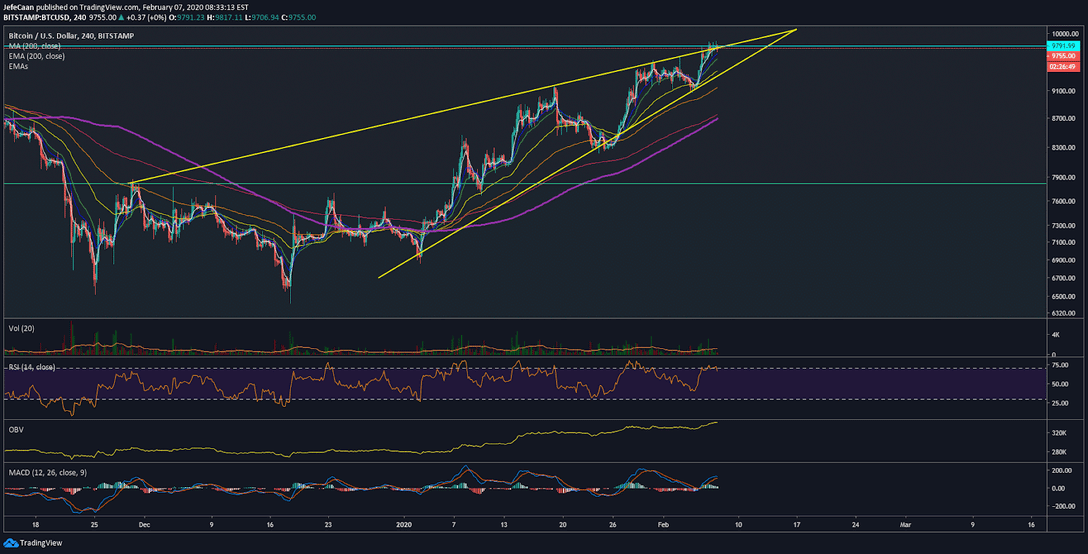 Bitcoin (BTC) still remains within the rising wedge and this has a lot of traders wondering now where it might be headed next. The bulls expect this rising wedge to be broken to the upside with further bullish continuation whereas the bears expect this to break to the downside leading to the beginning of a long-awaited downtrend. No matter what ends up happening it will happen soon and will have important implications for the market in the near future. The sentiment has turned far too optimistic than I had anticipated. It is interesting how so many traders have fallen for the pre-halving FOMO and are now expecting a rally to the moon.

The 4H chart for BTC/USD shows that when the price breaks out of the rising wedge, we would be looking at a decline down to the 200-moving average. It could still find support there and attempt to rally again which is why it is important to be patient as well as realistic. Many of the traders that have been waiting on the sidelines for a long while now are getting impatient thinking the price is surging higher and that they might miss out. While we do not expect the market to rally much higher from current levels, we have to realize that markets can be irrational short-term. We cannot discount another liquidity pump to shake out a lot of retail bears because the next downtrend is going to be very important.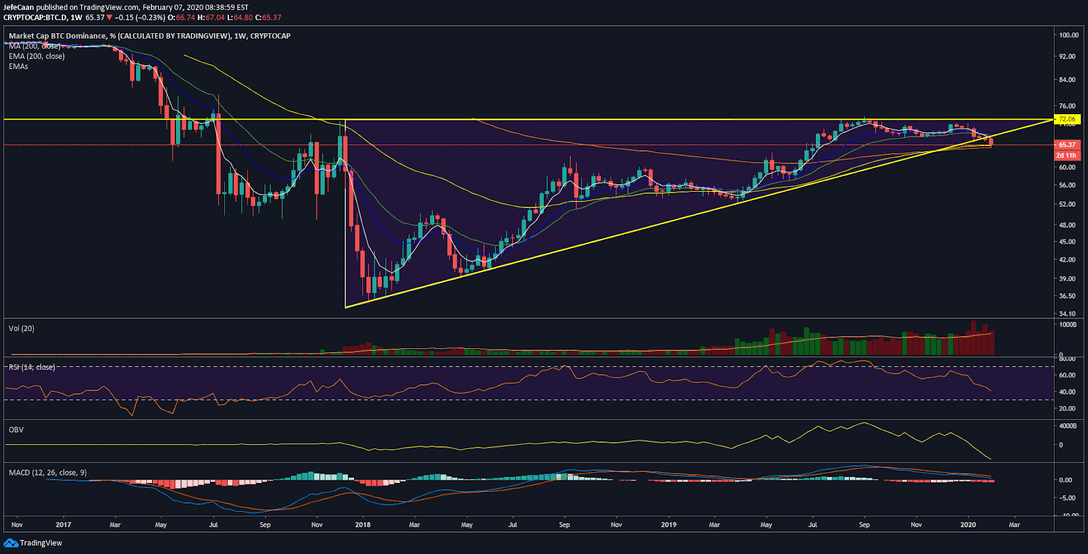 Another important dilemma facing Bitcoin is its struggle to maintain the uptrend in its rising dominance. We can see on the weekly chart that Bitcoin dominance (BTC.D) has now declined to the 50-week moving average. It is important that we see a close above the 50-week moving average this week otherwise it could fall much lower. That being said, so far the uptrend remains intact.
Bitcoin dominance (BTC.D) is unlikely to decline further even under the bullish case because halving is now expected a lot earlier than originally expected. So, traders are likely to be using the next few months to switch from altcoins into Bitcoin (BTC) which could give Bitcoin dominance (BTC.D) a boost. Once it is past the 74% mark and has effectively broken past the ascending triangle, we would be looking at a 2014-styled correction in the market which would be the end of a large number of useless altcoins.