Litecoin (LTC) remains in a downtrend as long as it continues to trade below the 200-day moving average. We have seen in a new spark of bullishness in LTC/USD at the onset of the new week which has much to do with how Bitcoin closed the last week above the 21-week exponential moving average. That is certainly a bullish development but that does not change anything until Litecoin breaks past the 200-day moving average. So far, that has not happened and the price now risks further downside from current levels in the days and weeks ahead.

The trend lines drawn on the daily chart for LTC/USD illustrate how a simple break of the trend line resistance has been of little consequence in the past in the absence of adequate follow through. The same is likely at play here which is why we do not have any reason to change or view until the trend turns bullish. For that to happen, it is important that LTC/USD breaks above the 200-day moving average. However, it is also equally important that we see a higher high and a higher low to break this current downtrend. If the price does not shoot up past the 200-day moving average soon enough to begin a new uptrend then it will have to crash hard to form a lower low and continue the existing trend.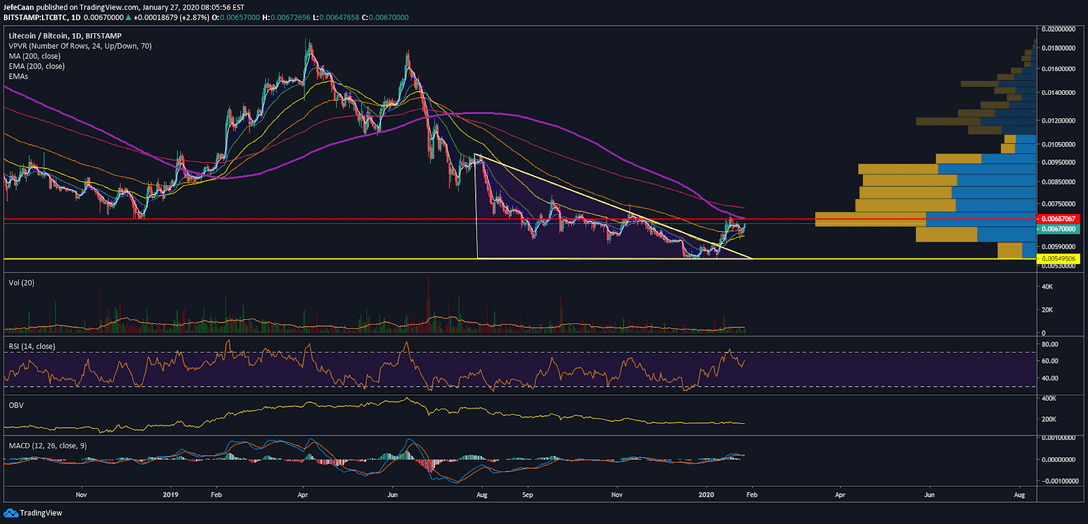 Litecoin (LTC) has broken its downtrend against Bitcoin (BTC) and as we can see on the daily chart for LTC/BTC, the pair is now ready to test the 200-day moving average. We have yet to see how it will turn out but it is clear that Litecoin like the rest of the market is at a key decision point. Whether it moves up or down from here will have important consequences as it will mark the beginning of a new trend or continuation of the exiting one.
The altcoin market as a whole has a lot to lose in case of a bearish continuation. It may not have as much to gain in the case of a bullish reversal though considering most investors would want to get behind Bitcoin before the next halving to profit off the halving. It is rumored that Litecoin (LTC) may also soft fork around the same time but that seems to be an attempt to discourage capital flow from Litecoin to Bitcoin and subsequently other coins after halving. Cryptocurrencies like Litecoin (LTC) are at a major risk from a use case standpoint because one Bitcoin (BTC) becomes faster and cheaper it would be very hard for Litecoin to justify its market valuation.