Ethereum (ETH) has just faced rejection at a key resistance of $173.14. Previously, we saw this level being a strong support until ETH/USD crashed below it and made a new yearly low last year. Now we are looking at a decision in ETH/USD to ascertain which way the price will move next. So far, it seems that a retest of the 200 day moving average is likely after the recent move. It will come down to the daily close really. If we have a close above the $173.14 level then we expect the price to shoot higher to test the 200-day moving average before declining again.

The current move in the cryptocurrency market corresponds to a move in the 2014-15 cycle. During that cycle, we saw the price rise above the 61.8%, test the 200-day moving average just below the 38.2% and begin a sharp decline. The price of Ethereum (ETH) is still expected to decline down to the $100 mark in the near future. The altcoin market as a whole has yet to see more pain although this pain could come in the form of price and time both. In the form of price, we have already seen a major decline in the altcoin market but just because things are bad does not mean they cannot get worse. So, a decline much lower is definitely possible.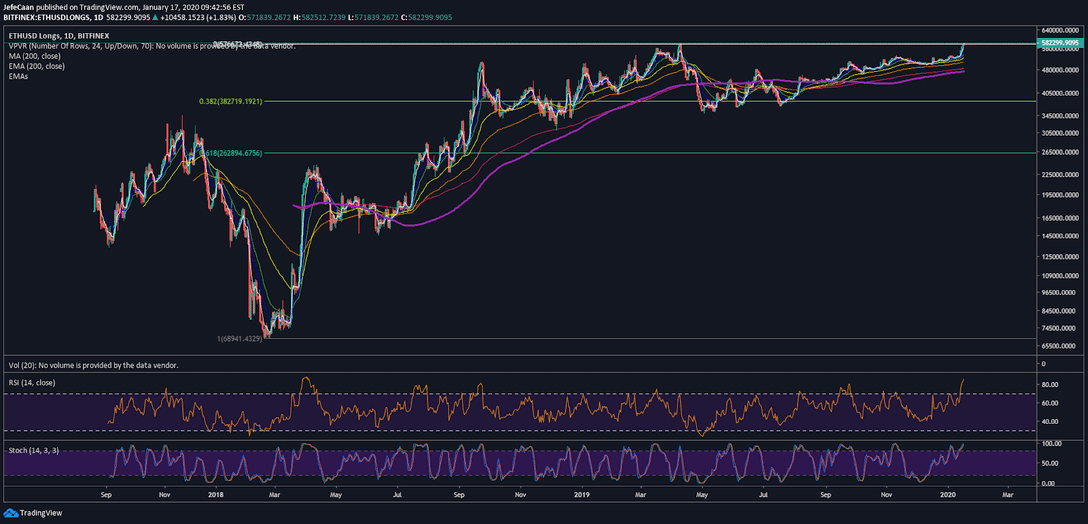 If we were to talk about a decline in terms of time, then that could be a prolonged bear trend from here on out which would hurt projects like Ethereum (ETH) and Ripple (XRP) but it would absolutely crush small cap coins as funding would become a problem for them. This has happened before with much less intensity forcing even big coins like Ethereum Classic (ETC) to lose their core teams.
A slow bleed over a large time could have that effect on the market. In any case, bullish euphoria that has been rampant in the market for so long has to see its drop scene soon. There is no reason that all of these bulls are right and will end up walking away with free money out of the pocket of the whales and market makers. The global economic and political conditions are ripe for the beginning of another downtrend in the cryptocurrency market. This is a time to be more careful as others are greedy. The daily chart for ETHUSDLongs/ETHUSDShorts shows that we have finally seen a new all-time high in the optimism of Ethereum bulls which is a red flag for contrarians and a signal to be more cautious.