Is this it for Ripple (XRP)? The daily chart for XRP/USD does appear quite horrifying as Ripple (XRP) is about to make its biggest decision since 2017. We can observe on the daily chart how easy it has been to ride the waves up throughout 2017. However, all of that soon changed in 2018 and it became a bit harder to catch the moves to the upside. While there were still opportunities to trade the price to the upside after 2018, we can see on the daily chart for XRP/USD that the trend has been bearish. In fact, XRP/USD has now reached a point where the price risks a major crash below the descending triangle seen on the chart. This would be an extremely devastating development and could see the price fall to levels not seen since 2017.
The concerns whether this is it for XRP/USD are real for a number of reasons. It is true that XRP/USD risks a sharp decline given the technicals but that's not all. Confidence in Ripple is waning as its token XRP keeps being a subject of discussions on what cryptocurrencies are and aren't security tokens. If Ripple (XRP) is declared a security token, that could deal a serious blow to its price. This is not all that could affect the market valuation of XRP. The entire reason we have seen Ripple (XRP) reach such a high market cap to become the third largest coin was the presumption that XRP may be used by banks and financial institutions to process their payments. Now with rumors of a digital dollar being introduced, the chances of XRP being used by them have decreased even further.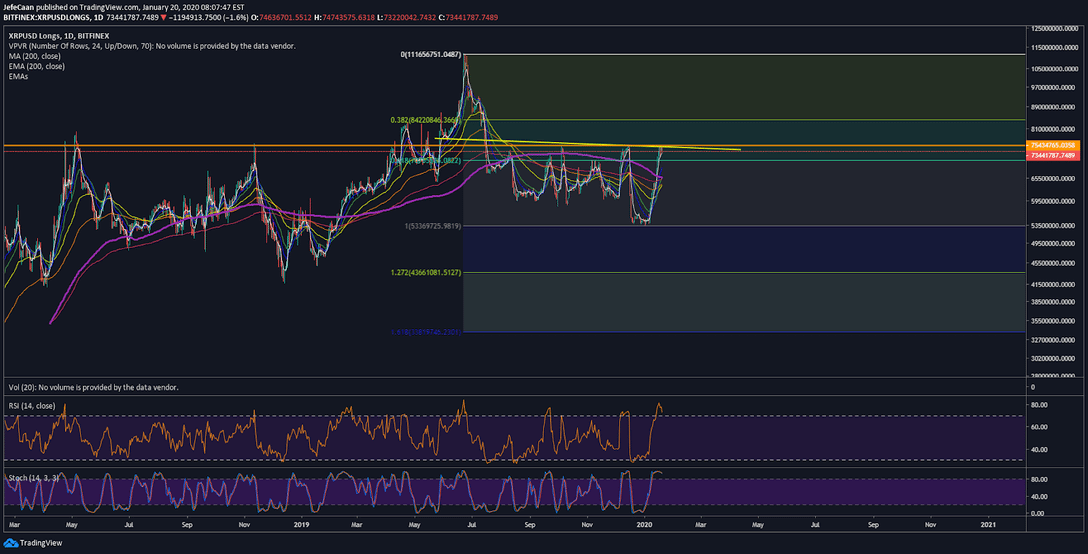 The daily chart for XRPUSDLongs shows that we might see a decline in the number of longs. This could primarily be a result of a massive stop hunt. We have yet to see the market inflict maximum pain on coins like Ripple (XRP). There have been periods during the bear market where XRP/USD made its own independent moves and a lot of analysts started talking about whether investors are looking at Ripple (XRP) as a standalone cryptocurrency and if it may end up decoupling from Bitcoin.
However, now that things have become clearer, it is argued that Ripple might have been manipulating the price of its token XRP. There is a lot on the Ripple and XRP front that may yet come to light should Ripple (XRP) see legal scrutiny in the near future. For now, investors might want to be careful for the technical reasons alone. We do not know yet whether or not Ripple (XRP) has a future but for now it appears to be in hot water and may continue to be until its status as a security status is cleared, transaction and escrow releases become more transparent and the technicals improve and the price embarks upon a new uptrend.