Bitcoin (BTC) has shot up to the upside once again. This has been an expected move to the upside as we discussed in our last few analyses. We expressed the probability of BTC/USD testing the 1.272 fib retracement level and that seems to be in the making now. We also talked about how Bitcoin (BTC) was out of time to make a decision and now it has finally made a decision. However, this seems like a move to stall the inevitable. We could see a retest of the $8,685 level but any further upside from there is unlikely. In fact, it appears to be the perfect trap to mislead more retail traders before the beginning of a major downtrend.
The last time the price of Bitcoin (BTC) tested the red Fib Bollinger band, we saw a major downtrend follow that lead to the price make a lower high and a lower low. The same is expected to happen this time and the price of Bitcoin (BTC) might end up falling below $6,000 this time. It is still possible that we may see some sort of an uptrend in the market before the next halving but there is a lot of time between now and then. A lot could happen in between and it seems like it will. We have yet to see capitulation in the cryptocurrency market. In my opinion, this would most likely be triggered by a move from a central bank expressing plans or decision to issue their own digital currencies.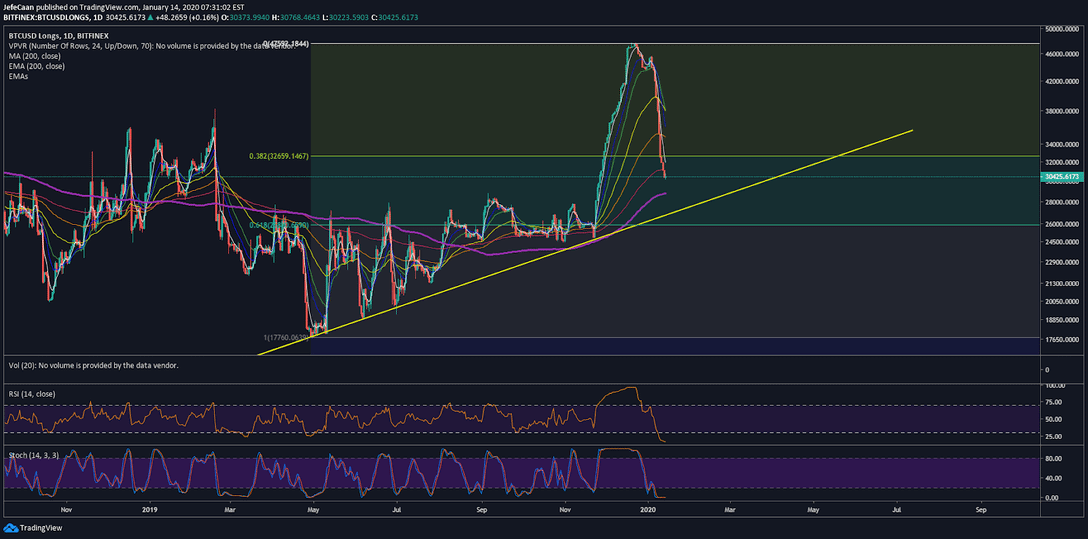 Bitcoin (BTC) has been a wonderful technology and a good experiment. Renowned economists like Milton Friedman have been talking about something like this for a long time well before it happened. We have seen many disruptions in other industries but this is the one that had yet to see a transformation and now we have. There is a good chance that Bitcoin (BTC) might have been just an experiment to set the ground for digital currencies like the Digital Dollar, the Digital Euro, the Digital Yuan and so on.
Please note that Bitcoin (BTC) or something like it is still expected to have a future because at some point people will end up losing hope in governments and central banks and they will no longer want to have to do with a currency issued by those institutions. However, we are not there yet, not even close. The daily chart for BTCUSDLongs shows how the number of longs has been on a steady decline. We are seeing a green candle after weeks in the red but it has already declined below the 38.2% fib level and now risks a decline down to the trend line support. Any further upside in BTC/USD from this point forward would likely be limited and is therefore not worth the risk/reward unless we have confirmation of a new uptrend.