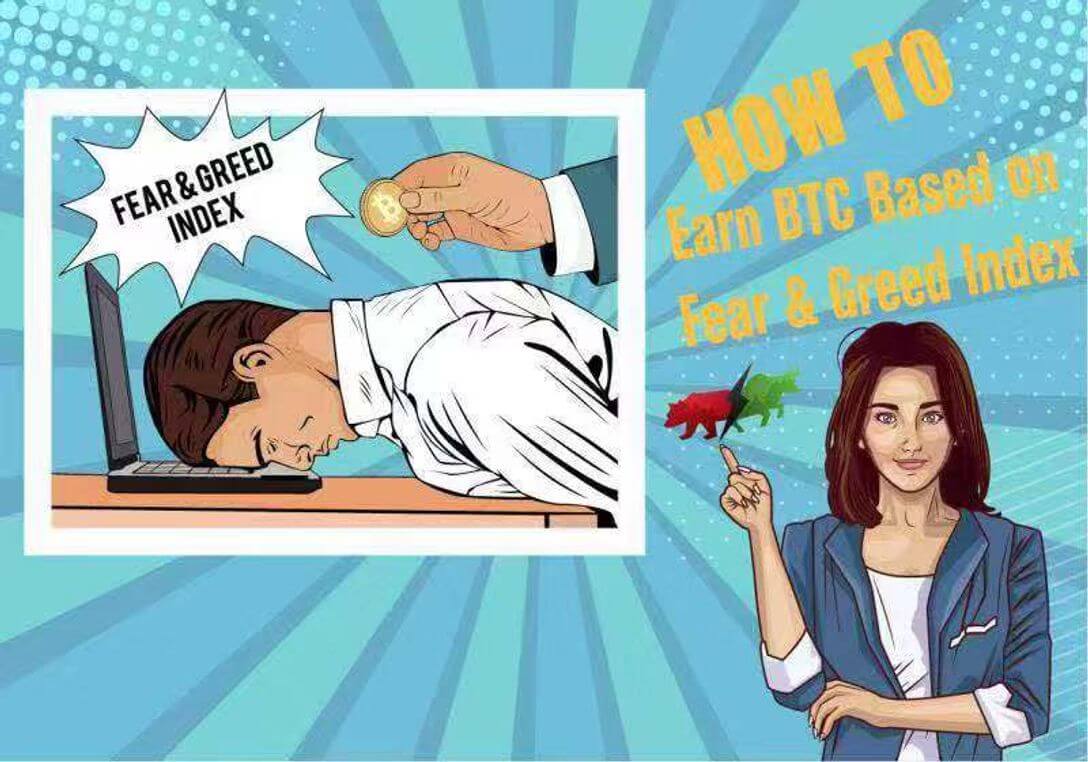 If you've been in the crypto market for a while, you may come across Fear & Greed index (FGI). Compared to technical and fundamental analysis, many traders think last or even forget the sentimental analysis. However, in the cryptocurrency market, you are easy to notice that how emotional it is. Fear & Greed Index, as an important indicator in sentimental analysis, can be used as a guide for making profitable investments. In the following parts, we will introduce you to FGI and how to implement it in your trading strategy.
What is FGI?
Fear and Greed Index measures investor sentiment on a daily, weekly, monthly, and yearly basis, and scores investor emotions on a scale of 0 to 100. A value of 0 means "Extreme Fear", while a value of 100 represents "Extreme Greedy". Investors tend to get greedy when the market performs upward trend which results in FOMO (Fear of Missing Out). On the contrary, when seeing red on the graphs, investors panic and become sellers. To conclude, there are two simple assumptions:
Extreme fear can be a sign of a buying opportunity at a comparatively low price.

Too greedy signals that the market is due for a correction to limit overvaluation.
How F&D Index Affects BTC Price Trend?
Having known about FDI, let's see how it affects Bitcoin's price trend. Here we will take crypto FDI of the past 3 months as an example. Based on historical data, it's not difficult to notice that the sudden nosedive – BTC price declined sharply - turned the market sentiment into "extreme fear". And every time the FGI goes into "extreme fear" or remains for 1 or 2 days, bitcoin tends to recover or surge immediately after. For instance, on Oct.24, the index scores 20 indicating "extreme fear", but the next day BTC skyrocketed to hit $10,500 with the rising rate of around 40%.

On the other hand, during the bear market, if FGI suddenly scores high indicating "greed" or "extreme greed", market correction will also come at the next day or next few days.
Earn BTC with BTC Futures Trading in Bex500
Fear and Greed Index can be served as a tool for making sound investment, especially short-term one – BTC futures trading (BTC perpetual contracts).
Bex500 is one of the top crypto leveraged trading exchanges in the cryptocurrency futures market. Established in 2018 and headquartered at Hong Kong, Bex500 has gain popularity of over 1,000,000 crypto traders around the world. Below are the reasons why investors like trading in Bex500:
Four trading modes for both newbies and veteran - crypto Perpetual Contract, Forex, Commodity, and Double Contract with up to 200x leverage.

No KYC – Traders can easily register an account with email without the risks of leaking out personal information.

Assets secure – Client's cryptocurrencies (Bitcoin or USDT) are stored in cold wallets with multi-signature encryption.

Trading simulator – Beginners or less experienced investors can try futures trading without losing a penny.

Fair trade – Cryptocurrency price index is weighted average of top four exchanges, including Bitfinex, Binance, Poloniex and Huobi. No overload and manipulation problems.

High liquidity – By utilizing an end-to-end optimized stack running on customer dedicated nodes, orders can be executed with low latency even during the huge market volatility.

Mobile support – Trade on your iOS or Android devices with user-friendly Bex500 apps anywhere anytime.
Bex500 offers $15 worth BTC or USDT to new registered users. The bonus can be used as margin in trading and the profits from trading with bonus can be withdrawn. In addition, for the first deposit, clients can get an extra 20%. For example, if you deposit 1 BTC in, you can get 1.2 BTC directly credited in your account.
Join Bex500 now and get profits by trading BTC futures contracts with the help of Fear and Greed Index. As a reminder, let us quote Warren Buffet here about market psychology:
"Be fearful when others are greedy and greedy when others are fearful"
And your trading decisions can never be based solely on this indicator, but use it as a supplement added to your initial strategy. If you are an inexperienced trader and want to learn about trading strategies, you may find some useful information in Bex500's Trading Academy column.