Bitcoin (BTC) rallied aggressively in the past five days after finding a temporary bottom. This move seems to be very close to coming to completion but the bulls have once again become too complacent. Rather than accepting that this might be the end of the move for now, many of them are eyeing further upside even past $8,000 from here. The 15 min chart for BTC/USD shows us how the price broken out of a symmetrical triangle in a fake move to the upside which was then followed by a sharp move towards the 200 moving average. It is important to note that the 200 moving average has yet to be tested on the 15 min time frame which. This retest has become too important at this stage because what follows after it can make or break this rally.

The reason the market makers and the whales have succeeded with their slow bleed model is because of the mentality of most retail bulls. If the price goes down $2,000 it is considered to be just an unfortunate event or FUD or bad news. However, if the price pumps by just $200 everyone is all excited again and calling for a rally to the moon. The big players in this market continue to profit off this unprecedented complacence and optimism in the cryptocurrency market. They continue to mask their moves with bad news. So, let's say they want to crash the market; they will make sure the move coincides with some sort of bad news because people love to point fingers, to find a reason. This is how they have been doing this for so long and continue to do so.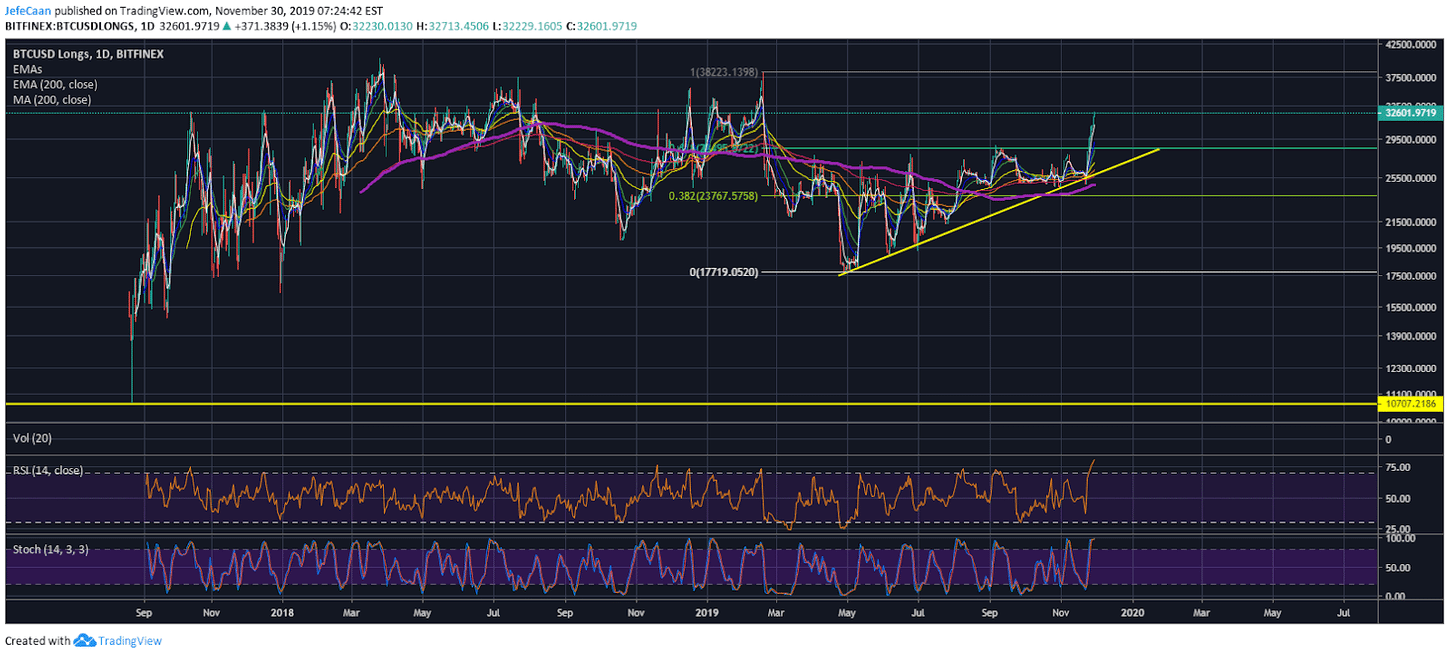 The daily chart for BTCUSDLongs is a testament to the blind optimism and sheer complacence prevalent in this market. We can see further rise in the number of longs in the near future but it is quite obvious to see how this is going to end. I can assure you that it is not going to be a pretty picture. Even the BTCUSDLongs chart now shows a bat formation in the making. We have the head of the bat, the left wing and now the right wing is in the making.
Just a few weeks back, everyone was talking about a decline down to $5,500 but now most of those people are talking about a rally towards $9,000 or higher. In our analyses, we called this recent move in BTC/USD. We have been bullish right before this move happened and we talked about the possibility of a move towards $8,000 as well. However, now we have reached a point where this move has either come to completion or is very close to doing that. To be bullish anymore on the market at this point would be a recipe for disaster. It is still possible that we might see another move to the upside again potentially higher than $8,000 but that is very unlikely to happen at this point without a long overdue correction near term.