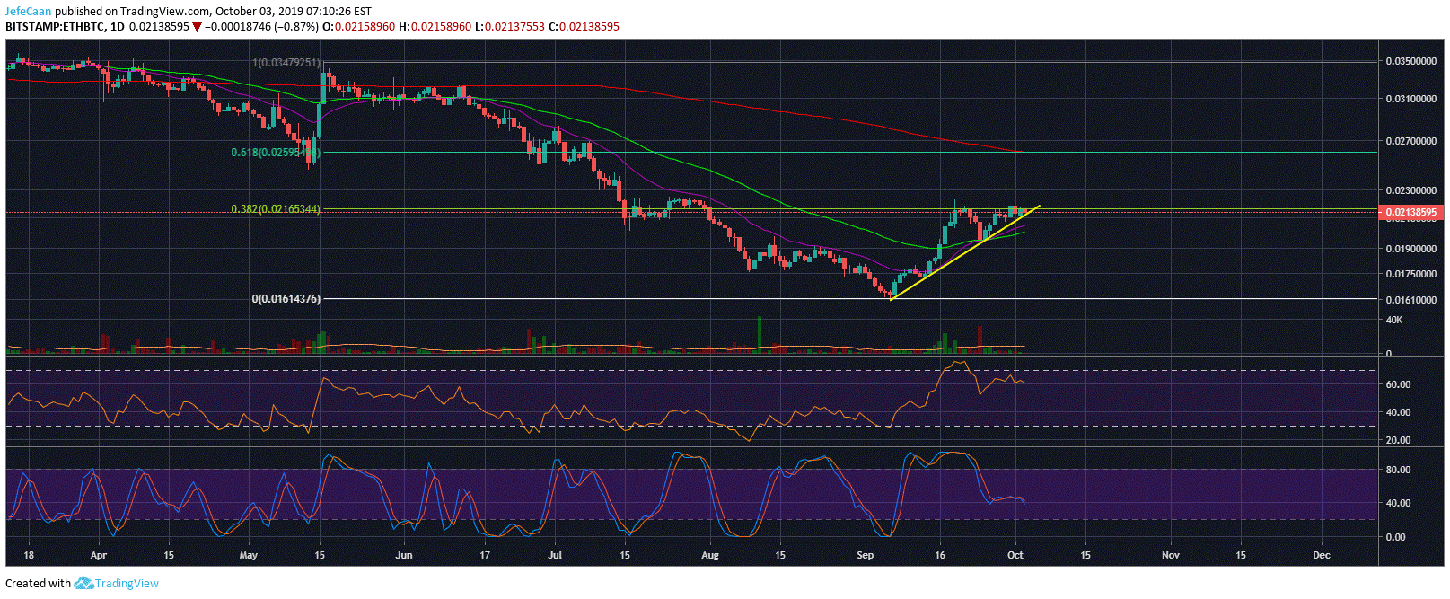 Ethereum (ETH) is in big trouble and not just against the US Dollar (USD). It is time for Ethereum (ETH) to begin its correction against Bitcoin (BTC) and it is only a matter of time before we see that begin to happen. The daily chart for ETH/BTC shows us that the price has run into the 38.2% fib retracement level. At the same time, it risks a sharp decline below an important trend line support. This has put ETH/BTC in a tricky situation and soon as we see the pair decline below the trend line support, we might have a major downtrend at hands that could see the price fall to new yearly lows in the weeks and months ahead.

It is important to realize that Ethereum (ETH) and other altcoins have yet to correct against Bitcoin (BTC) and it makes sense that this would happen in the near future when the market declines as a whole and altcoins lose ground a lot more aggressively compared to Bitcoin (BTC). This is therefore one of the worst times to be buying altcoins. Even from a fundamental standpoint, you could argue that Bitcoin is digital Gold but Ethereum is digital nothing and it does not even have a fixed supply. In addition to all that, the risks are too high because if the SEC or other regulatory bodies start investigating ICO scams, they are going to knock on Ethereum (ETH)'s door. When a market is supposed to decline, you see trouble start to appear from all sides. All of a sudden there are news of hacks, crackdowns and all that.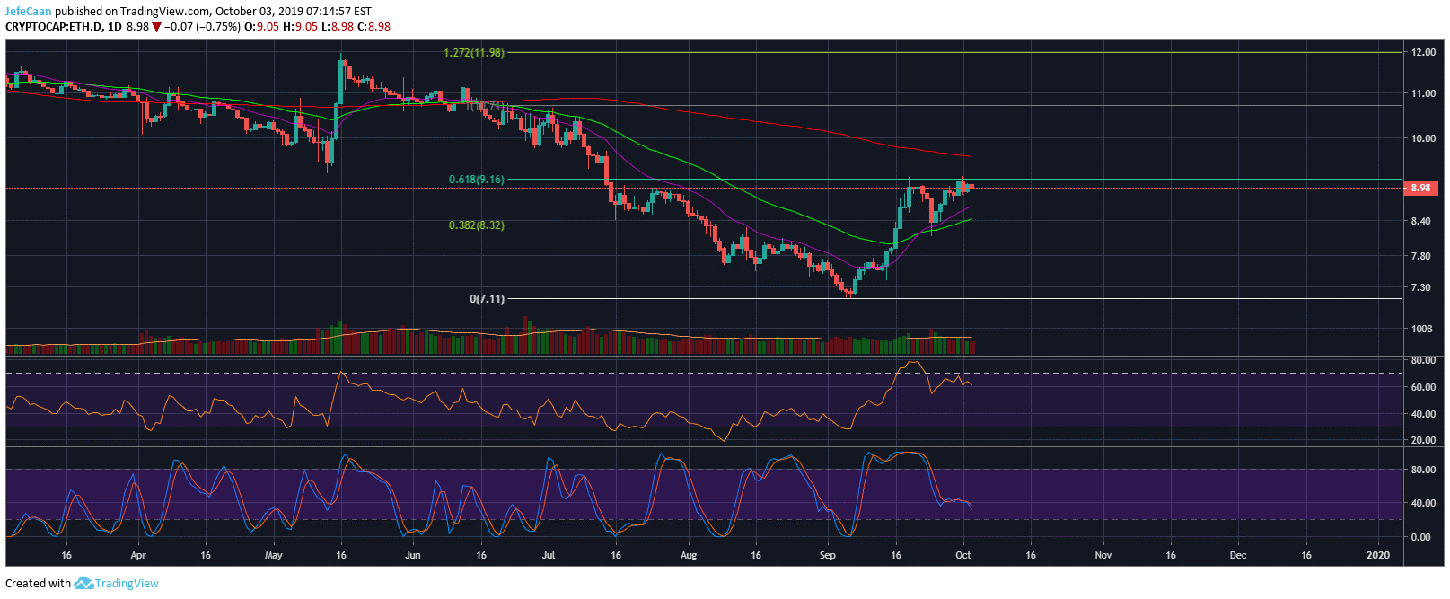 The future outlook of Ethereum (ETH) is nothing to be excited about. The daily chart for Ethereum dominance (ETH.D) shows us how it faced a strong rejection at the 61.8% fib retracement level and is now on the verge of a strong downtrend. This is not a healthy development for the altcoin market because it means that Bitcoin (BTC) is likely to see a rise in its dominance compared to Ethereum (ETH) and other altcoins. The most probable way that is going to happen is for the market to decline and for Bitcoin (BTC) to hold its ground better than other altcoins.
Ethereum (ETH) like other altcoins does not have the same level of adoption and acceptance against Bitcoin (BTC). It is thus a more risky investment than Bitcoin (BTC) because just like the US Dollar (USD) it is based on faith. The difference with the US Dollar (USD) is that you trust the US Government whereas in the case of Ethereum (ETH) you trust the Ethereum Foundation. Cryptocurrencies are a good asset class to invest in because they have a future but there has to be a price to invest in that makes it worth the risk/reward. At this price, the risks are far too high and the valuation is based on thin air which is why it might be a better idea to wait for better entry points.