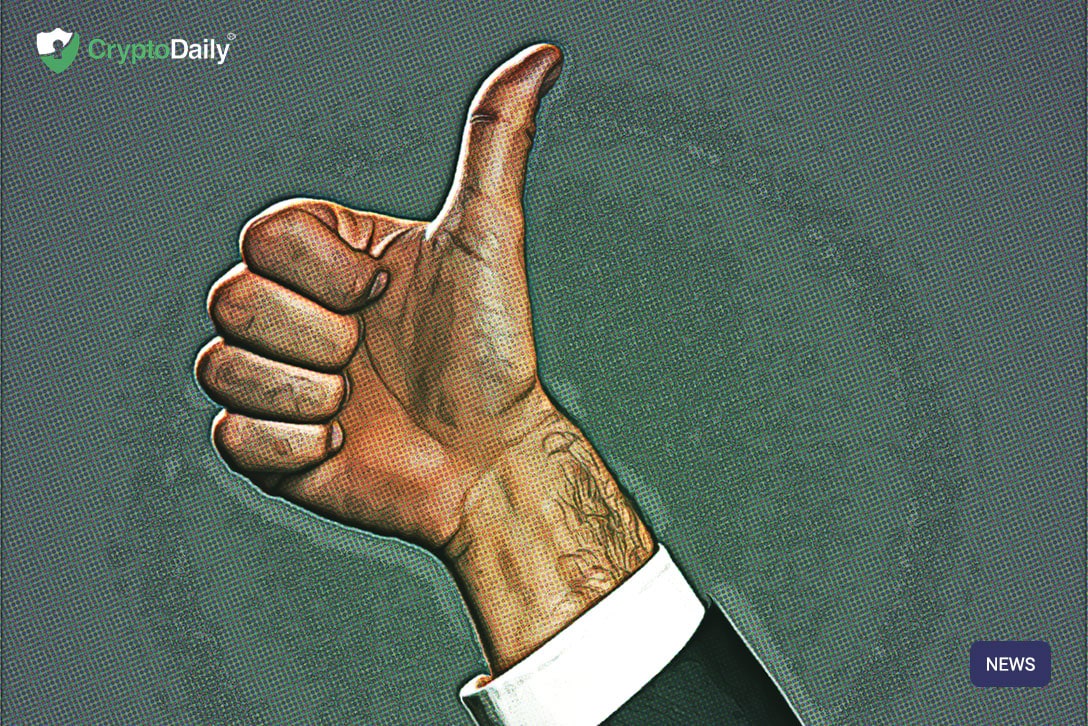 Last Thursday the Bitcoin price dropped heavily, reaching five-month lows of around $7,300 per coin, bouncing up to almost $10,500 the next day and making an incredible 30% growth on the stagnant market. After reaching the highest mark Bitcoin returned to $9,000. At the press time BTC is changing hands for $9,350.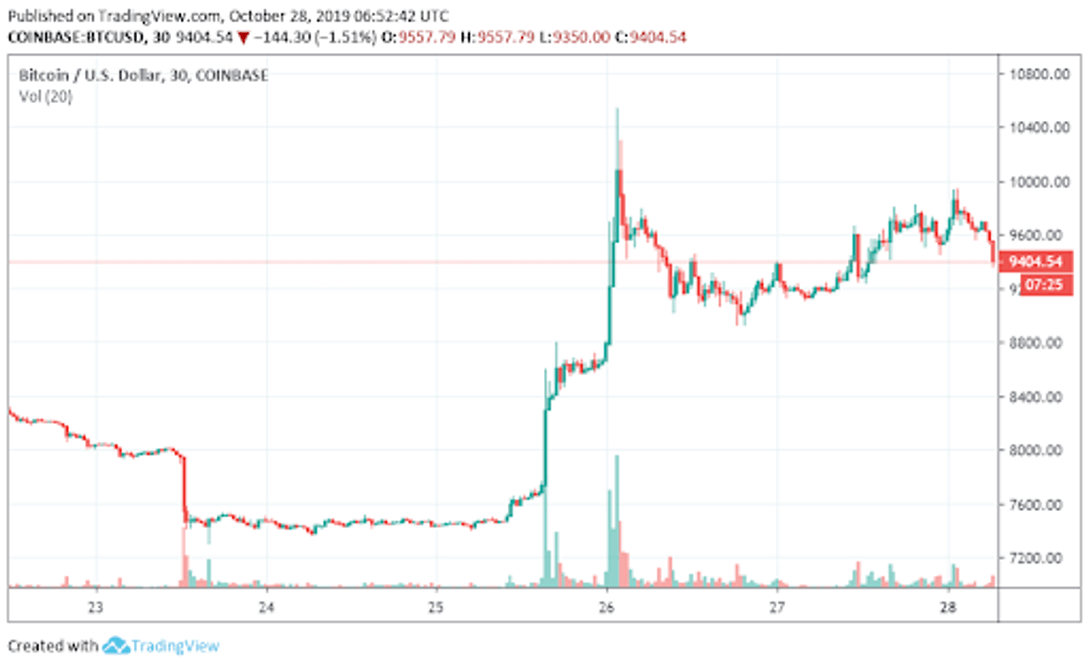 World's main cryptocurrency's price declined shortly before Mark Zuckerberg, CEO of Facebook, provided testimony regarding Libra to US Congress. Back in July Bitcoin's price spiked up to $14,000 amid the news on initiative of world tech giants to create an asset backed cryptocurrency. However, the proposal met challenges coming from regulators.
Suddenly, good news came from China: on Friday, Oct. 25, it's President Xi Jinping called for the adoption of blockchain technology during the meeting of the Political Bureau of the Chinese Communist Party's Central Committee: "[It's] an important breakthrough for independent innovation of core technologies".
China's positive official statement can largely contribute to Bitcoin's price growth, industry experts say.

However, Friday's price surge most likely wasn't triggered from inside China, says Dovey Wan, founding partner of Primitive Ventures. That were western traders who drove the rally from $7,300 to $10,500. Tether's USDT wasn't premium on Chinese OTC markets, and the price on local Chinese markets remained unchanged right after Xi's announcement. However, price started to pump as the U.S. traders woke up and shared President's statements.
Nic Carter, a partner at Castle Island Ventures in his commentary to Decrypt said that the brief spike to $10,500 and return to $9,000 most likely was due to massive liquidations on margin trading platforms, following opening of long positions to cover all the losses, which drove up the price of Bitcoin.
Bexplus: "Friday Rally Was a Great Day for Traders as Some Made up to 6500% of Profits"
Friday was a great day for margin traders who managed to catch the wave. According to Bexplus, margin trading platform based in Hong Kong, some traders gained up to 6500% of profits (65 times of original investment) by opening long positions during the bullish run from $7,300 to $10,500 per 1 BTC.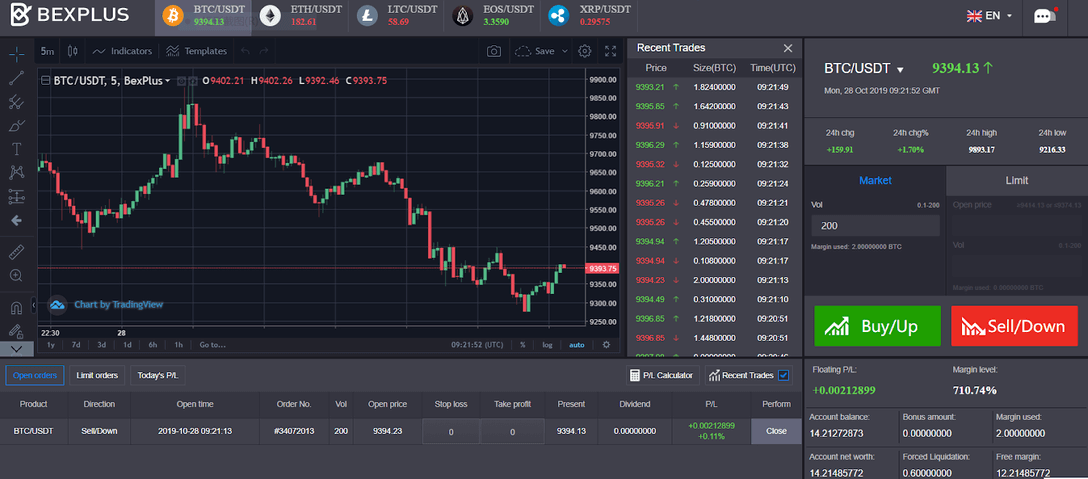 Such profits are possible due 100x leverage Bexplus provides: investors can make 100% of profits when asset changes price for 1%.
Leverage allows investors to maximize profits by lending funds from the exchange.
How Does Leverage Work?
Bexplus allows traders to open long (buying) and short (selling) positions for Bitcoin and other cryptocurrencies, thus making possible to gain profits not only on growing market, but also on falling.
For example, let's say you're sure that Bitcoin's price will increase by $100 and the total cost of 1 BTC will be $10,100, while your original opening price is $10,000. If you open 0.1 BTC long (buying) postion, and if your predictions are correct, you'll receive 1% of profits when the price will reach $10,100.
1% of profits is similar to what you'd get by trading on regular exchanges. However, on Bexplus with 100x leverage your profits would reach 100% of original investment, because you're opening 100 times larger position by lending funds from the exchange.
By making right predictions and betting on price correctly, leverage can make significantly maximize profits if you trade with low amount of investment. In case Bitcoin price decreasing, traders can open short positions. Calculations work the same way, except now you'd bet on Bitcoin price fall.
If you're a beginner, you can start to practice in Bexplus simulator loaded with 10 Bitcoins for demo trading.
Bexplus New User Welcome Package
At the time of press every new user is eligible to get a special "beginner reward pack" which includes $100 deposit bonus (granted if the trader deposits 0.008 BTC), $10 registration bonus (it's free, just register and start real trading) and 10% discount for all commission fees.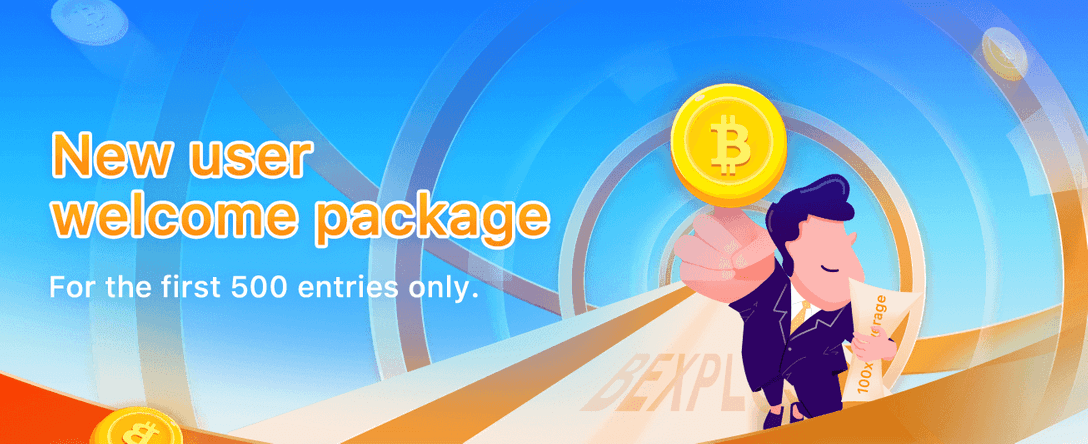 24/7 Support, Affiliate Program
When you trade your precious crypto assets, It's very important to have a helpful support by your hand who can solve any issue if there happens one. Bexplus offers 24/7 support which is available via built-in window on the platform, email and even Telegram group.
Bexplus also introduced its affiliate program this October. By sharing invitation link active users are eligible to receive up to 50% of invitees trading fees. The platform offers customizable rate and flexible VIP support for it affiliates.
Join Bexplus community:
Website: www.bexplus.com
Facebook: https://www.facebook.com/Bexplusglobal/
Telegram: https://t.me/bexplusexchange