Crypto has become an integral part of the global economy. In the world with internet and electricity, decentralized digital currency cannot be easily censored, like it or not. Read on to find out about crypto regulations in different states of America, blockchain-based businesses and the US government's attitude to cryptocurrency. And be sure to check out the first part of our running series exploring the crypto regulatory landscape in different places around the world.
Cryptocurrency Regulations & the Economic Situation in the USA
Even Wikipedia can tell that crypto is legal not in every state of America. But the situation is gradually changing as the fintech sea is striking the globe. Last year's analysis by CoinWriting claims that Western nations are "generally more open to cryptocurrencies whereas Eastern countries are sceptical". According to the study, America's 50 states were either "friendly", "murky" or "hostile" to BTC and other altcoins judging by their crypto laws and regulations. Texas was marked as "Friendly" because Texas crypto-traders weren't obliged to have a money transmitter license. Washington was a "Hostile" state as trading digital currency might require a special permit. Besides, Texas authorities were worried about the impact Bitcoin mining was having on the high-voltage network. A survey by Finance magnates suggests that Arizona, Nevada and California are also on the positive side of the list. However, it calls New York a state with unfriendly attitude to Bitcoin, as "crypto sellers and peer-to-peer traders are required to register with the federal Financial Crimes Enforcement network." In both cases a lot of US states didn't pass an opinion on buying, holding and selling crypto.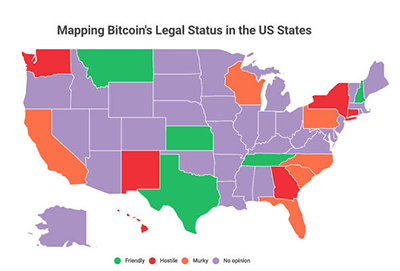 Why does every state matter? Because despite the fact that crypto was legit only in 5 out of 50 American states, it was owned by 8% of the population, which is around 26 million of Americans, according to the survey by Finder.com. Global Blockchain Business and Survey Monkey name a smaller share of US citizens who have purchased cryptocurrency - around 5%, but they add that 21% of Americans is considering investing in crypto. In other words, the States can add more than 68 million potential cryptocurrency users to the impressive and yet growing market. The country currently handles the second largest volume of Bitcoin, roughly 26%, according to Cryptocompare, and might soon head the list. Sounds like the modern Wild West is mining, buying and holding the gold of the 21st century.
The US fintech potential is driven by one of the largest and most developed economies in the world. America produces over 20% of the world's services and goods which is a larger share than that of China. High-tech services in finance, healthcare and retail account for about 80% of the States' economic output. As a highly technologically developed country with a robust economy, it was inevitable that the US would play a significant role in the development of blockchain technology and cryptocurrencies domestically and internationally. Let's take a closer look at the US authorities' differing opinions and cryptocurrency classifications.

For instance, the Financial Crimes Enforcement Network (FinCEN) doesn't consider cryptocurrencies to be legal but they do classify exchanges as money transmitters, which are part of their jurisdiction. Money services and other businesses engaged in the cryptosphere have to register with the US FinCen as a money services business. They are required to keep records and make reports to FinCEN, including Suspicious Activity Reports (SARs) and Currency Transaction Reports (CTRs).
On the other hand, the Internal Revenue Service defines crypto as property for taxation purposes. One of the key US regulatory institutions, the Securities and Exchange Commission (SEC), identifies crypto as securities. In March 2018, it stated that it was looking to extend securities laws comprehensively to digital wallets and exchanges.
At the same time, in 2019 some states understand that crypto can serve as new fuel for their local economies and often promote crypto by exempting it from existing money and security laws. Currently, 70% of the US has enacted laws regarding crypto or blockchain sphere. For example, Wyoming passed a bill exempting crypto form property taxation. Arizona and Georgia were among the first states to accept cryptocurrency for tax payments. But, as is the way with crypto, the merit is users, not laws. Here is the map of the highest crypto ownership in the U.S. by Coinbase. Looks like more than 5 states have a strong opinion, doesn't it?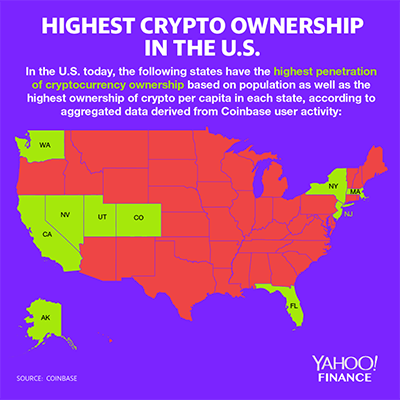 Part 2 of this series of articles will be released tomorrow at 12:30pm BST.