Ethereum (ETH) keeps trading within the descending channel that it entered in June. The price is now long overdue for a massive crash to the bottom of this channel. We know that the price is in no position to break this descending channel just yet and if it started to decline from here, it will have to test the bottom of this channel which is likely to drag the price down to a double digit price. If we take a look at the RSI, we can see that it has broken a strong uptrend and now signals further downside in ETH/USD. The nail in the coffin here is the crash below its 50 EMA. Soon as the price crashes below its 50 EMA, you can expect it to fall to a double digit price before it bottoms.

The recent price action especially in Ethereum (ETH) has been very confusing. It is true that the market makers are trying to shake out traders to both sides before the downtrend begins but the traders are also very confused because they are so strongly divided. One side believes that the market is going towards a new all-time high from here whereas the other side believes that we have not even bottomed yet. So, when the price is on the cusp of another downtrend, it is reasonable to expect that both sides will put up a fight here. The bears in a lot better position to win that fight but the problem is most of the bears are far too scared to short the market at this point. In fact, we have 80% of the traders long on Ethereum (ETH) while only 20% are short.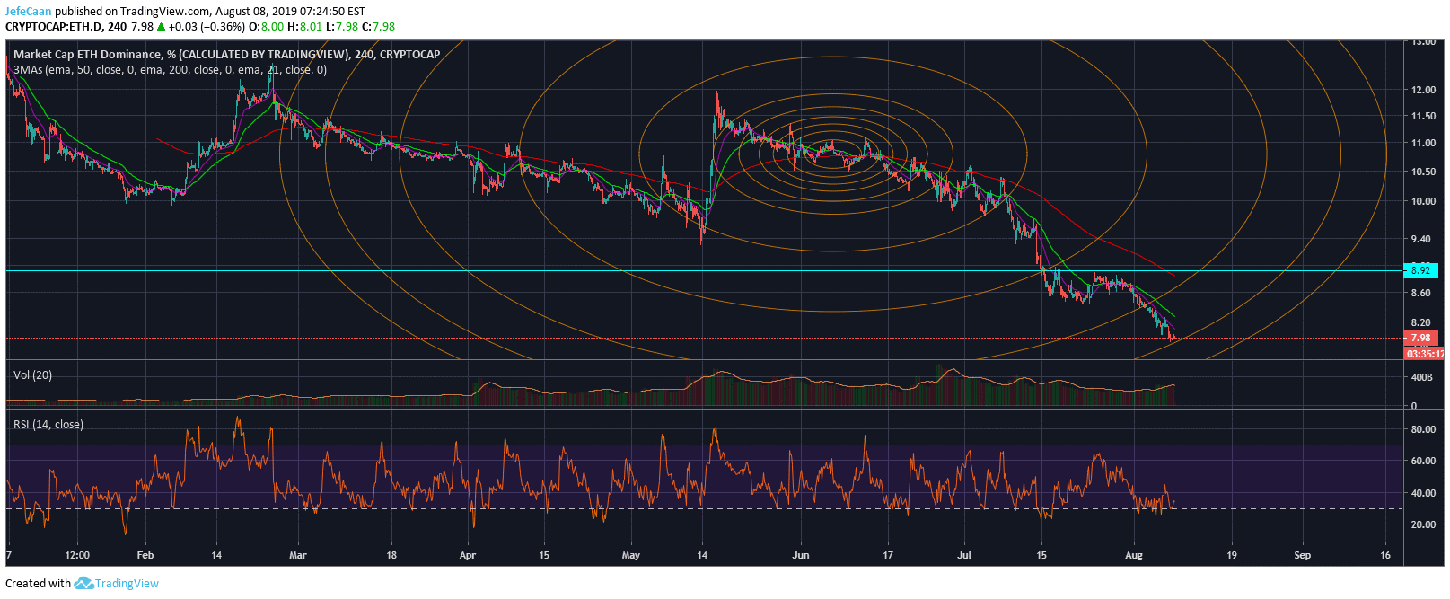 The 4H chart for Ethereum Dominance (ETH.D) shows that it stooped to new lows and is now trading just above a fib circle that we expected it to fall to. Can it hold this circle? It is hard to say but the probability of it falling below the current fib circle to the next one is higher. This is because as the market begins its next downtrend, we are likely to see altcoins lose their ground faster than Bitcoin (BTC) which means Ethereum (ETH) will lose its dominance.
Even some traders and analysts like Tone Vays that recently turned bullish on Bitcoin (BTC) still expect Ethereum (ETH) to enter another downtrend. While some may look up to Bitcoin (BTC) as a hedge during times of a crisis, it is hard to see how Ethereum (ETH) could be that while its supply is not fixed. Besides, we cannot have multiple coins to do what Bitcoin (BTC) is doing because this aggravates the double spending problem we were trying to fix with Bitcoin (BTC). Ethereum (ETH) remains the second largest coin by market cap but that could change during the next hype cycle as we are moving from ICOs to STOs and other more meaningful forms of tokenization.