Ethereum (ETH) remains in a strong downtrend. We might see a short term move to the upside that might shake out the bears hoping for the price to fall like a rock from here. However, that does not change the long term outlook. ETH/USD could rise even higher than $200 from here to test the 200 EMA on the 4H time frame before it does the inevitable and breaks market structure. The bears need to be prepared for this outcome and they need to plan their entries accordingly. As for the bulls, that fake out to the upside might be the last chance to get out of the market. At this point, I think there are mostly two kinds of investors in the market. There are those that think that the price is going to a new yearly high from here and there are those that think that it is going below $80.

Both are entitled to their opinion and they have their reasons to think that. However, no matter what outcome you are betting on, you must have an exit plan. There has to be a way for you to protect yourself if the trade does not go in your favor. See, most of the popular accounts on Twitter that tell you to buy at current levels may not have the foresight to see what is coming but they are not new to trading and they know how to get out when things don't go their way, but most of you don't. So, new traders get caught off guard. When the trade goes against them, they do not have an exit strategy so they are at the mercy of hoping and praying that it turns around which most of the time it only does when it inflicts maximum pain.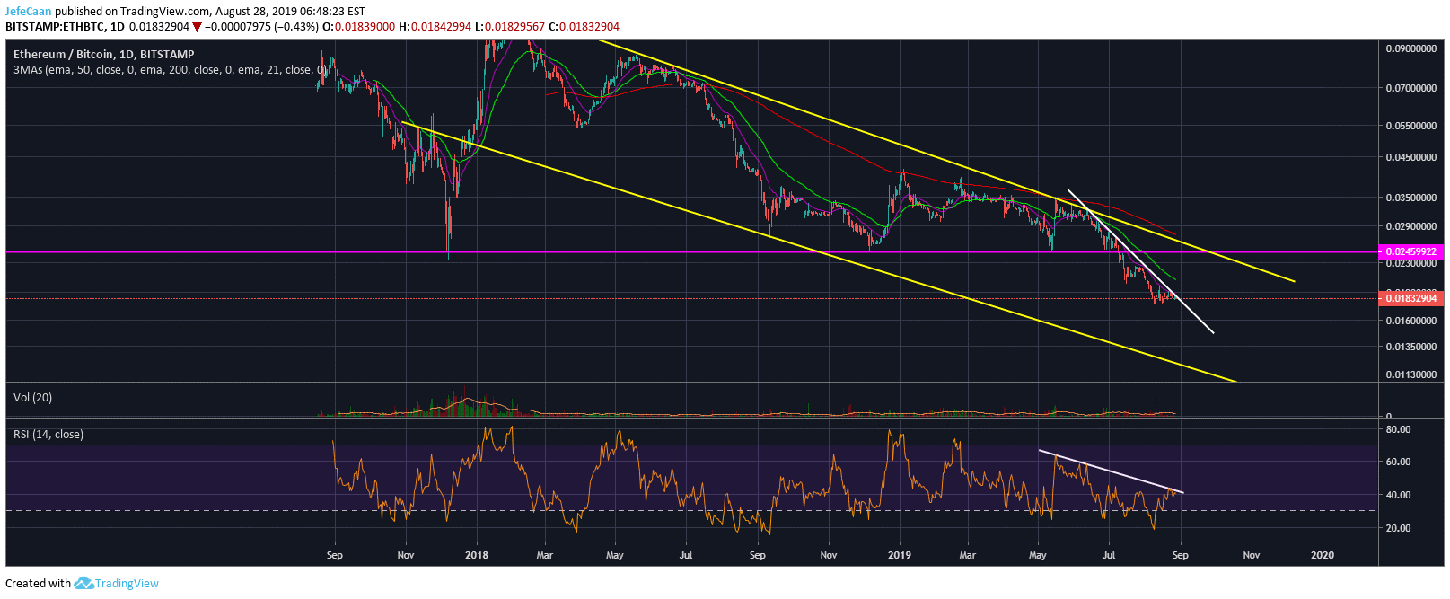 The daily chart for ETH/BTC shows that the pair remains in a strong downtrend and there is no reason at all to think that we might see a trend reversal here. We might see a fake out from here short-term but not a trend reversal. The price has to test the bottom of this descending triangle. When it does that, the bullish resolve is going to be seriously hurt and maybe the next set of downtrends will be easier and smoother from there and the bulls won't have much to fight for.
It is important to realize that this is one of the most important turning points since the beginning of the year. It is no lesser in significant to the $6,000 mark for Bitcoin (BTC). When that was broken, the bulls threw the towel and the decline from there was very smooth and straightforward. I expect the same things to happen here. As Ethereum (ETH) breaks the current market structure, we will see a sharp decline which will be followed by minor relief rallies but the downtrends are going to be much smoother after that and that is how we will see ETH/USD find its true bottom below $80 in the weeks and months ahead.