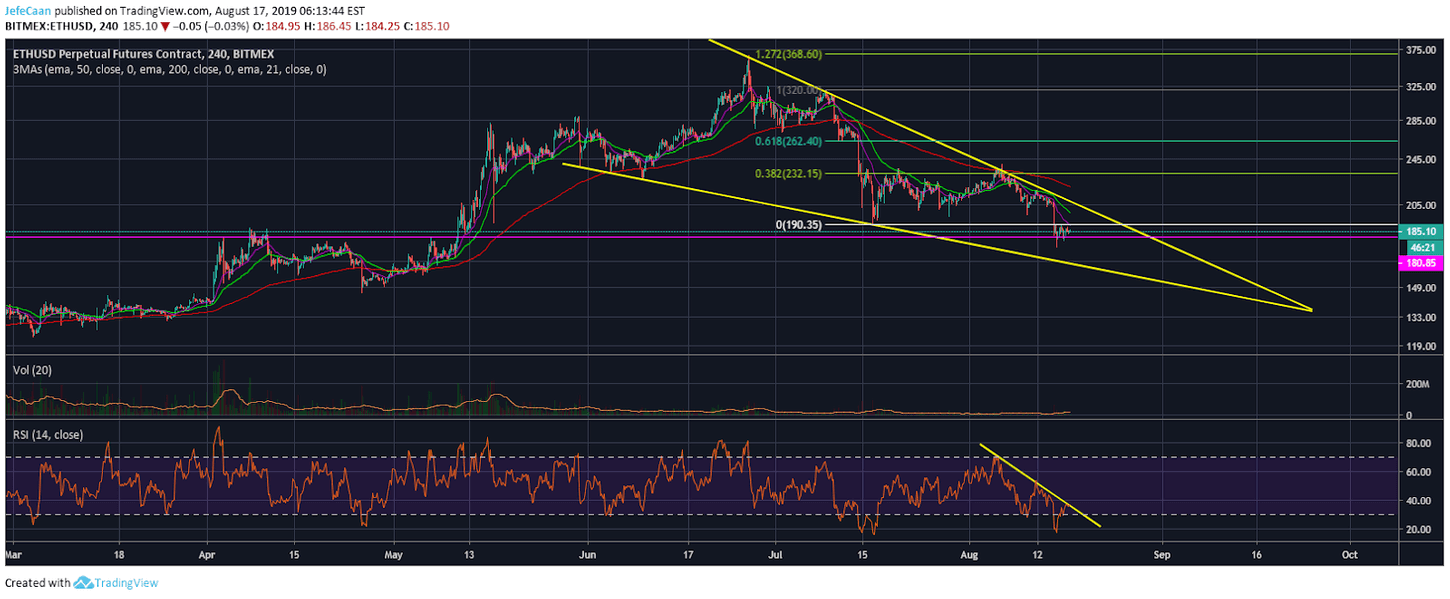 Ethereum (ETH) is trading within a large falling wedge. The price is likely to eventually break out of this falling wedge and rally higher potentially towards the 38.2% fib retracement level at $232.15 but it is unlikely to happen before the price sees further downside from current levels. We can spot a downtrend on the RSI on the 4H chart for ETH/USD. That being said, the support at $180 is a strong one but we expect it to be broken nonetheless in order for Ethereum (ETH) to complete its correction. There is also the possibility that this falling wedge might be invalidated in the face of strong bearish momentum and the price could fall a lot lower.
Any hopes of the price going up to test the $232.15 resistance or to go higher than that are just temporary. If the price breaks below the $180 mark and begins its downtrend, it is going to have a very hard time to break above this level again. This is how we expect the systemic downtrend to begin and this is how ETH/USD will decline to a double digit price before it finds its true bottom. Ethereum (ETH) is not the only altcoin that is on the verge of a brutal downtrend. Most other altcoins face the same fate as BTC/USD is due for further downside and when it begins to fall, altcoins are going to fall a lot harder. If we take a look at the 4H chart for ETH/USD again, we can see that the price has decline in a symmetrical manner. The most likely scenario here is for the price to decline below the $180 mark and test the bottom of the rising wedge. Then it is expected to break out of the falling wedge but remain below $180 after which it could fall sharply to resume its downtrend.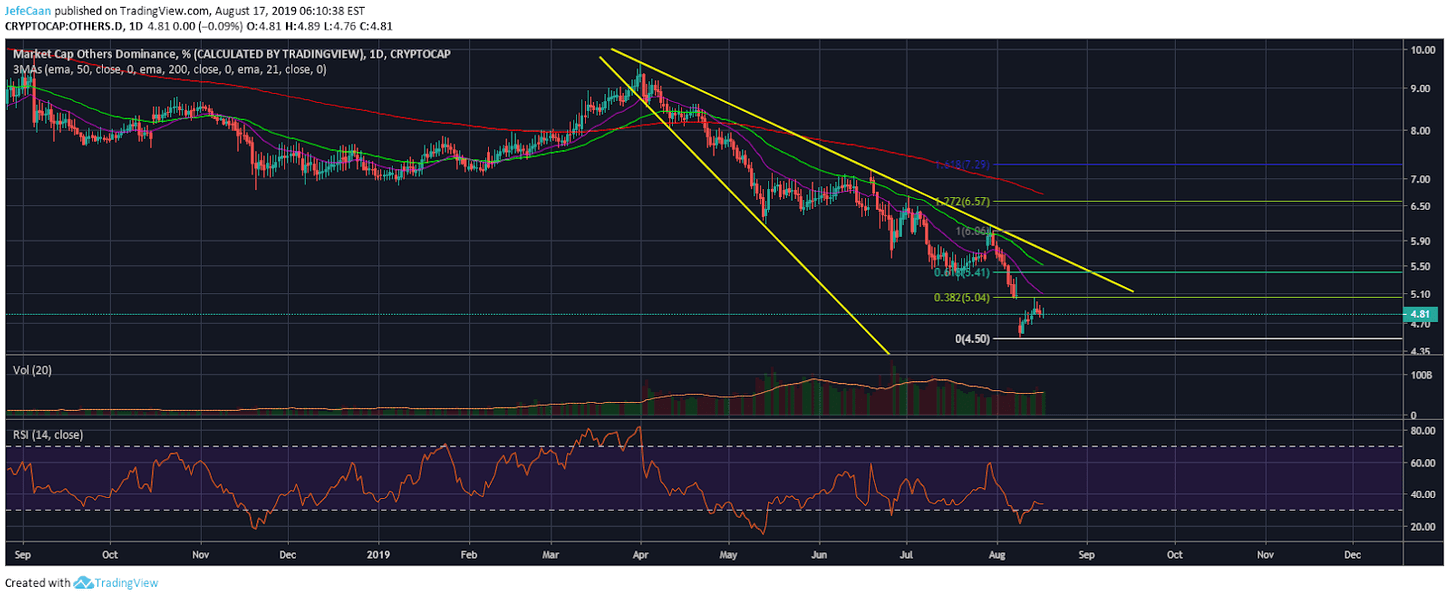 Investors are losing faith in altcoins. The daily chart for Altcoin Dominance (Others.D) shows us that there is plenty of room for altcoin dominance to decline now that it has faced a strong rejection at the 38.2% fib retracement level. This is in line with our expectations because we expect Bitcoin dominance to rise close to 90% in the months ahead. The only way this is going to happen is if Bitcoin (BTC) were to hold its ground better than most altcoins.
We expect BTC/USD to fall further because we don't think the bear market is over just yet which is why it makes sense to think that altcoin dominance has yet to fall further. Just because a coin is down 90% does not mean that it couldn't fall by another 90% from there. In other words, if you invest in an altcoin thinking it has declined 90%, you could still be down by another 90% if it declines that much in the future. It could also end up a lot worse than that in the case of altcoins because most altcoin projects are completely useless with nothing to back their insane valuations.