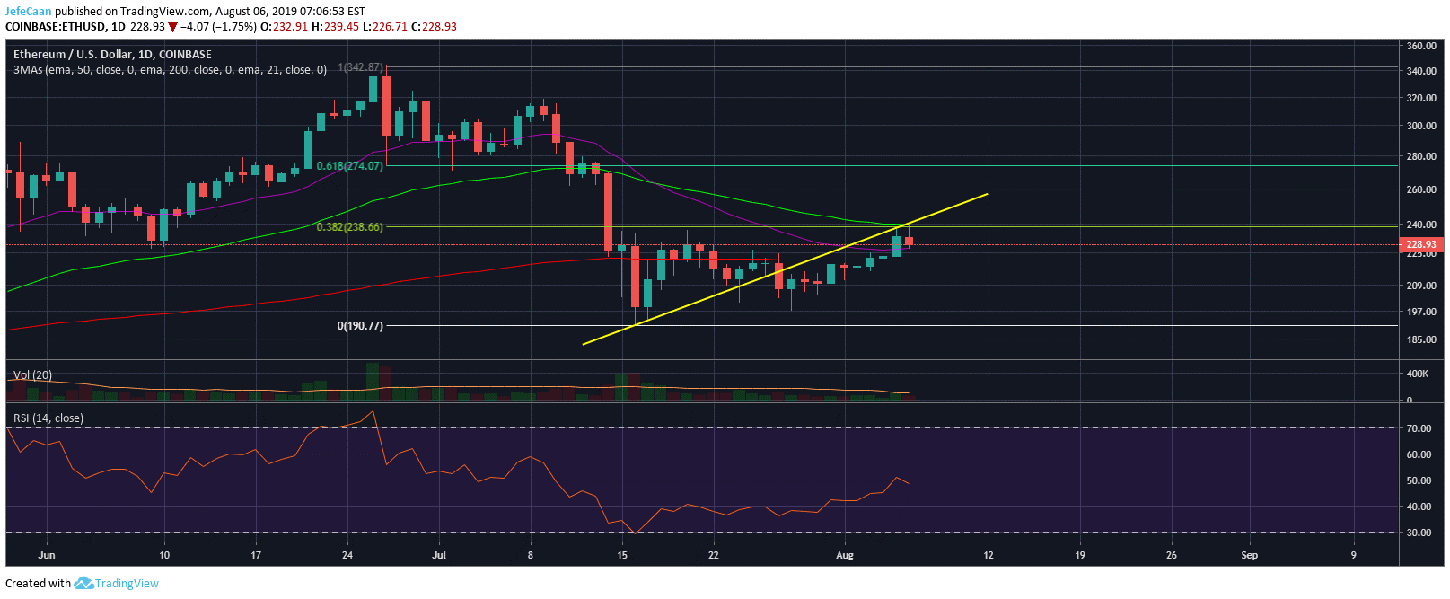 Ethereum (ETH) closed the week below the 21 Week EMA but that did not stop it from temporarily misleading the market into thinking that it still has some juice for further upside. So, yesterday, the price rallied hard but it ended up closing below the 50 day EMA. Today, we saw another rally to the 50 day EMA which met the same fate. The trend line support turned resistance also served as a strong resistance and this confluence of resistance zones points to further downside for ETH/USD in the days and weeks ahead. If we take a look at the RSI, we can see that it has ample room for further downside. Moreover, the RSI also shows the bear flag that we see on the daily chart for ETH/USD which has a very high probability of leading to further downside.

A lot of analysts and traders are very bullish on Ethereum (ETH). So much that the Longs to Shorts ratio for ETH/USD is 80% to 20% in favor of longs. This means that 80% of retail traders are betting that the price is going up form here. We have seen before how that turns out because it all comes down to "Cui bono" or "Who benefits?" There is a serious gap between longs and shorts. 80-20 is a huge difference and if we analyze it on "Cui bono" we will have only one answer and that is Market Makers. See, leveraged trading platforms are like casinos. You can win here and there but in the end you will end up losing all your money including your winnings to them. If you are really smart, you can outplay them but that rarely happens because making sure you lose is their business model.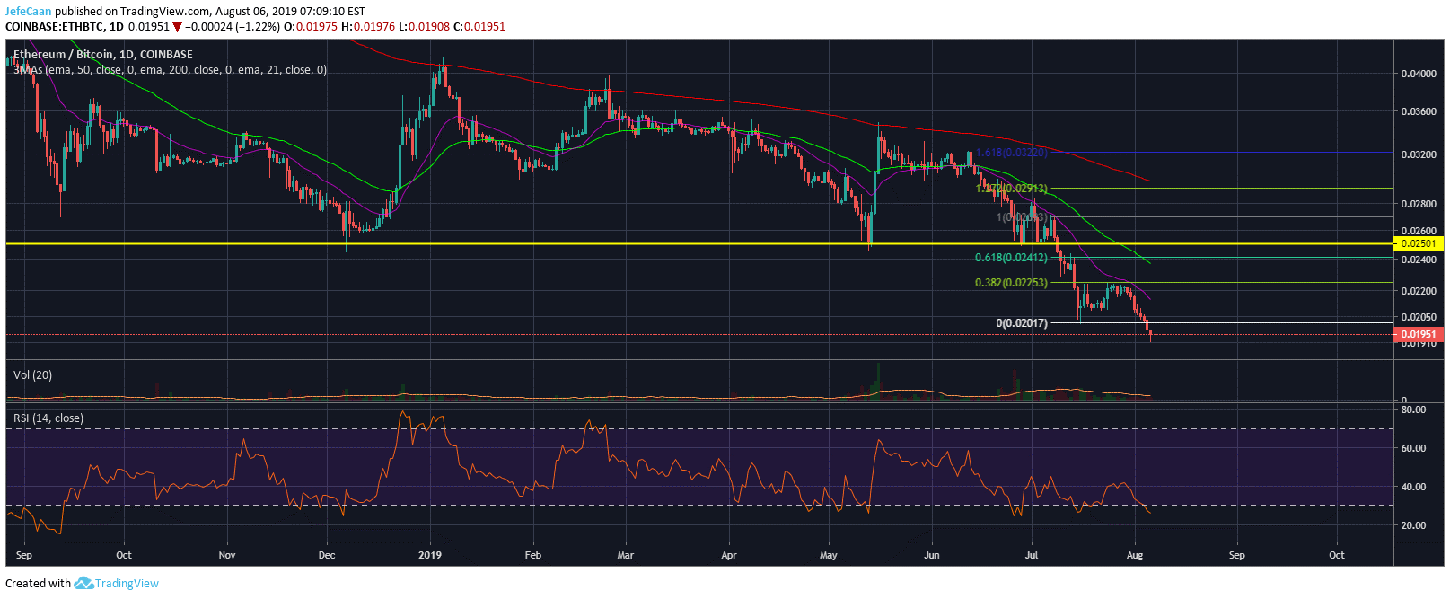 Ethereum (ETH) declines below the July lows against Bitcoin (BTC) which is a strong sign of bearish continuation. The daily chart for ETH/BTC shows that the pair ended up crashing below a strong support in July and since then has failed to even retest that level. The price did attempt to rally towards this strong support turned resistance but was stopped at the 38.2% fib retracement level and it ended up forming new lows.
Ethereum (ETH) has long been hailed as the mother of all altcoins and it is a wonderful blockchain project with a lot of uses but tech and price is not the same thing. Ethereum (ETH) still remains overbought at current prices and smart money is not going to get into the market while it stays around current levels. This is not just about Ethereum (ETH), it happens in every market. When the price of an asset shoots up too high too fast, it calls for a correction and that correction ends up shaking out the quick buck artists. When the asset (ETH in this case) changes hands from weak hands to strong hands that is when we see the beginning of a new bullish cycle.