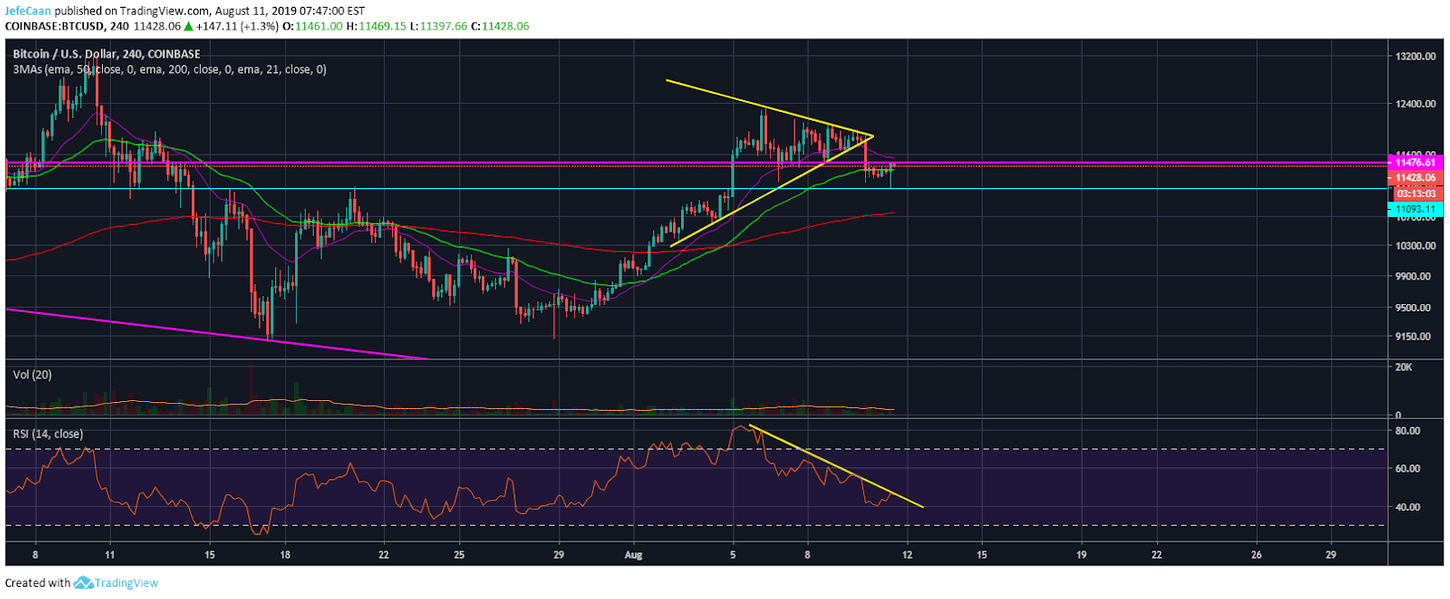 Bitcoin (BTC) is primed for a major decline below $11,000. In the past 24 hours we have seen it attempt to test the $11,093 support and it succeeded in holding that support. However, back then the price had room to rally. Now, the RSI has run into its downtrend resistance and the price has already begun it decline from the key resistance zone of $11,476. We expect the price to crash hard from here most likely before the end of the day. We could see a major move all the way down to the 200 EMA on the 4H chart for BTC/USD which might subsequently be followed by further downside. Ultimately, we expect the price to decline to its true bottom around $1,200-$1,800 but it is not going to happen in a manner that would spook the bulls.

The market makers do not want the bulls spooked. We have the Longs to Shorts ratio for Bitcoin (BTC) at 70% to 30% in favor of the bulls which means that most retail traders are likely to be punished hard for their extreme optimism eventually but it is not going to happen in a way that would spook them and convince them to cash out. What's more likely to happen instead is that the price is going to decline and then the bulls would be presented opportunities to "buy the dip". They will keep buying the dip and when they realize what is going on, it will be too late. This is nothing new, it happened during the previous downtrend as price declined from its all-time high. However, traders keep falling for the same tricks over and over again and this is how financial markets keep operating.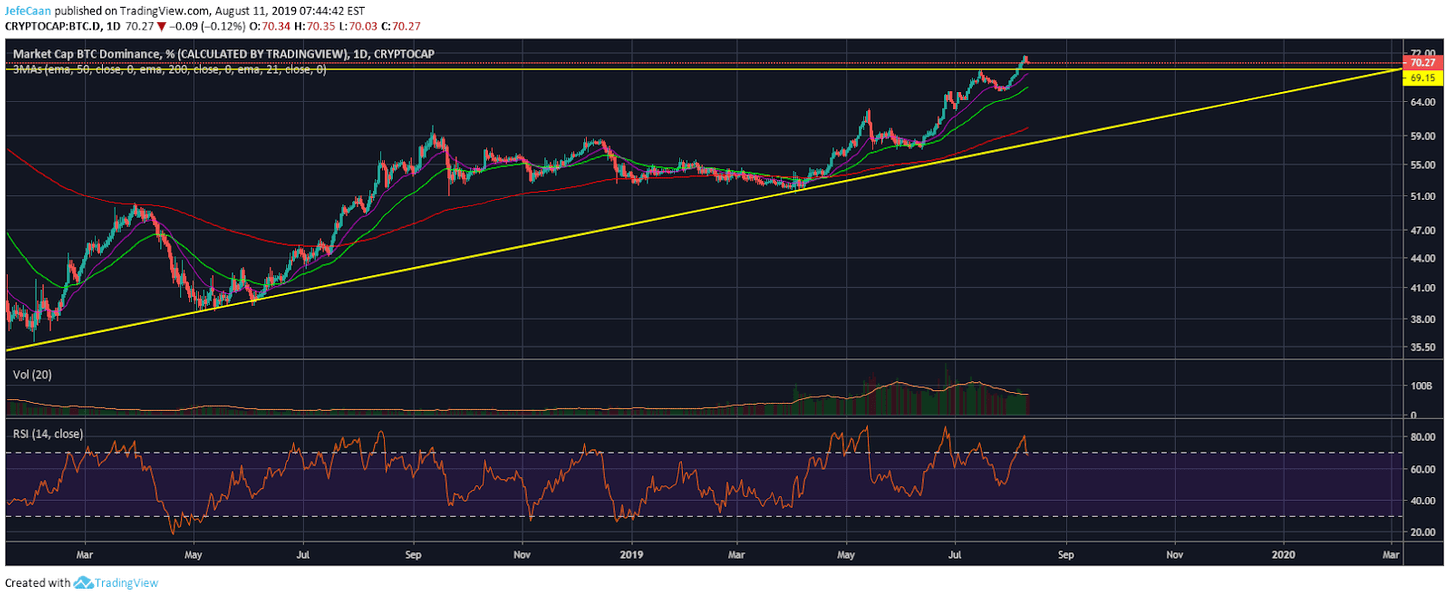 Influencers on Crypto Twitter and elsewhere are really making it difficult for amateur retail bulls that see Bitcoin (BTC) as a "store of value" or a "hedge against everything". Some of these influencers may actually be naïve enough to not realize what is going on but I wouldn't think that most fund managers with billions in asset under management would be unaware of what is really going on. They want to keep the average investors optimistic so they can dump systemically on them as they have before. We do not have to go very far in history to see their track record. If you look at their statements when BTC/USD was trading around all-time high, most of them were unanimously calling for a rally to $30k or $50k.
Now, if we take a look at Bitcoin dominance (BTC.D) we can see that its uptrend remains intact despite a minor pullback. It is still possible for the dominance to decline to the top of the ascending triangle that it broke but the most likely scenario would be for it to shoot up from here as Bitcoin (BTC) and other cryptocurrencies tumble from here. Even if Bitcoin dominance closes the day around current levels without going higher, we will have a close above the 200 Week EMA which is a strong bullish indicator for Bitcoin dominance and a strong bearish indicator for the market in general indicating that further downside is to follow.