Bitcoin (BTC) is running out of reasons to stall a move to the downside. First, it was the "symmetrical triangle" that some analysts tried to draw on the BTC/USD chart. In all fairness to them, it was a symmetrical triangle but technical analysis is about more than just lines on a chart. You cannot just draw lines on a chart and say "the price might either crash hard or rally hard". You need to have an idea as to what might happen and why it might happen. The manner in which the price has been resisted a meaningful decline is only indicative of the buying interest still present in the market. People are still quite eager to buy the dips and as long as that happens, the market makers will let them.
However, these retail bulls are quickly running out of reasons to buy the dip. The descending triangles that the price has been forming on larger and smaller time frames are too obvious to ignore. The 1H chart for BTC/USD shows that one such triangle has already been broken to the downside and the price is now primed for a sharp decline from current levels. That being said, we may still see some retail bulls buy the dips and as long as they keep doing that, the market makers will let them. To discourage shorts from stacking up we might see long wicks to the upside which will liquidate shorts and discourage the bears from entering aggressive positions. Everything aside, let us say that there is still a possibility of another move to the upside, because there is. The question to ask is, "to what avail?" Is it going to mark the beginning of a new uptrend? No. All it could do is shakeout more bears and trap in more bulls before the inevitable happens.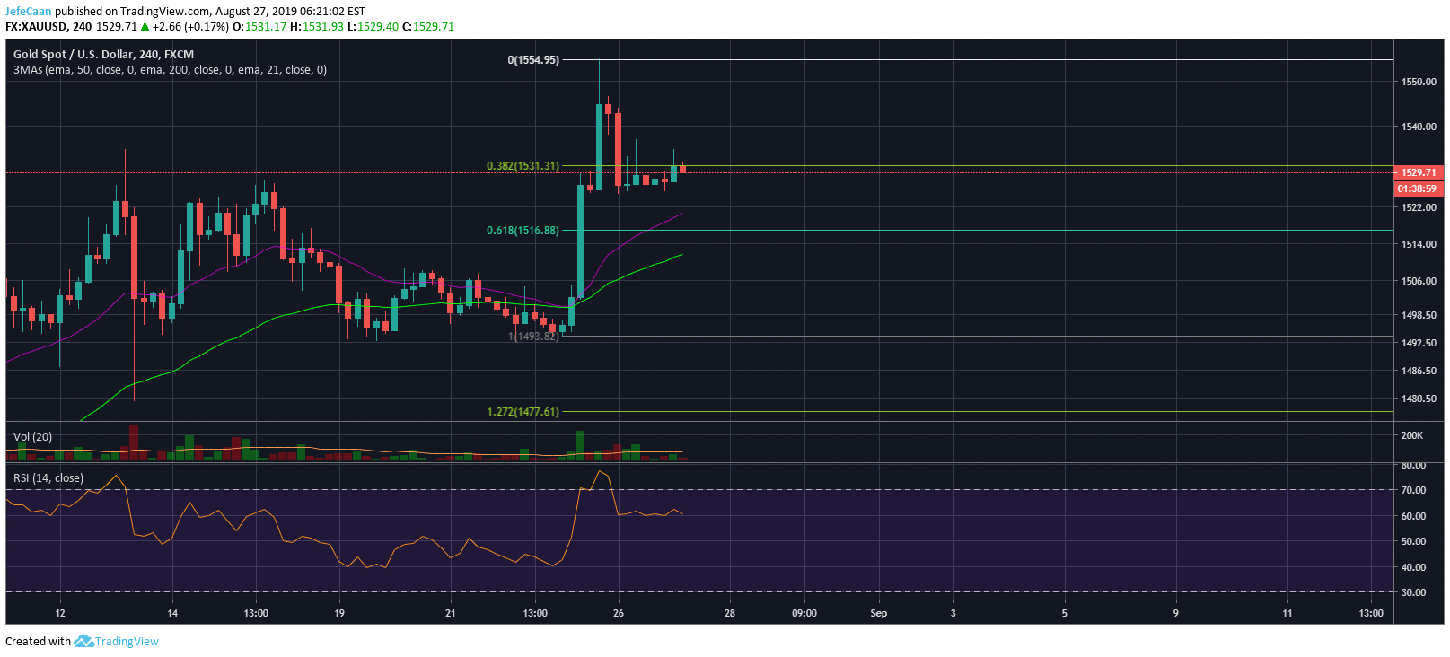 This is the 4H chart for Gold (XAU/USD) that Bitcoin (BTC) has been very fond of following. Just like Bitcoin (BTC), Gold (XAU/USD) had a very bearish close yesterday leaving a big wick to the upside. It is now trading below the 38.2% fib retracement level and is likely to decline further. So, it has become quite clear that Gold (XAU/USD) has topped out as well which means Bitcoin (BTC) bulls are short another reason to think that the price can go up from here. If Gold comes down that would mean that investors are no longer interested in a safe haven asset and so it would make no sense for the overly optimistic retail bulls to invest in Bitcoin (BTC) thinking it could be a safe haven asset.
In my opinion, this correlation with Gold (XAU/USD) is completely staged. I do not expect it to hold during times of a financial crisis at least not yet. Speaking of a financial crisis, I think we are years away from one. It is not going to happen when the media keeps talking about a recession every day. We are still likely to see a major decline in the stock market but recovery will soon follow and I see the S&P 500 (SPX) and the Dow Jones Industrial Average (DJI) making new highs. As for Bitcoin (BTC) it is quickly running out of reasons to delay the inevitable. It is going to have its correction which will then pave the way for another bullish cycle if Bitcoin (BTC) survives as it has before.