Litecoin (LTC) just stormed past $120, beginning the week in green. The price is up close to 9% for the day and is expected to rally further. The price started to rally soon as it broke past the 38.2% fib retracement level. It can now rally all the way towards $166 if Bitcoin (BTC) remains bullish. We have seen cryptocurrencies like Ethereum (ETH) run into strong downtrend resistance but LTC/USD seems to be in the clear for further upside. We have already seen Litecoin (LTC) rally aggressively before after the price found a temporary bottom in December, 2018. The hype around Litecoin (LTC)'s halvening in August, 2019 seems to be the driving factor in pushing the price higher than most large cap coins during each rally.
We have yet to see LTC/USD retrace in the same way as other cryptocurrencies have in the past few weeks but technical conditions still support a rally to the upside. LTC/USD remains well above its 21 day exponential moving average and shows no signs of a slowdown. Bitcoin (BTC)'s yesterday close unnerved a lot of investors and the fear and greed index declined sharply from greed to fear (62 to 46) but Litecoin (LTC) held its ground better than most cryptocurrencies and has now rallied higher than most large cap coins. If the rally continues as BTC/USD aims for a double top, we could see Litecoin (LTC) rally towards its 38.2% retracement from its all-time high. This would be the best time to expect a trend reversal to the downside. For now, the price has ample room to rally and we can expect it to maintain its uptrend as long as the cryptocurrency market continues to rally.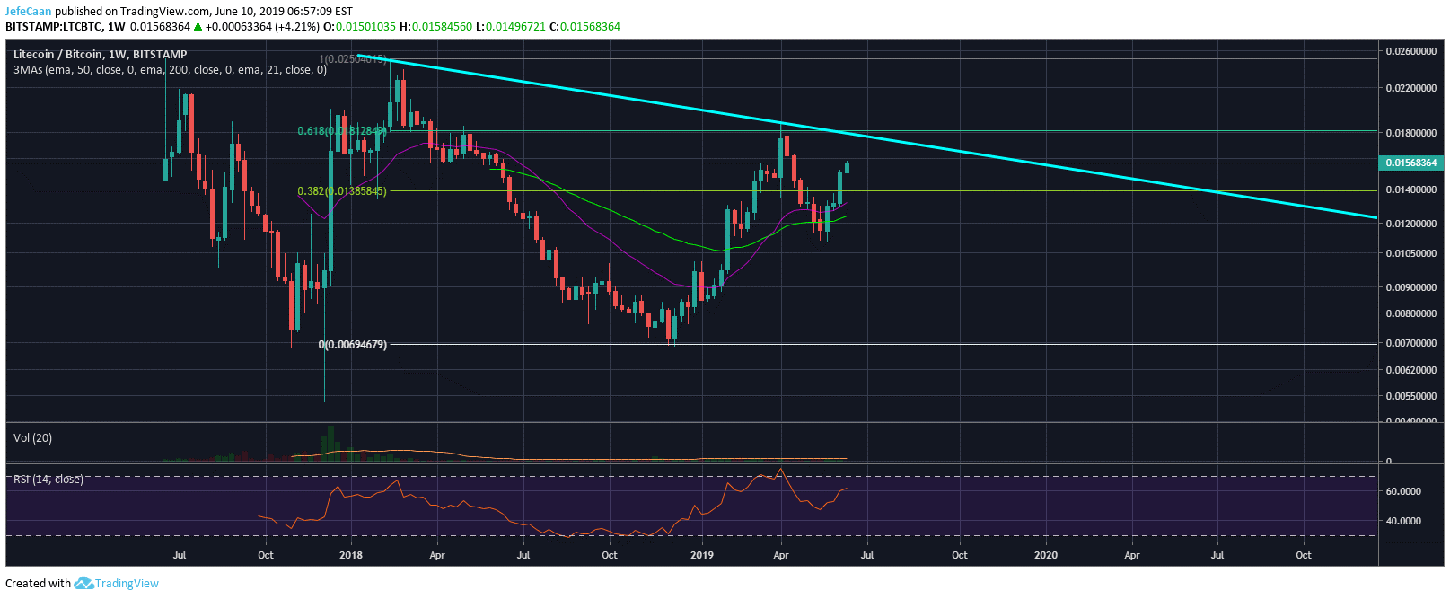 Litecoin (LTC) has ample room to rally against the US Dollar (USD) but it seems that its days of an aggressive bull trend against Bitcoin (BTC) might be coming to an end. The weekly chart for LTC/BTC shows that the price did face a rejection at the trend line resistance before and it declined but it started to rally again after declining briefly below the 50 day exponential moving average. The price could test the trend line resistance again but just as before, it is unlikely to effectively breach it. We could see a fake out that might result in the price momentarily breaking past this line, but it is likely to fall back within the descending triangle.

It is important to note that during key turning points in a market, the retail traders are deliberately confused and baffled by market makers to give them the wrong idea when something is so obvious. We see this happen in markets all the time. The purpose of drawing trend lines on a chart therefore should not be to predict where the price is supposed to reverse but rather to get an idea as to what that trend line means to retail traders and market makers. Once you are familiar with the psyche of both sides, you would be able to make moves that allow you to ride each wave with the market makers while staying under the radar.