Ethereum (ETH) might be on the cusp of a historic breakout against Bitcoin (BTC) as the price has just climbed above the 50 Day EMA and is now close to the most critical trend line resistance that ETH/BTC has failed to breach since the beginning of the bear market. If this trend line resistance is broken, altcoin enthusiasts will have a strong reason to believe that the altcoin season has started. While it might be tempting to believe that, it is important to understand the risks here. Ethereum (ETH) is still trading within a large descending triangle against Bitcoin (BTC). Considering that ETH/BTC is already overbought on the daily and weekly time frames, if it falls to the bottom of the triangle, we could see it break below it to decline to a new yearly low.
The daily chart for ETH/BTC shows that Ethereum (ETH) has already been through an extensive correction but if we examine this chart closely, we will see that the period since the beginning of the year to now has mostly been sideways movement. The price has yet to break out of this tight range either to the upside or to the downside. ETH/BTC will now have to make a decision. Either it will have to break past the trend line resistance to possibly begin a new bullish cycle or it will have to decline lower within the descending triangle to possibly fall below it and decline towards its true bottom. Either way, a decision has to be made now as the price has run out of room to trade sideways. Considering that BTC/USD still has room to go up, we expect ETH/BTC to break past this trend line resistance and stage a fake out.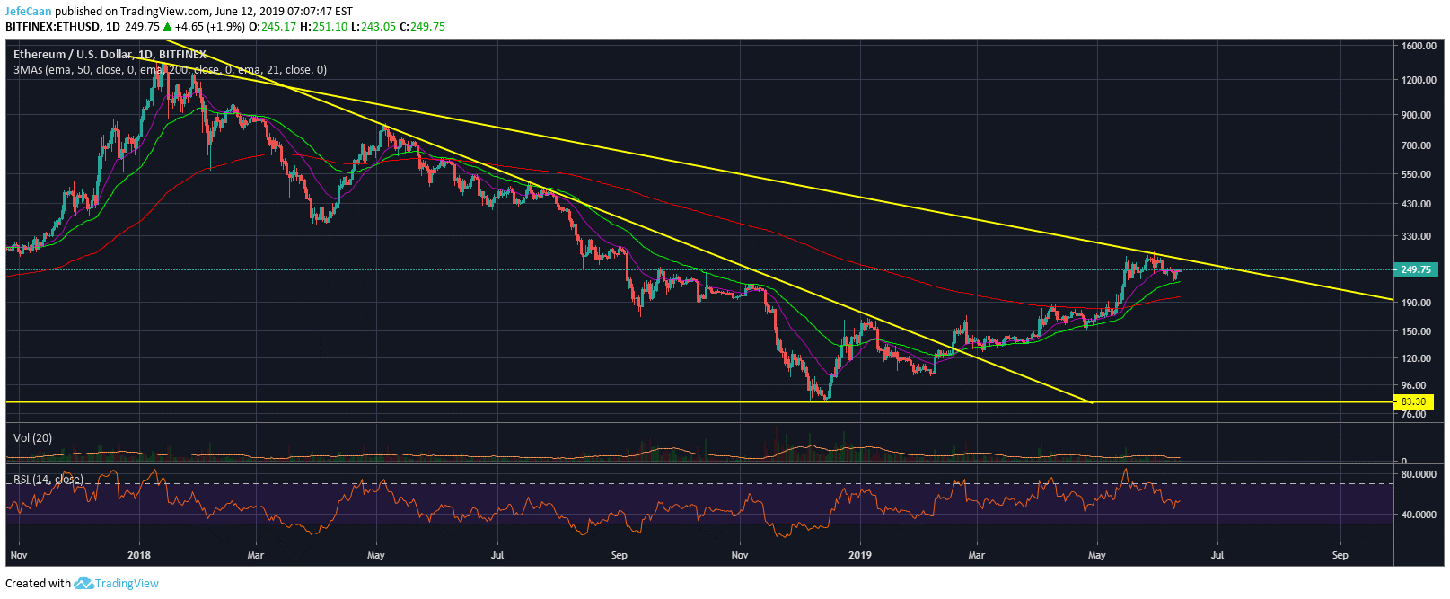 The daily chart for ETH/USD still shows the price struggling to break past the trend line resistance same as ETH/BTC. However, ETH/USD is in a far better position to break this trend line resistance compared to ETH/BTC. This break out would give Ethereum (ETH) the ammunition to shoot towards $300 or higher during the next bullish advance. The price already formed a golden cross on the daily a few weeks back and it could still capitalize on that now that ETH/USD has found support on the 50 day EMA.

Ethereum (ETH) has yet to find its true bottom regardless of how bullish or bearish it may seem short term. We have mentioned in our previous analysis that we are still early on in the bear market and it might be a long time before we see Ethereum (ETH) decline to its true bottom. Meanwhile, a lot of altcoin projects are busy with new developments and announcements to see their coins spike up during this final mini hype cycle before the next downtrend kicks in. This next downtrend is going to be brutal for the altcoin market and we are very likely to see a lot of useless ICO coins get wiped off the market.