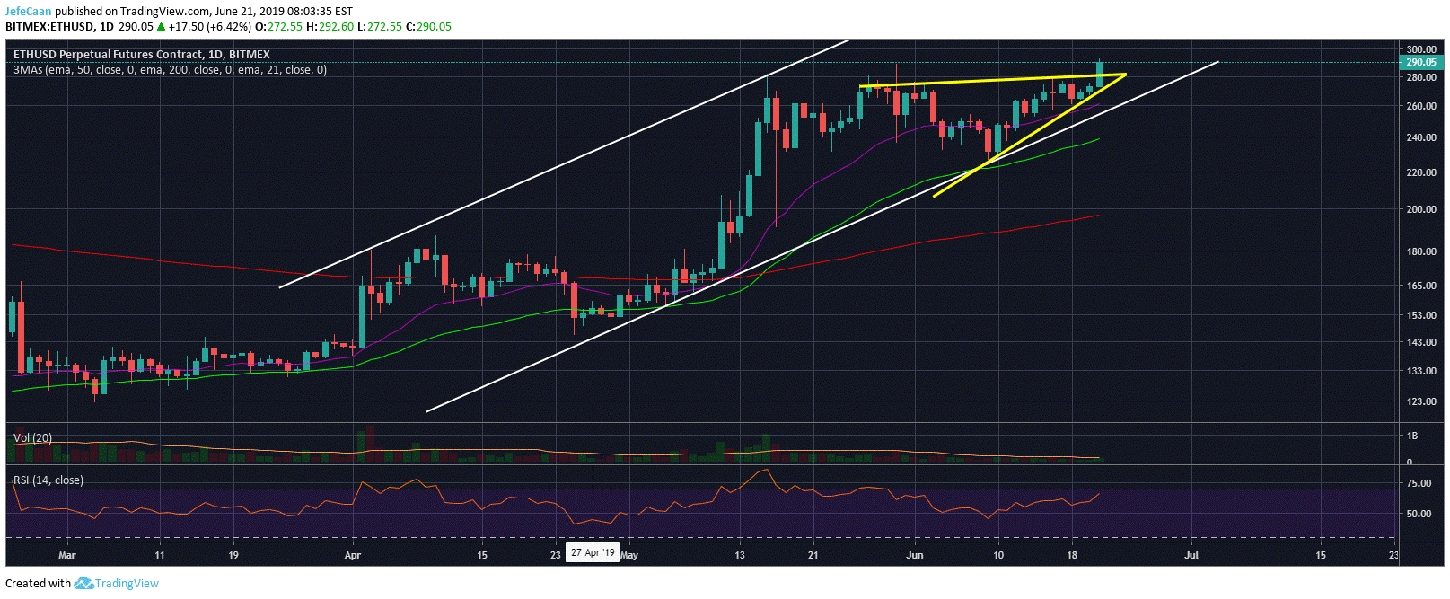 Ethereum (ETH) broke above the bullish pennant and is now eyeing a move towards $300. This would have been a very obvious move but the price did not give traders the impression that it was breaking up until the last minute. As we can see on the daily chart, it ended up filling most of the wedge before it broke out. So, it took its time to print that long candle to the upside, but now what? Can we actually see ETH/USD rally towards the top of the ascending channel? Yes, we can as it is a possibility but we are not likely to because the probability of that happening is very low. The daily RSI is rapidly approaching overbought levels and the price is already overbought on shorter time frames.
The perfect play here would be to expect the price to rally towards $300 before getting involved again. A test of $300 for Ethereum (ETH) is just like a test of $10,000 for Bitcoin (BTC). It is a strong psychological level and a break above it will have important consequences near term but so far we do not see it happening. Again, it is possible but not very probable because technical indicators are approaching overbought levels at fast pace. Ethereum (ETH) may not have cared much above those indicators in the recent past, but if we look at the big picture, there is no denying that Ethereum (ETH) just like most other cryptocurrencies including stable coins dances to the tune of Bitcoin (BTC). So, the price might try to gain ground against Bitcoin (BTC) for the time being but it is due for a much deeper correction long term.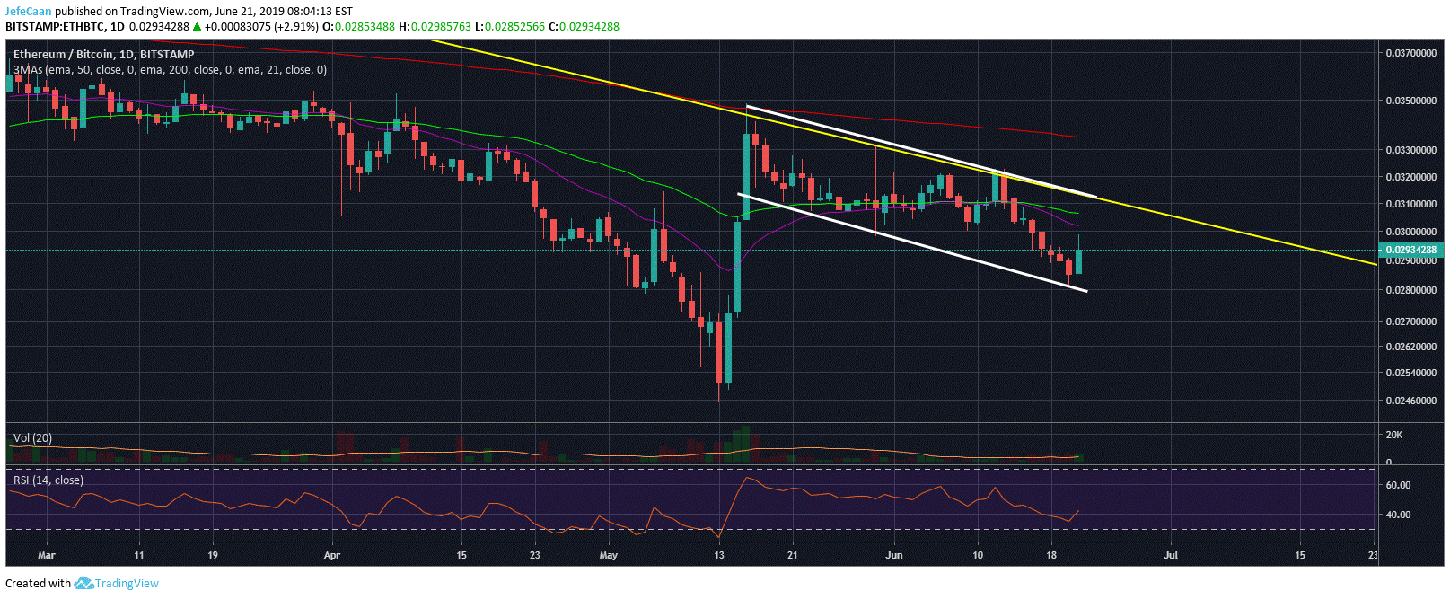 The bull flag seen on the daily time frame for ETH/BTC has yet to break to the upside. RSI for ETH/BTC shows us that there is plenty of room for that to happen but this is not enough to deduce that it is going to happen. It is very tempting to believe that the bull flag is going to get completed and the price will end up breaking its long downtrend against Bitcoin (BTC) at this point but we are quite far from a bull market just yet which is why it is unlikely to happen. That being said, as we mentioned in our previous analyses on Ethereum (ETH), we might see a fake out short term to convince retail traders that the bulls market has begun.

When cryptocurrencies topped out around January, 2018, everything started to crumble fast. We saw a major decline which was followed by a rally that made most people think it was just a minor correction and the price was going back up but they were proven wrong. Then the price went on to decline in a way that made a lot of traders kept hoping it would recover at some point. As we saw, it did not and it kept on declining every time it printed a short term relief rally. A decline from these levels in Ethereum (ETH) will have the exact same effect as a lot of people would be waiting for the bulls run that a lot of these so called analysts and media outlet have been talking about for the past few months. When it does not happen, a lot of them are going to give up and we are going to see the price decline deep in the red.