Bitcoin (BTC) is all set to decline towards $8,500 and it is not a question of if or whether but how and when. If we look at the 1H chart for Bitcoin CME Futures, we can see the two big gaps that the price left as it shot up. Throughout the history of Bitcoin CME Futures, we have seen that these gaps always get filled. Even if the price shoots up to $20,000 from here hypothetically speaking, it is still going to come down to test these two gaps. The reason I mention $20,000 is because in these past few weeks even some of the most widely followed and well respected analysts and traders have changed their stance by giving in to emotions. There is nothing wrong with changing your view as the outlook changes but there is a difference between changing your views and taking a 180 degree turn.
Unfortunately, even some of these well respected analysts and traders have gone straight from bearish to bullish. While they are prudent enough to carefully protect their positions with proper risk management, most of their followers are not and they end up losing money. There is a difference between following a working system and getting lucky. When you get lucky, there is no need to let emotions cloud your judgment. The price is done testing the 38.2% fib retracement from all-time high and it could start its decline anytime now. I expect the price to start rallying again after it fills these gaps. We'd see most bulls paint the narrative that BTC/USD just needs to fill these gaps before it can rise towards $20,000. This will be followed by a rally which might see the price get stopped out at $10,000 or it might rally even higher to form a new top.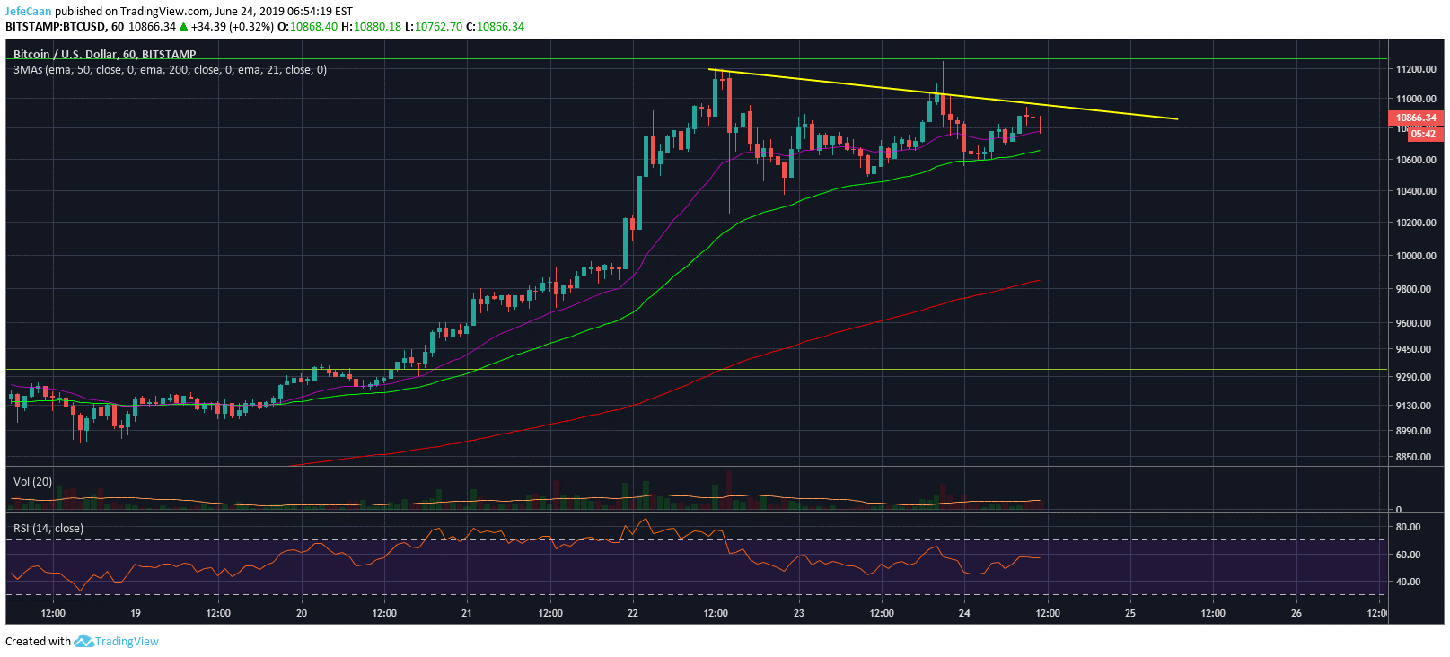 If we look at the 1H chart for BTC/USD, we can see that the price is in a clear downtrend having faced strong rejection at the trend line resistance. The fall towards $8,500 might be quick because a lot of traders are beginning to get comfortable entering short positions here. The market makers might not want to let that happen which is why the price could drop in a series of flash crashes. The narrative for a rally towards the previous all-time high still remains strong as most bulls are extremely optimistic.

The Fear and Greed Index is down four points from yesterday and is now trading at 80, which means traders might be looking to take some profits here. However, most of them still believe the price is headed back up after a short term pullback. This rally is mostly fueled by the hype around the upcoming halvening although very few people might have actually taken the time to analyze for themselves what happened to the price around previous halvening events for Bitcoin (BTC). History is an important teacher but when it comes to financial markets, the majority seldom listens which is why a small group of professionals consistently keep on profiting off the follies of lazy traders.