Litecoin (LTC) has topped out and is now at risk of a major decline that could pull its price back to $70 in the days ahead. The RSI as well as the PPO indicator on the 4H chart for LTC/USD point to the likelihood of a strong decline in the near future. The halvening hype has kept Litecoin (LTC) at center stage in the altcoin market despite the fact that Litecoin (LTC)'s future prospects are diminishing with every passing day as Bitcoin (BTC) gets closer to becoming faster and cheaper. We might soon see Bitcoin (BTC) doing all that Litecoin (LTC) and other spin off coins like it have set out to do. When that happens, forks like Litecoin (LTC) will be short their only use case and their future will be in jeopardy.
Cryptocurrencies like Ethereum (ETH) or Ripple (XRP) might still have a future even though they may never see the same rate of growth again, but Litecoin (LTC)'s future depends on Bitcoin (BTC) transactions costing more and taking longer. In other words, Litecoin (LTC) benefits off Bitcoin (BTC)'s misery. The same is true of other forks like Bitcoin Cash (BCH) or Bitcoin SV (BSV) and a ton of other useless coins and forks out there. We are no longer at a point where just any cryptocurrency can be expected to rally in a bull market. The next few months are going to wipe out a lot of useless coins off the market and it will be interesting to see how Litecoin (LTC) fares during that time. The halvening hype might already be factored in and even if it undergoes halvening in August, we may not see a significant rally as the market is expecting to be in a correction during that time.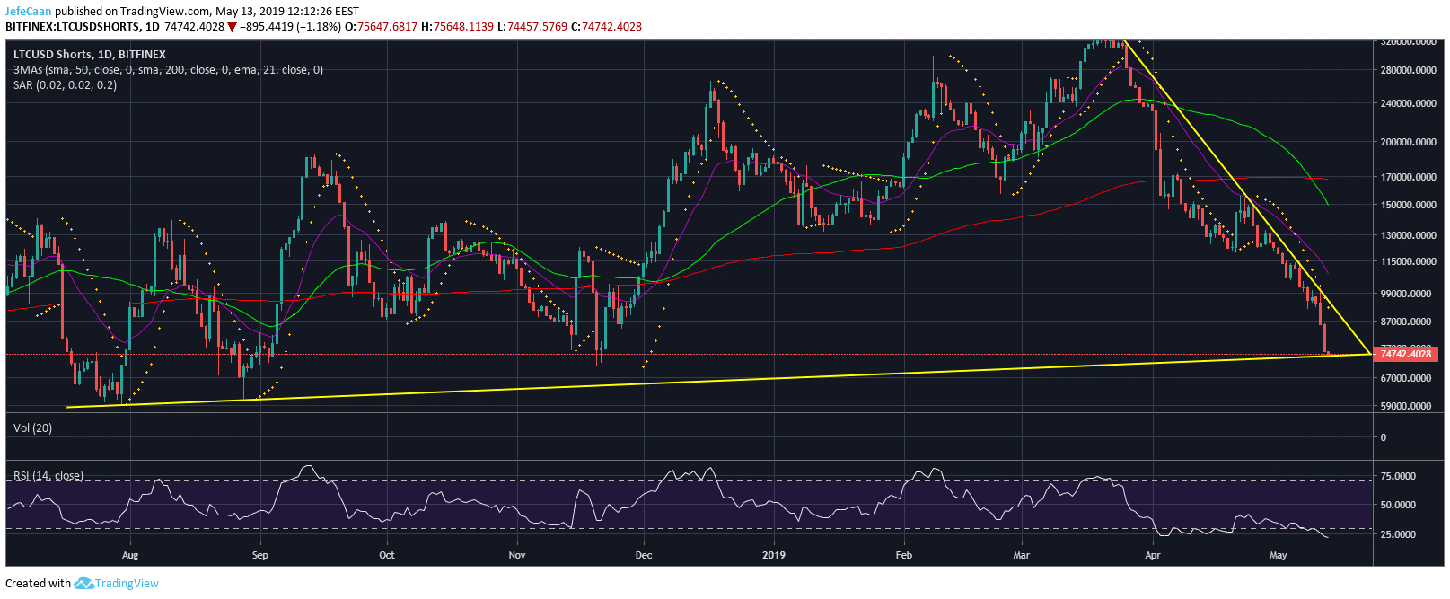 Litecoin (LTC) shorts have declined massively the past few months. The daily chart for LTCUSDShorts shows that the number of margined shorts started to nosedive around the end of March and has now reached a yearly low. Retails bulls are too scared to short Litecoin (LTC) and the bulls are too confident to buy it. In fact, some analyst have even called for targets of $500 and higher after Litecoin (LTC)'s halvening in August. This goes on to show that the moon boys and quick buck artists are still lurking around and we cannot possibly have a trend reversal when there are people left to shake out.
The next few months are going to decide whether Litecoin (LTC) can stay relevant in this market or not. We have seen some coins put to a similar test in the past. A recent example is of Ethereum Classic (ETC) that had its core development team abandon the project which was then followed by a 51% attack. The charts are always a good indicator of what could happen on the fundamental side. Whenever the price is due for a decline, we see a strong catalyst present itself. We expect the same to happen in the case of Litecoin (LTC).