Ethereum (ETH) is expected to fall to a double digit price by year end. That does not mean that the bear market will necessarily come to an end by then but that ETH/USD might be trading well below its current price. The rationale behind this is that the price of Ethereum (ETH) has been overbought for a long time now and as the weekly chart shows, the RSI has now faced rejection at its trend line resistance. This trend line resistance goes back to 2017 and it is extremely unlikely to be broken at this point under such overbought conditions. If we look at the weekly chart for ETH/USD, we can see a pattern of breakdowns that has repeated throughout.
The price of Ethereum (ETH) has repeatedly broken below descending triangles and has entered larger triangles after every breakdown. This time, the price is trading in one such descending triangle that has a very high probability of being broken to the downside. If and when the price breaks below this triangle, the current support around $83 will become a very strong resistance that ETH/USD might not be able to breach this year. Throughout this bear market, we have seen ETH/USD break below key support levels when they have been tested over and over again. In chart analysis, when the price tests a certain level more often, it is likely to break below it. As we can see on the weekly chart, Ethereum (ETH) has tested this support just before the beginning of this year and now it is likely to test it again as the price has faced rejection at a key trend line resistance.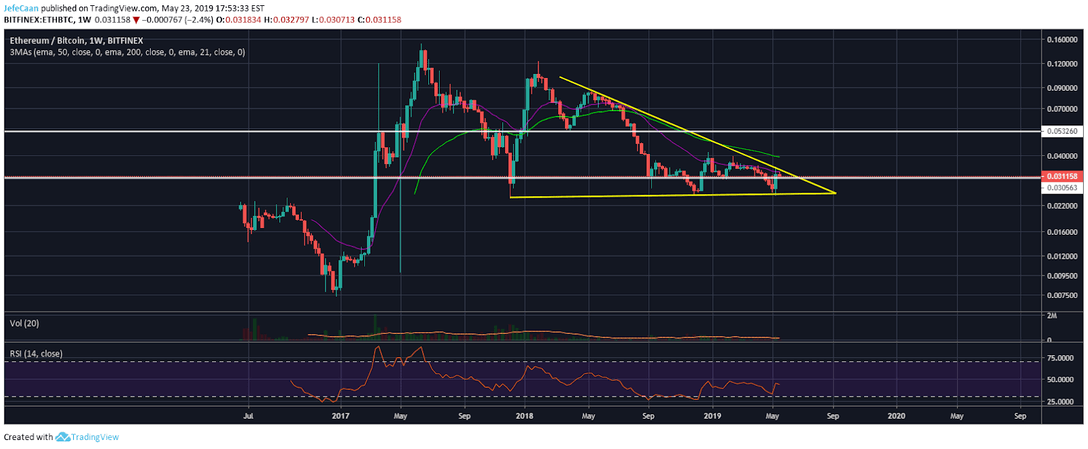 Ethereum (ETH) also risks falling below a large descending triangle against Bitcoin (BTC). The price has now tested the lower limit of this triangle three times and if it falls down to tests it again, we are likely to see it break below it to fall towards levels not seen before 2017. A lot of retail traders find it hard to believe that this could happen but then again most of them believe the bear market is over and Ethereum (ETH) is in the clear to begin its next bull run. I do not think ETH/BTC is in the clear yet as there is room for significant further downside.
ETH/BTC has to break out of the current descending triangle and based on near term outlook this break out will most likely be to the downside. Ethereum (ETH) remains at risk of further decline which is why this may not be a good time to start accumulating. In fact, it would be a good time to start selling as the price has to come down after a massive rally to the upside even under the bullish case. Cryptocurrencies like Ethereum (ETH) have seen more than an 85% correction from their all-time highs but when things get bad, it does not mean that they cannot get worse.