Ripple (XRP) has declined below the 50 day exponential moving average and has once again shown extreme weakness in the face of oversold trading conditions on the daily time frame. The 1D chart for XRP/USD shows that Ripple (XRP)'s Stochastic RSI is near oversold territory on the daily time frame. The RSI has also found support atop a long term trend line that extends back to December, 2018. Normally, this would mean that Ripple (XRP) is in a good position to stage an effective comeback from current levels but the price action this time is very weak and it appears that Ripple (XRP) is in no position for a trend reversal. The probability of a golden cross formation has now declined further as the price has plunged below the 50 day EMA. If the price closes below this level, we might see it eventually decline below the symmetrical triangle.
The cryptocurrency that saw a major spike in interest around mid-2017 and most of 2018 is all of a sudden forgotten. The Ripple community on Twitter is still very active but the lack of activity on other forums has given critics the opportunity to bash Ripple (XRP) every now and then. Even Ripple (XRP)'s listing on Coinbase did not have the effect that most anticipated. For months, people talked about how Ripple (XRP) could fly to the moon if it gets listed on Coinbase. Some even said maybe Coinbase was under pressure from the crypto community that a Ripple (XRP) listing could lead to Ripple (XRP) becoming the largest coin by market cap. However, Ripple (XRP) got listed on Coinbase and nothing changed. It didn't even climb to second spot which it did during the last few months of 2018 when it outperformed Ethereum (ETH).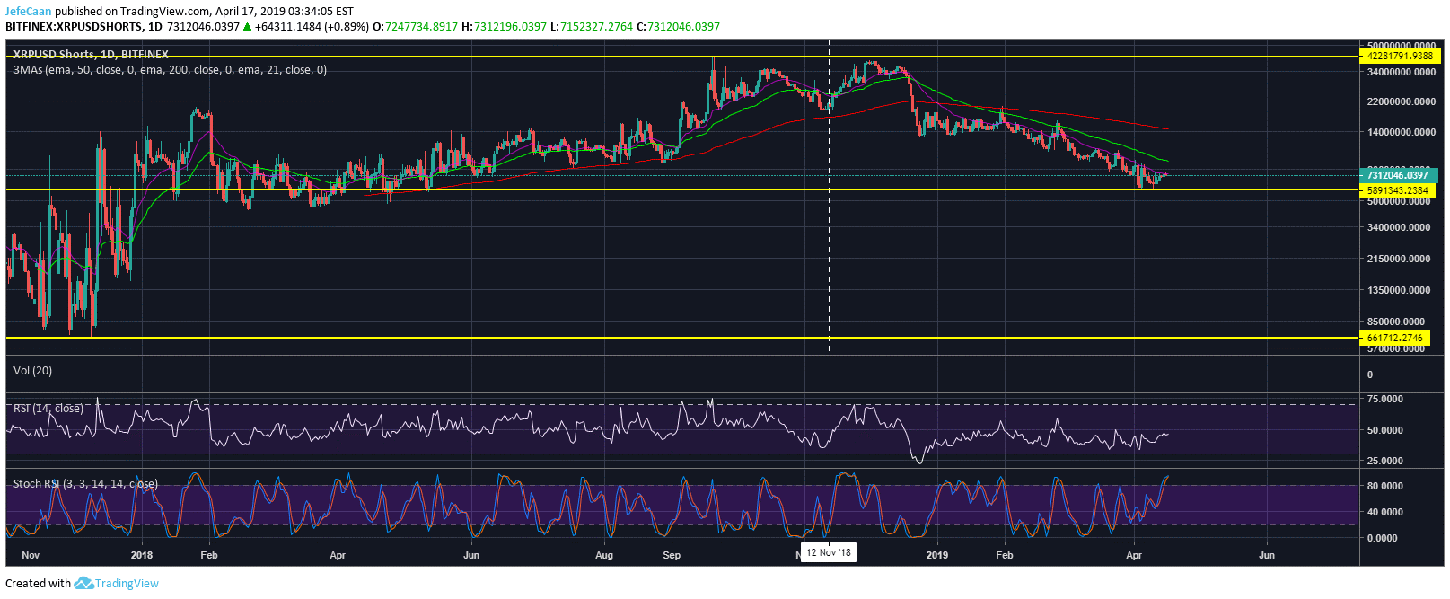 For long term believers in Ripple (XRP), there is still a lot of hope. Even though the hype might have died down for now but that could be a blessing in disguise for savvy investors looking to accumulate long term. The daily chart for XRPUSDShorts shows that the number of margined shorts for XRP/USD has a lot of room for decline. The Stochastic RSI shows that this decline could lead to Ripple (XRP) seeing massive spike in its price as the sell pressure subsides. However, it is important to realize that as the cryptocurrency market prepares for the next decline, Ripple (XRP) is unlikely to be a lone survivor and will most likely face the same outcome which is why we could see XRPUSDShorts rise before the ultimate decline.
Ripple (XRP) is still one of the few cryptocurrencies with an actual use case. This gives it a major edge over most cryptocurrencies in terms of adoption. That coupled with availability and access on multiple exchanges and platforms like Coinbase will make it much easier for investors to buy and hold this cryptocurrency during the next hype cycle. While Ripple (XRP) may not be the shiniest cryptocurrency anymore, it still has a lot of room for growth and is very likely to cross the $5 mark during its next bullish cycle.