Ripple (XRP) is showing no signs of a bullish reversal as the price has just faced a strong rejection at its 200 day exponential moving average. The cryptocurrency has been the face of bad news since the beginning of the year but some relief was expected considering it had more room to grow compared to most other coins and was also massively oversold against Bitcoin (BTC). Those factors do not seem to have made any difference and XRP/USD continues to perform poorly as the price trades further inside the triangle it has been trading in since May, 2018. The daily chart shows the price has now neared overbought levels on the daily time frame and could see a decline towards the trend line support as market sell-off ensues.
The Stochastic RSI on the daily time frame signals further downside as Ripple (XRP) faces resistance at the 200 day EMA and a strong trend line resistance. This means the price is more likely to break below this triangle than to break above it. Such a decline could see Ripple (XRP) falls towards new lows in 2019 even as it remains oversold against Bitcoin (BTC). JP Morgan or other banks may not roll out their digital tokens just yet but the fact that they announced that they were going to has put Ripple (XRP) at risk as it may be out a use case if most banks decide to issue their own digital tokens. Knowing the Ripple (XRP) team, we do believe they have a lot up their sleeves yet and we might see some surprises as the market recovers. However, so far there are no signs of a recovery and the market might plunge deep into the red as early as next week with Ripple (XRP) following Bitcoin (BTC)'s lead.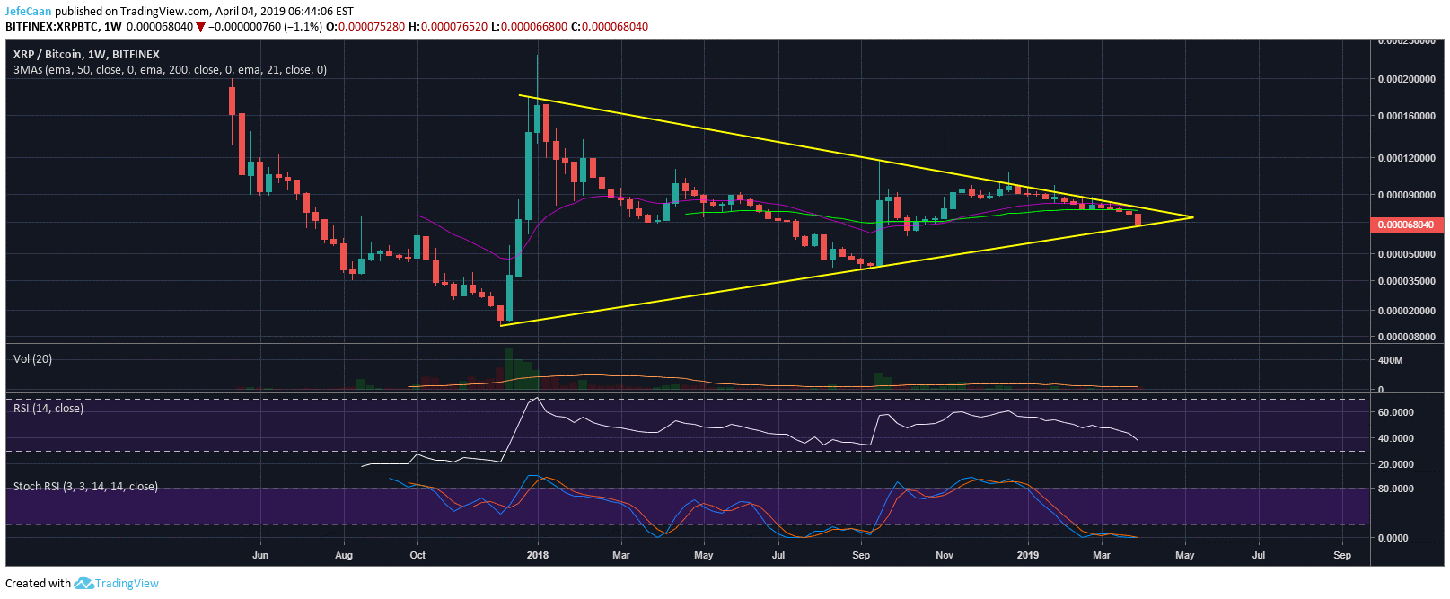 It would be very interesting to see how Ripple (XRP) performs against Bitcoin (BTC) in the weeks ahead. The Stochastic RSI for XRP/BTC on the weekly time frame has been oversold for weeks now. This means that the price is due for a major move up against Bitcoin (BTC) but it would be hard to do so if the market declines further. At the time of writing, XRP/BTC is still down more than 1% which means the market does not care how oversold Ripple (XRP) may be against Bitcoin (BTC). If BTC/USD declines further, we might see XRP/BTC break below a symmetrical triangle that it has not broken out of in more than a year.
There was a time when any cryptocurrency would have done well in this market. However, investors have now become very cautious and cryptocurrencies are quick to lose their spots should they lose their luster. We have seen cryptocurrencies like Monero (XMR) and Stratis (STRAT) see their hype cycles and now fewer people talk about them. There are a lot of other cryptocurrencies that have met the same fate. As the new market cycle begins, we will see a lot of new cryptocurrencies become what Ripple (XRP) or Ethereum (ETH) used to be. If Ripple (XRP) fails to make a significant impact or gets an unfavorable ruling over its legal status, investors will continue to lose interest in the cryptocurrency.