Litecoin (LTC) has finally broken below the descending triangle that we covered in our last analysis on Litecoin (LTC). We discussed that the price was at risk of a major decline below the triangle and now that has finally happened. LTC/USD is trading below the descending triangle at the moment which means it will have a very hard time climbing back above as the previous support has now turned into a resistance. The price is also trading below the 200 EMA on the 4H time frame. As Bitcoin (BTC) looks to test its previous broken market structure around $5,800-$6,000, we expect LTC/USD to do nothing of consequence and continue to trade in a haphazard manner until Bitcoin (BTC) determines the next definitive direction. Litecoin (LTC) has recently been ahead of the market due to its halvening hype but that rally has now come to an end.
The next few years are going to be very interesting in this market as we can see big cryptocurrencies like Litecoin (LTC) or Bitcoin Cash (BCH) face a hard time as Bitcoin (BTC) moves closer towards becoming more spendable. A lot of people have been criticizing Bitcoin (BTC) for its slow and expensive transactions compared to most other cryptocurrencies. There is no doubt that Bitcoin (BTC) was not created for that purpose. However, that did not stop coins like Litecoin (LTC) and Bitcoin Cash (BCH) from projecting that as weakness in Bitcoin (BTC) and trying to project their own coins as better alternatives. With upcoming upgrades like Lightning Network, issues like these will be resolved and spinoff coins like Litecoin (LTC) and Bitcoin Cash (BCH) will be out a use case. This does not mean that they will die or go to zero, but it does mean that they will end up on the list of forgotten coins.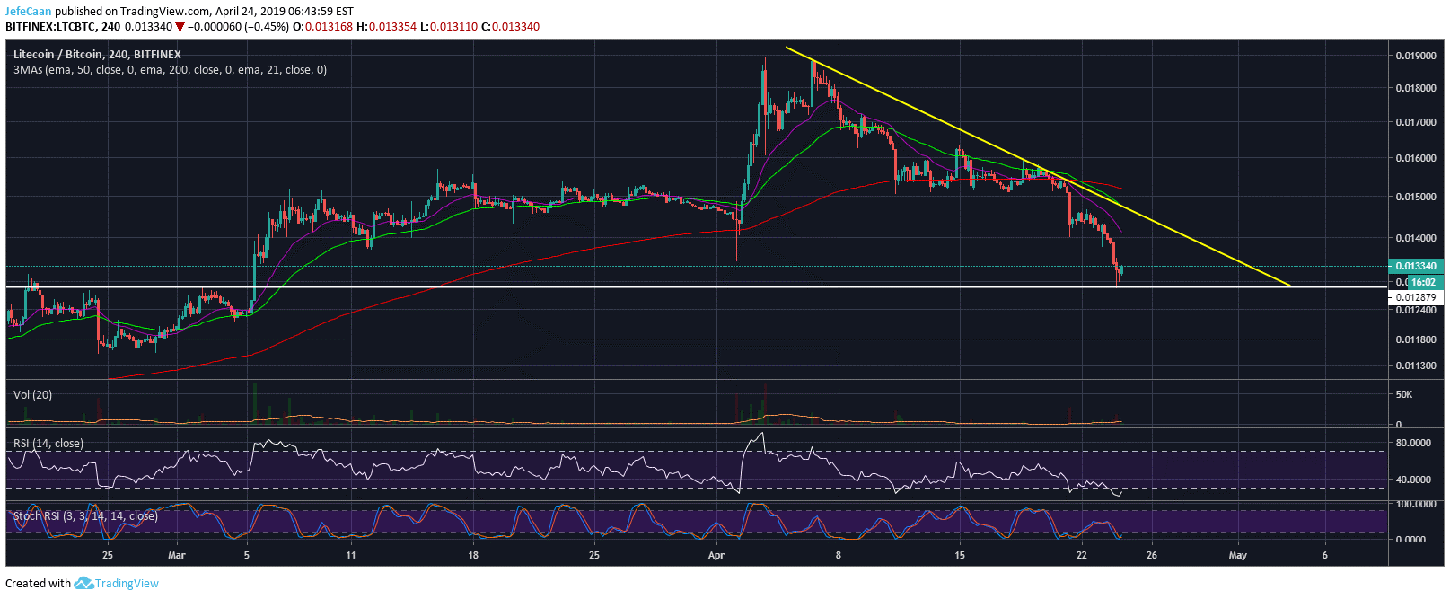 Litecoin (LTC) remains in a downtrend against Bitcoin (BTC). If the price continues to remain below the trend line resistance for long, we can see the descending triangle on the 4H chart for LTC/BTC break to the downside as well. The price is trading below the 21 EMA and has no solid support to stop it from falling a lot deeper if it breaks the current support. A lot of people are very euphoric in this market but before we see a trend reversal, most of these coins are going to be put to a test. So far, nothing of the sort has happened as the halvening hype has seen Litecoin (LTC) outpace the rest of the market with most investors chanting "to the moon".
In every financial market, before a trend reversal that follows a bear market, the market inflicts maximum pain. Most of the people who are calling for a rally to the moon are still around and when a trend reversal takes place, these people are not usually around. The Fear and Greed Index is still at 65 which means the sentiment is still too optimistic. It is hard to believe how so many analysts and traders still think a market can recover when the sentiment is this positive. If anything this is an opportunity for the whales to prey on the naiveté of most of these moon boys once again. They are going to continue to do that until there is nobody left to shakeout. Then we will see the bottom and a trend reversal will follow.