Ethereum (ETH) margined shorts have now declined to a new all-time low as the bearish resolve continues to weaken after the series of pumps that saw ETH/USD rally during the past few days. Professional traders are looking for entries to short but the daily chart for ETHUSDShorts shows that retail bears are so scared that the number of margined shorts had to drop to a new all-time low on Bitfinex. The Stochastic RSI for ETHUSDShorts points to a trend reversal in the days ahead. The number of margined shorts has declined within a falling wedge which is expected to break to the upside as early as next week depending on Ethereum (ETH)'s weekly close. There should be no doubt that ETH/USD is due for a massive decline in the weeks ahead. It may not decline immediately but it will have to decline eventually.
In some of our previous analyses, we have mentioned how Ethereum (ETH) has never been this overbought since the beginning of the bear market. This is a very big deal and it points to the looming threats of massive decline that could see the price drop to double digits. As for the catalyst that could trigger this decline, we do not need to look any further than the SEC. We have seen regulators crackdown on ICO projects in the past. If something along similar lines happen this time, we could see Ethereum (ETH) take a massive hit and the price could nosedive in no time. Even most of the professional analysts who believe that the bear market is over agree that the price is long overdue for a sharp decline in the weeks ahead. If Bitcoin (BTC) closes the week below its 50 week exponential moving average, we could see the market begin its decline as early as next week.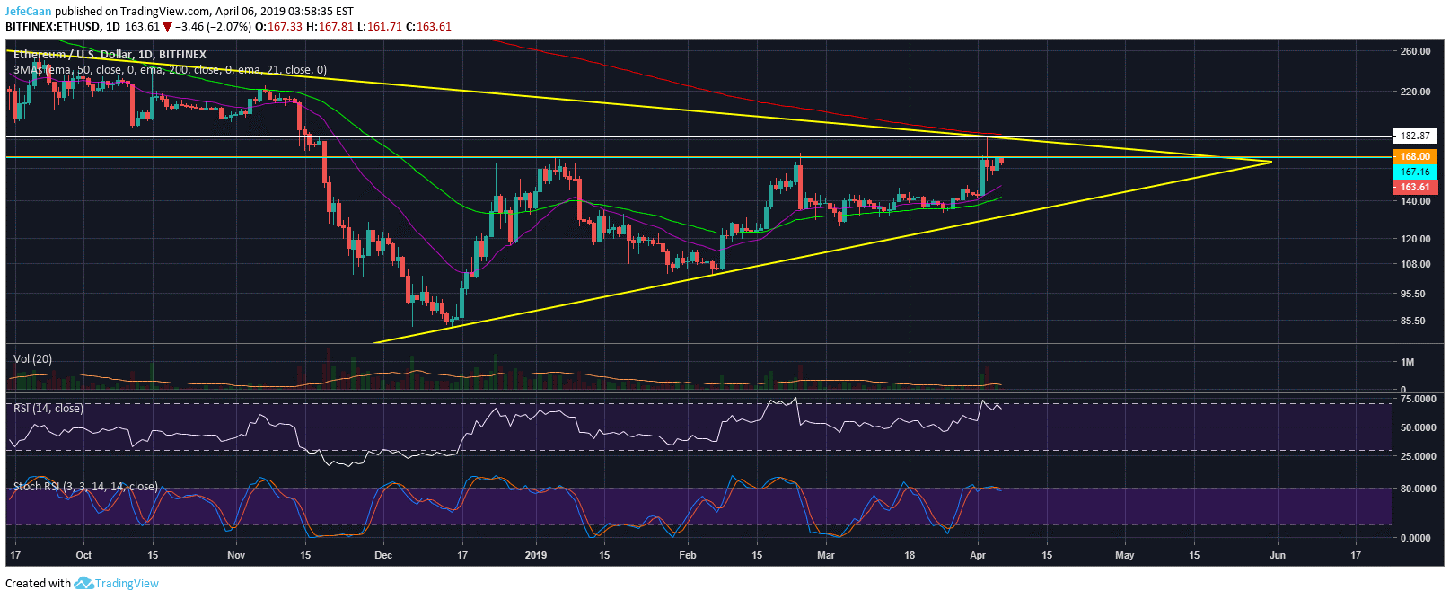 Bitcoin (BTC) is in a tough spot but not as tough as Ethereum (ETH). The daily chart for ETH/USD shows that the price faced a strong rejection at the 200 Day EMA and is now struggling to break past a strong resistance at $168. If the price faces a rejection and declines further, we could expect it to close the week below its 21 week exponential moving average which would put the final nail in its coffin and pave the way for a sharp decline to double digits.
Ethereum (ETH) is currently trading in a bear pennant that has a very high probability of breaking to the downside. The daily Stochastic RSI is extremely overbought and the weekly Stochastic RSI is around levels not seen since the beginning of the bear market. The volume bars on the daily chart shows that the selling volume the past few days exceeded the buying volume during the pump. All of these indicators point to the conclusion that this temporary pump in price has little to do with genuine buying interest in the market and a major decline is right around the corner.