TradingView is one of the biggest platforms out there for keeping up to date with the markets. Whether its the regular stock markets, or the crypto markets, TradingView is the place to be for staying to up to date with your investments.
As it says on their website, TradingView is "easy and intuitive for beginners". Furthermore, it is powerful enough for more experienced traders too. All the charting tools that you need to share and view trading ideas are exactly what TradingView provide.
There are more than 4296629 investors that use TradingView with more than 15184326 charts created on the platform… need we say more!
Our dedicated analyst, Jefe Caan does daily articles for us about how different cryptocurrencies are performing on the day. On 10th April, Caan posted an article about Bitcoin and how all the bearish movement points to an increased risk of a flash crash.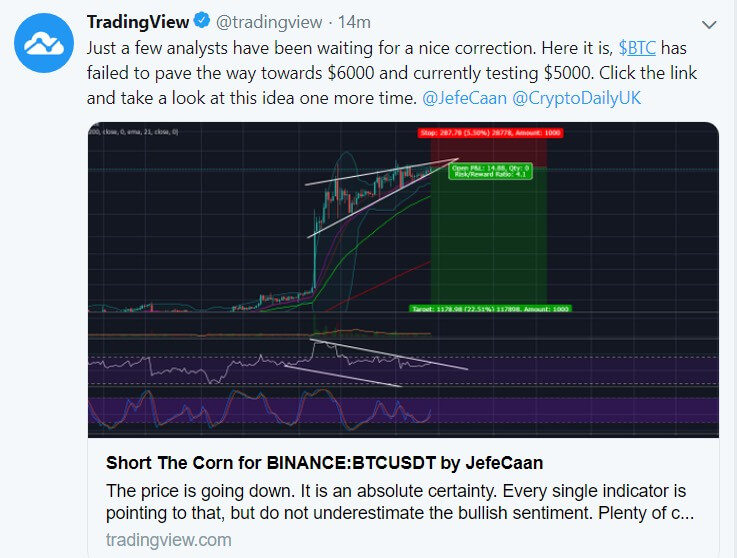 The article was picked up by TradingView who took to Twitter to say:
While everyone is waiting for another crazy impulse on the $BTC chart, @JefeCaan (Trading Analyst at @CryptoDailyUK) says that all indicators are telling that $BTC is going back to $4000. Click the link for details and leave your comments below.https://t.co/x6cYyYGbv9

— TradingView (@tradingview) 10 April 2019
With this, we're confident our relationship with TradingView will continue to grow and hopefully go to bigger and better things!
The CryptoDaily Manifesto
CryptoDaily's Manifesto not only supports our vision but was created to shape our company culture.
Our core values, as mentioned in this manifesto, are the essence of our identity. our principles, our beliefs and our philosophy are all laid out in this manifesto. We want the "CryptoDaily Manifesto" to live and breathe through our people, contributors, creators and the blockchain community as a whole that we both love and support.
CryptoDaily is one of the world's only top tier and free-to-publish crypto news sites and media networks. It will

Always

be free to contribute, consume and redistribute content on our platform.
We

Believe

in

Building

and supporting a global community with digital resources that are empowered by

Blockchain.
We cover all the digital changes of the blockchain economy all across the globe and with this,

Creative

distribution of

Content

is what we are

made

to do.
Being a

Dependable

and reliable news source is crucial for us to remain relevant in the crypto space.
We strive to

Empower & Enable

the

mass adoption of blockchain by

Embodying

our core values at all times.
We continuously

Focus

on our users and audience because we're confident that the rest of the community will

Follow

.
We have a keen eye for localisation and we are sure that this is what will help us

Grow.
Honesty, Honor

and recognition of key achievements in our company, our community and the blockchain space as a whole is part of our modus operandi at CryptoDaily.
Being

Curious

and having the ability to

Inspire

as well as being

Inspired

is all part of our daily quest and is what drives us for continuous conversation.