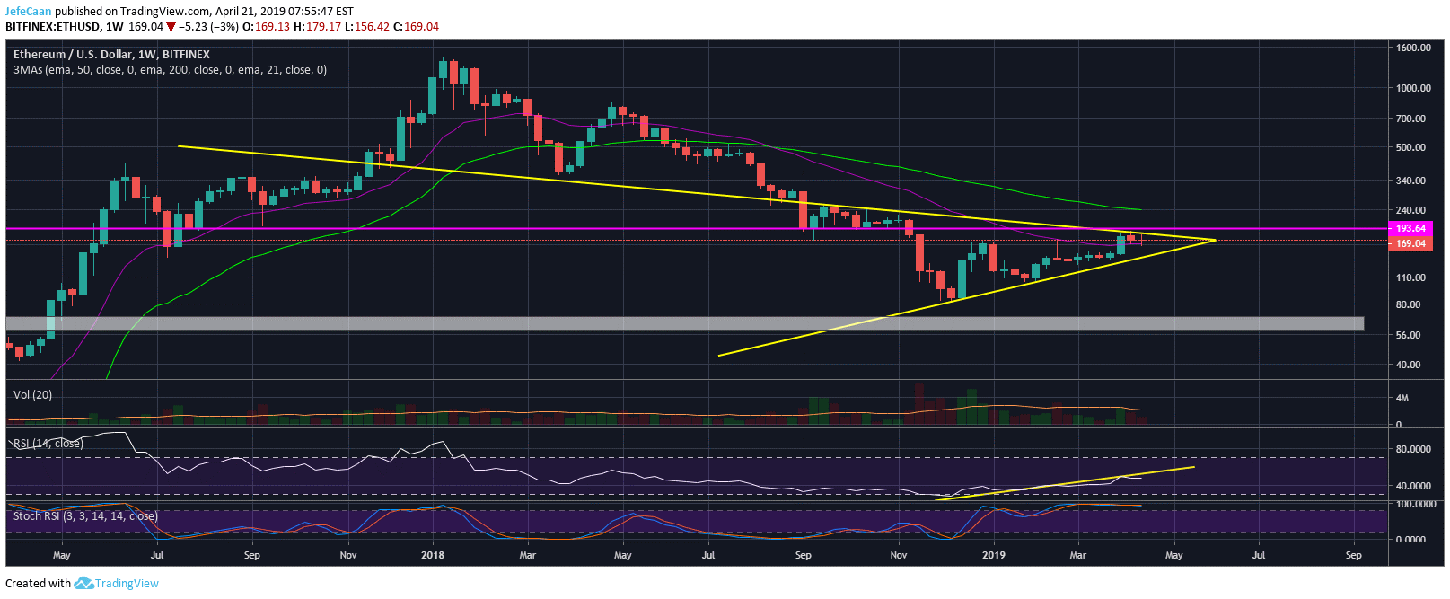 Ethereum (ETH) is on the verge of its biggest sell-off in months. The price has run now run into a confluence of strong resistances. ETH/USD has already faced rejection at the trend line resistance for three weeks now. The horizontal resistance at $193.64 is a strong support turned resistance that has close to zero probability of being breached at this point. That being, said traders must account for all such possibilities when entering a short position. Now, the fact of the matter is that even bullish analysts and traders who think the price has already bottomed are also expecting a pullback in the future. While bearish traders and analysts expect a pullback too, they think the price could end up going a lot lower. Regardless of how low the price ends up going, the fact that both bulls and bears are agreed on the pullback means that this is a good time to look for setups to open short positions.
Every single market cycle in the history of cryptocurrencies has taken longer than the previous one. By that argument alone, we can tell right away that the bear market is not over yet. Chart analysis makes things a bit complicated as people interpret patterns, trend lines and support/resistance levels in their own way. However, the big picture always stays intact for those that are willing to observe with an unbiased eye. A lot of people who expect Ethereum (ETH) to fly to the moon from here as well as those that expect it to go to zero are clearly biased. However, they may not be biased to think that the next major correction is going to wipe out a lot of ERC20 tokens. If we analyze the cryptocurrency market for all the developments over the past few years, we can see that there is a very dangerous pattern of moving to the next trendy investment.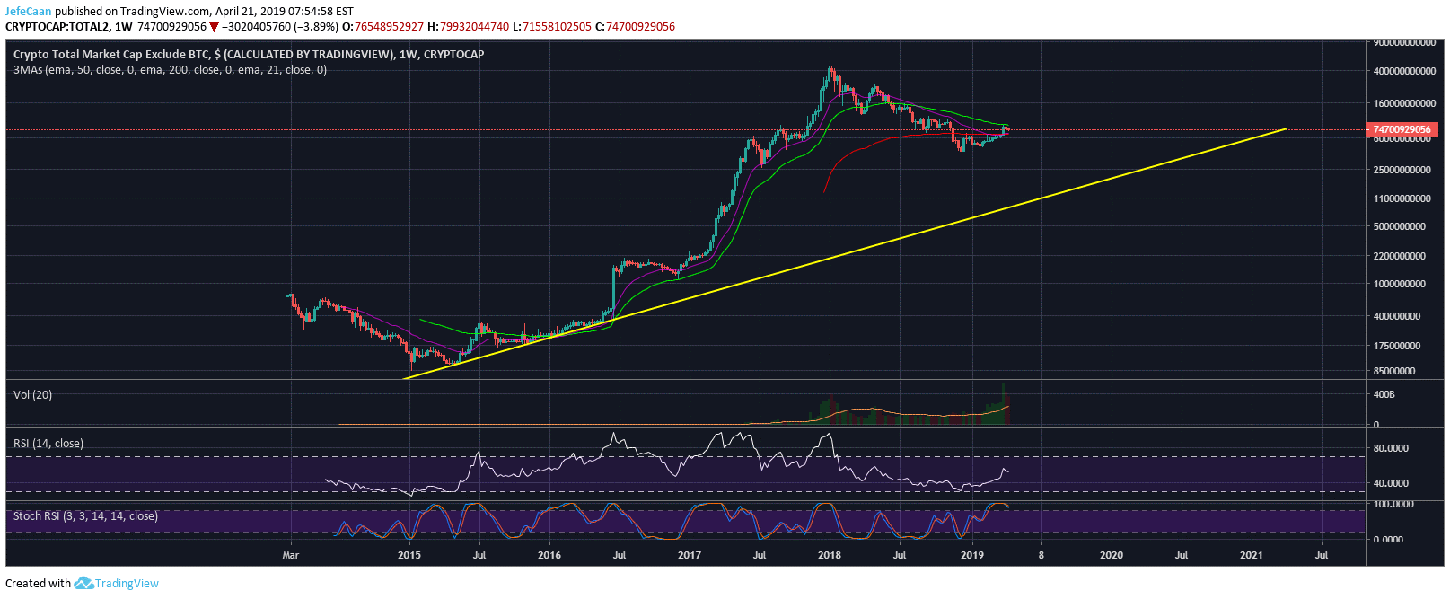 We have seen a lot of hype cycles in some cryptocurrencies that were soon forgotten when the next 'hot' investment came around. There is no reason to name any of them. Those who have been around for a while know how an ERC20 token rises to prominence, sees its biggest hype cycle and is then dumped and forgotten about. Most cryptocurrencies apart from the top twenty have a market cap of less than $500 million. The weekly chart for Total Crypto Market Cap (excluding Bitcoin) shows that the combined market cap is heavily overbought. It has also faced a strong rejection at the 50 week EMA and is now ready to decline towards the 21 week EMA and eventually the 200 week EMA.
As long as the combined market cap (excluding Bitcoin) remains above the 200 week EMA, we will see more sideways action. This is expected to last till the end of May, 2019 after which we can expect to see a major sell-off that will see the combined market cap (excluding Bitcoin) fall to its trend line support. This move will result in more cryptocurrencies closing shops than we have seen so far. A lot of blockchain projects will go belly up and the mainstream investor will lose hope in the future of cryptocurrencies. The market will take a long time to recover from all that as the next market cycle will take longer than the previous one. Most ERC20 tokens below the top 200 certainly do not stand a chance to survive the next crash, but we might see some well-known cryptocurrencies in the top 100 close shop as all the moon dreams fall apart.