Bitcoin (BTC) appears to be due for a short term correction to the upside after a massive pullback in the last 48 hours. However, the big picture continues to remain intact and the price will eventually have to fall back towards $4,000 and lower in the weeks ahead. The 4H chart for BTC/USD shows that the Stochastic RSI is now oversold enough for the price to shoot back up towards the previous trend line resistance that has already seen the price face rejection twice. This third attempt could be the last opportunity for Bitcoin (BTC) bears to open shorts at a price above $5,200. The Fear and Greed Index has declined substantially from 65 to 42 which means a lot of traders are now worried that the price could actually fall further.
As we have pointed out in our previous arguments, sentiment does not take time to shift especially in a market like this where the majority of people have no trading or investing experience. A $200 move in either direction is enough to change their mind about the future outlook of Bitcoin (BTC). If history is any guide, we should see the level of greed rise again from here over the next few days. There could be some more bloodshed over the weekend but the price is likely to see some recovery short term to trap in more bulls before the final decline. The price has cooled off significantly on the daily time frame which means we are likely to see some correction to the upside or consolidation in the days ahead. However, the weekly Stochastic RSI remains heavily overbought which means the price will have to decline sooner or later.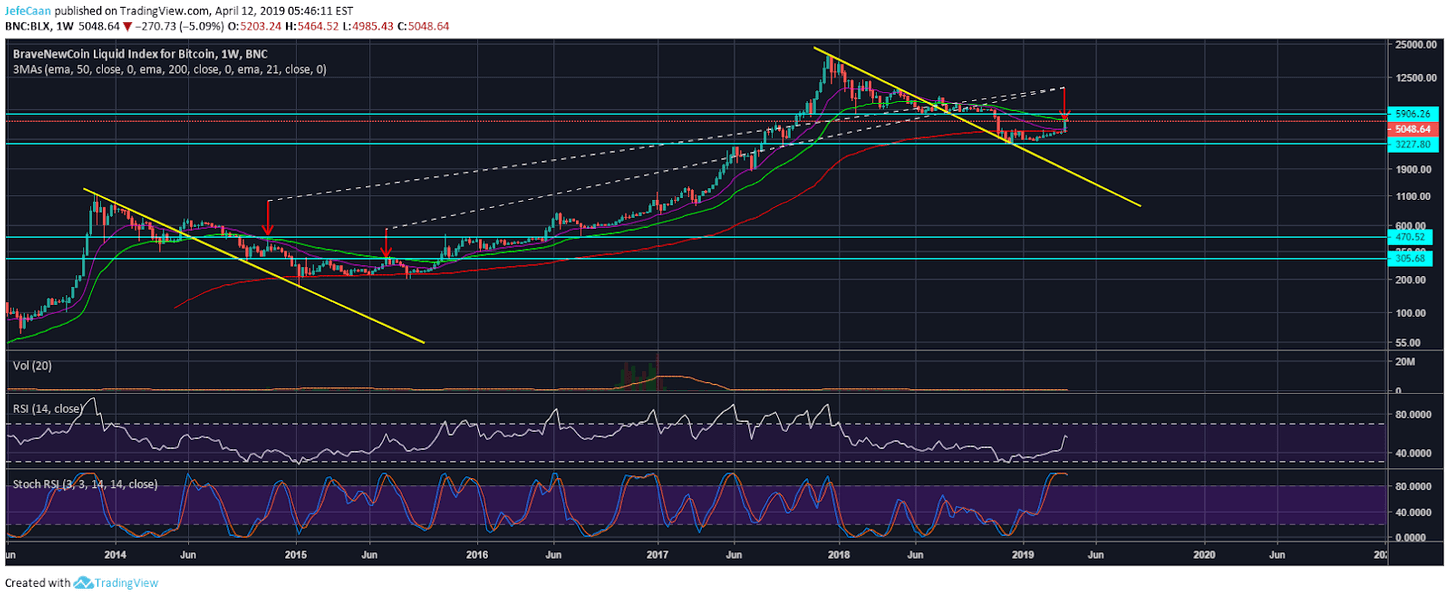 To put things in perspective, this weekly chart for Brave New Coin Liquid Index for Bitcoin (BNC:BLX) is enough to show us where things stand with Bitcoin (BTC). The price is either due for a sharp decline that will see it capitulate or it is going to decline such that it will form a double bottom. At this point in time, the probability of a much steeper decline that will see the price capitulate remains higher. Throughout Bitcoin (BTC)'s trading history, we have seen market cycles expand not contract. If we were to see a minor decline that would put an end to this bear market then that would make the current cycle shorter than the previous one while Bitcoin (BTC)'s trading history shows that every cycle is larger than the previous one.
It makes perfect sense to expect the cycles to expand as Bitcoin (BTC)'s market cap grows because the rate of growth keeps on slowing down. This means that the price will take longer than usual to complete a cycle. This is not just confined to Bitcoin (BTC); you can pick any market and see the same principle work all the time. There is a limit to the rate at which money flows into a market. We cannot expect Bitcoin (BTC) to make the same 1000x or 100x moves forever. There will come a time when the price slows down and as we see Bitcoin (BTC) reach multi trillion dollars in market cap, the rate of growth of BTC/USD will be similar to that of forex pairs like EUR/USD.