Ripple (XRP) has seen a sudden rise in sell pressure as the price keeps stalling a breakout to the upside. This has encouraged the bears to step up and take control. The daily chart for XRPUSDShorts shows that the number of margined shorts is up more than 2% for the day and is expected to rise before the weekly close. This shows that the bears are prepared to capitalize on any weakness in the market as the bulls clearly lack the will to push higher from current levels. Ripple (XRP) has suffered the most the past few months compared to other cryptocurrencies. It is now extremely oversold against Bitcoin (BTC) on larger time frames but the price has yet to show any signs of a bullish comeback.
On the other hand, the number of margined shorts has declined significantly the past few months. It is very likely that XRPUSDShorts might bottom out as early as next week which would set the ground for another correction to the downside that could see XRP/USD finally find its true bottom. Ripple (XRP) does not have significant room for further decline against Bitcoin (BTC) but it might still see some moves to the downside against the US Dollar (USD). That being said, it remains in a better position compared to most other cryptocurrencies to capitalize on a final move up before that correction sets in. It seems as Ripple (XRP)'s fate in the near future hinges on clarification regarding its legal status. We could see important development in this regard any time now. Given Ripple's legal history, it is likely that they will get a favorable ruling because the team behind Ripple comprises of some of the most persistent and hardworking people in the industry.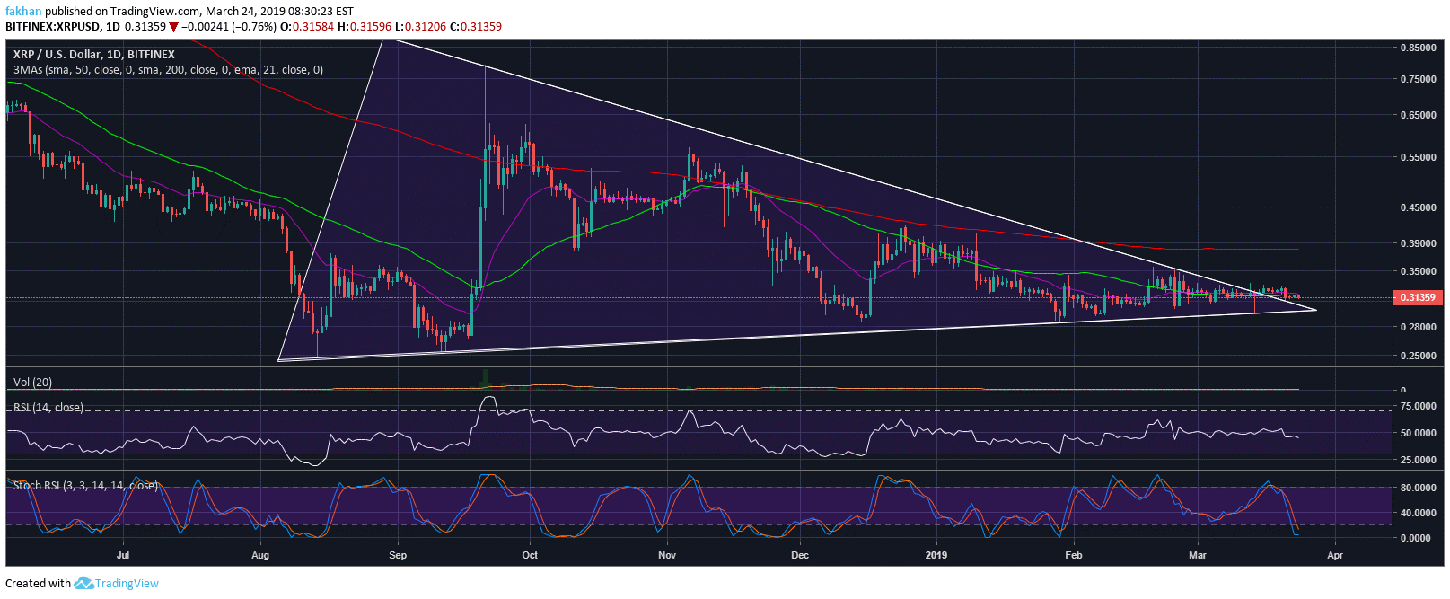 The daily chart for XRP/USD shows that Ripple (XRP) has broken above a critical trend line resistance but the price has still not rallied as the bulls expected it to. The price has been dragging along the 50 day moving average for weeks without any signs of a bullish comeback. This time the daily trading conditions are ripe for a strong move to the upside which could see Ripple (XRP) rise towards its 200 day moving average. The price is expected to face some resistance at the 200 Day MA but a near term rally seems inevitable at this point.
We might see some favorable developments or rulings short term that might serve as catalysts for a strong move to the upside but let us not forget that overall market conditions on the weekly time frame signal another move to the downside. The declining number of margined shorts points to the same conclusion. While the rest of the market is expected to decline heavily against Bitcoin (BTC) after a short term rally to the upside, Ripple (XRP) on the other hand is already oversold against Bitcoin (BTC) and is expected to hold its ground during the next major decline.