Ripple (XRP) is on the verge of its biggest and most anticipated breakouts in eight months. This is certainly a major development for XRP/USD and we could see the price rocket towards $0.50 if Ripple (XRP) succeeds in breaking above the 200 day moving average. However, so far the chances of that happening are decreasing with every passing day. The price has shown extreme weakness in the past few days and continues to remain weak. The Stochastic RSI on the daily time frame has once again neared overbought levels but the price has failed to capitalize on that. A break above the 200 day moving average is still a far cry at this point but a break below the 50 day moving average would be a lot easier. The price did break below the 50 Day MA last week but it climbed back above it before the daily close.
The daily chart for XRP/USD looks very bullish but unfortunately the price action does not reflect that. The past three weeks have seen Ripple (XRP) trade sideways practically doing nothing. This has made a lot of bulls worried but it has made the bears even more worried. This is because if you are a buyer, you buy Ripple (XRP) and hodl it on an exchange or a wallet. However, if you want to profit off selling Ripple (XRP) you have to short it. Now, that comes with a lot more risks. If you are shorting Ripple (XRP), not only do you have to pay fees for keeping your short position open for so long, but you are also at increased risk if the price does not fall soon enough. In other words, the longer XRP/USD takes to consolidate, the higher its chances of a strong break to the upside which might easily end up liquidating some aggressive short positions.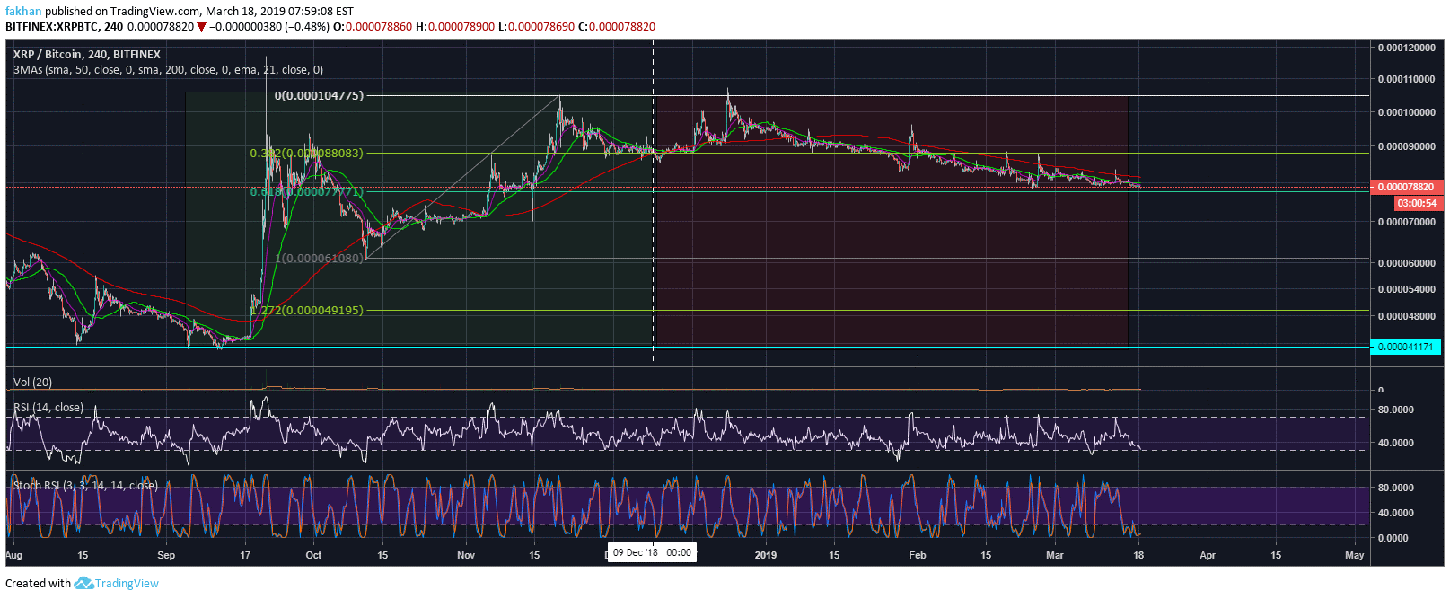 The 4H chart for XRP/BTC shows that Ripple (XRP) is due for a strong move against Bitcoin (BTC) in the near future even though its prospects on larger time frame do not look as good. That being said, Ripple (XRP) continues to have a more promising outlook on larger time frames compared to other cryptocurrencies. In addition to that, Ripple (XRP) has been known to make its independent moves at times and it would not be surprising if something like that were to happen again.
Ripple (XRP) has faced a strong rejection at the 38.2% Fib extension level trading against Bitcoin (BTC) but it has yet to touch the 61.8% Fib extension level. This means that we might see a near term decline to the 61.8% before a retest of the 38.2%. However, larger time frames indicate that there is not much to expect and the probability of a strong move to the upside given the current price action remains low. That being said, the price could drag on towards higher levels until short term conditions turn overbought and the price is prime for a strong decline in the weeks ahead.