Ripple (XRP) has been stalling a move to the upside even though it broke out of the symmetrical triangle that it has been trading in for the last eight months. This uncertainty has more to do with Bitcoin (BTC) and the overall crypto market in general than Ripple (XRP) itself. Interest in XRP/USD does not seem to have decreased despite the fact that rivals like JPM Coin (JPM) and Stellar (XLM) now threaten its dominance in the cross borders payment industry. That being said, Ripple (XRP) has one of the most loyal supporters in the entire crypto community which is why we expect it to capitalize on its future outlook and break out in the weeks ahead. The price has currently found support above the symmetrical triangle that it broke off. The previous resistance has turned into a support and the price will use this support to rally in the weeks ahead.
The price has been struggling to break past a critical resistance the past few days but has not succeeded so far. However, the trading conditions are now oversold on the 4H time frame and the price is due for a strong comeback in the days ahead. Ripple (XRP) might rise towards $0.35 as recovery ensues but we do not know yet if this rally is going to last for long. While most cryptocurrencies go up and down with Bitcoin (BTC), Ripple (XRP) is in an entirely different situation as it is currently heavily oversold against Bitcoin (BTC). This has been a consequence of Ripple (XRP) missing out on most of the altcoin gains since the beginning of the year. While the cryptocurrency market is due for a strong decline in the weeks ahead, the same cannot be said of Ripple (XRP) as it is already oversold against Bitcoin (BTC) and has a history of making its own moves.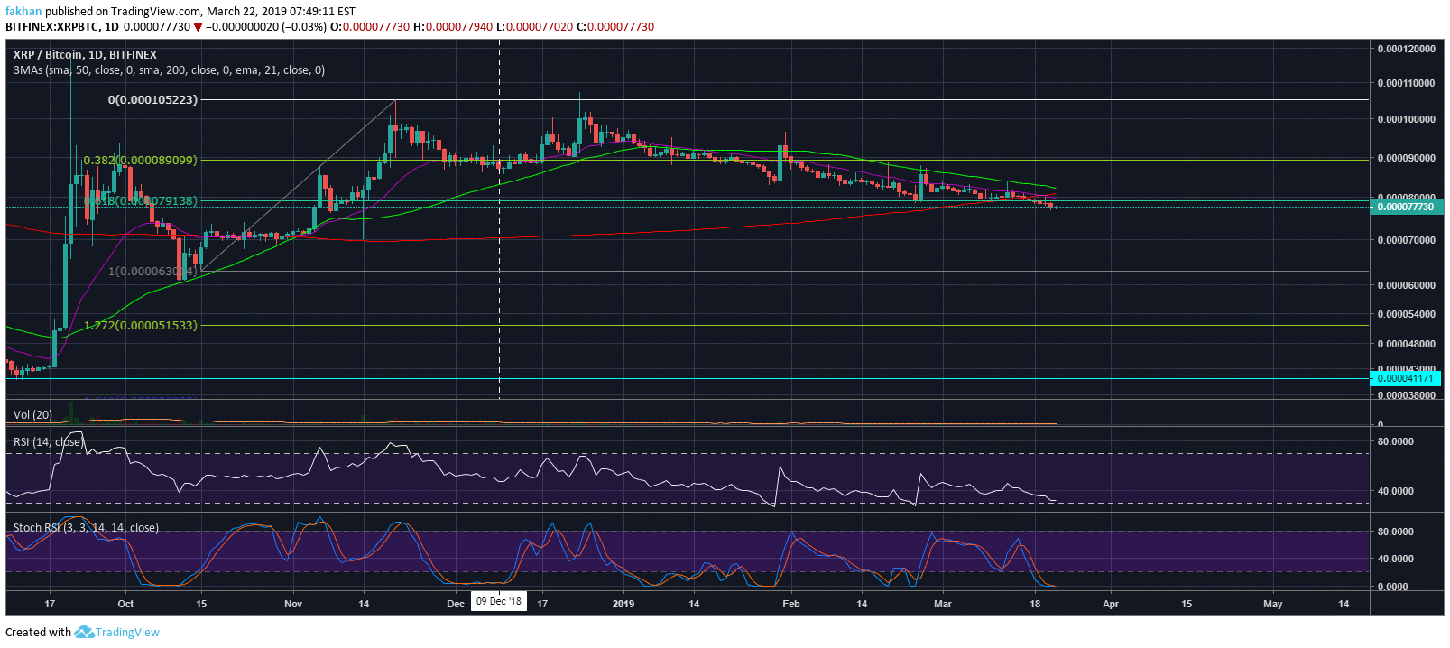 The daily chart for XRP/BTC shows that Ripple (XRP) is currently fighting to break past the 61.8% fib extension level but has failed so far. A strong rejection from this level coupled with the fact that XRP/BTC is already trading below the 200 day moving average has made the price quite vulnerable. We could expect the price to decline to the 127.2% fib extension level long term but for now a rally can be expected to the upside as the price has entered oversold territory on the daily as well as the weekly time frames.
Ripple (XRP) has been and continues to be one of the most well liked cryptocurrencies. However, investors in this space have a habit of moving to the next shiny investment and Ripple (XRP) would be no exception to this if they fail to find practical uses for XRP. We have seen some banks use XRP but there is no adoption on a large scale as most Ripple (XRP) enthusiasts had hoped. As more banks start to issue their own cryptocurrencies, investors may begin to lose hope. That being said, Ripple (XRP) is still quite ahead of its competitors in this space and is therefore more likely to succeed in global adoption. If Ripple (XRP) succeeds in getting the banks and financial institutions to use XRP along with payment gateways like Woo commerce, it could be a game changer and XRP investors would be highly rewarded long term.