Ethereum Classic (ETC) has once again demonstrated a lot of strength as the price has held strongly above the 50 day moving average. In fact, as the daily chart for ETC/USD shows, we have seen a rally to the upside the past 48 hours. This rally is likely to continue towards the top of the symmetrical triangle in the days ahead. Like most other cryptocurrencies, Ethereum Classic (ETC) has also neared overbought territory on the weekly time frame and the price will soon have to come crashing hard after a short term rally to the upside. The next decline in Ethereum Classic (ETC) could see its price fall below $3 which would make ETC/USD one of the best investments in the cryptocurrency markets from a risk/reward standpoint.
In the past, Ethereum Classic (ETC) used to be more of a forgotten blockchain that was supported by a small loyal community that strongly believed in principles of immutability and decentralization. However, recently we have seen a new wave of investors flock towards Ethereum Classic (ETC). Most of these investors believe that Ethereum Classic (ETC) has a lot of room to grow after the recent regime change and could outperform Ethereum (ETH) during the next bullish cycle. This is very reasonable to believe considering ETCLabs is trying hard to get more Dapps built on the ETC blockchain. Most of these Dapps revolve around IOT (Internet of Things) which the Ethereum Classic blockchain has long been hailed to be the perfect platform for. Its qualities of immutability and decentralization make Ethereum Classic (ETC) one of the most ideal blockchains for Internet of Things applications.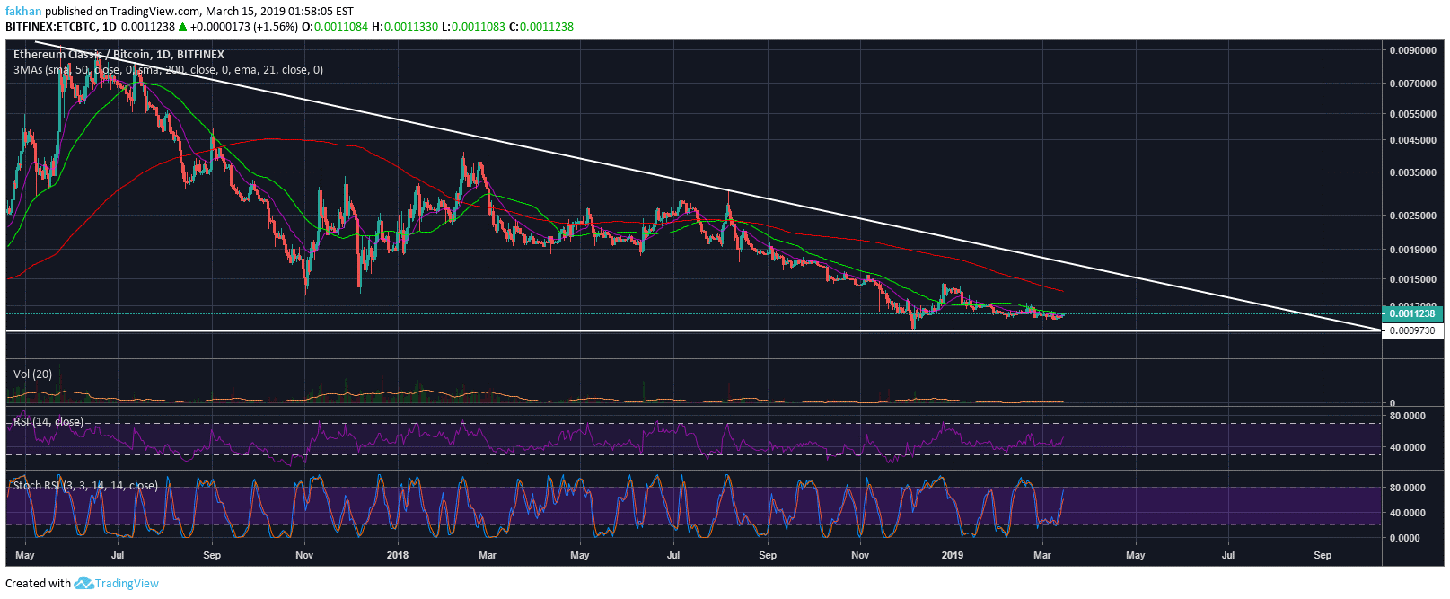 Chart for ETC/BTC (1D)
While Ethereum Classic (ETC) did receive a lot of new interest in the past due to its IOT promise, the previous development team, ETC Dev failed to capitalize on that hype. In fact, they did not deliver on one of the most anticipated events in Ethereum Classic (ETC) history which was full IOT Compatibility in November, 2018. They postponed that without informing the community and a lot of investors were left heart broken. Other unfortunate events that followed afterwards included the coup that saw ETC Dev being pushed out and the 51% attack on the Ethereum Classic blockchain.
Most of these developments resulted in even the strongest of ETC supporters having second thoughts. A lot of people were concerned whether ETC Labs would be able to continue ETC Dev's legacy. Let us not forget that it was ETC Dev that brought Ethereum Classic (ETC) to life after the Ethereum (ETH) hard fork. We believe that Ethereum Classic (ETC)'s future prospects have only improved after the recent regime change as ETC Labs seems more focused on doing things that investors want to see. This kind of hype led to Ripple Labs paving the way for XRP adoption and we believe ETC Labs plans to do the same thing. Development activity on this blockchain is on the rise and as time goes by, we expect Ethereum Classic (ETC) to grow bigger and better.