Cardano (ADA) is once again the center of attention as investors try to accumulate this promising proof of stake (PoS) cryptocurrency before the next bullish cycle. The rising interest in cryptocurrencies like Tezos, Ontology, Pundi X and Cardano (ADA) indicates that the next bull run might be about coins that can be staked. A lot of investors who have been around throughout the ongoing bear market would have preferred to hold on to cryptocurrencies that could be staked if they were holding anyway. However, not all cryptocurrencies are easy to stake for the average investor as some require specialized knowledge. That being said, the move towards Proof of Stake (PoS) is making it easier for average investors to just delegate voting rights from their own wallets without having to do much of the hard work.
There are a number of reasons why we believe ADA/USD could be one of the best performing cryptocurrency pairs of 2019. First of all, Cardano (ADA) is a promising blockchain project that has a real shot at giving the likes of Ethereum (ETH) a run for their money. Second of all, Cardano (ADA) is way ahead of most blockchain projects in working with Proof of Stake (PoS). This gives them an early mover's advantage which makes them better positioned for partnerships and adoption in the months and years ahead. Charles Hoskinson, the founder of Cardano (ADA) is a down to earth visionary who is well respected for his contribution to the blockchain industry. Unlike most developers and executives in this space, Charles is very reasonable and has a mature approach when it comes to dealing with differences or conflicts. So, Cardano (ADA) has the best of the three P's: good people, good product and good process.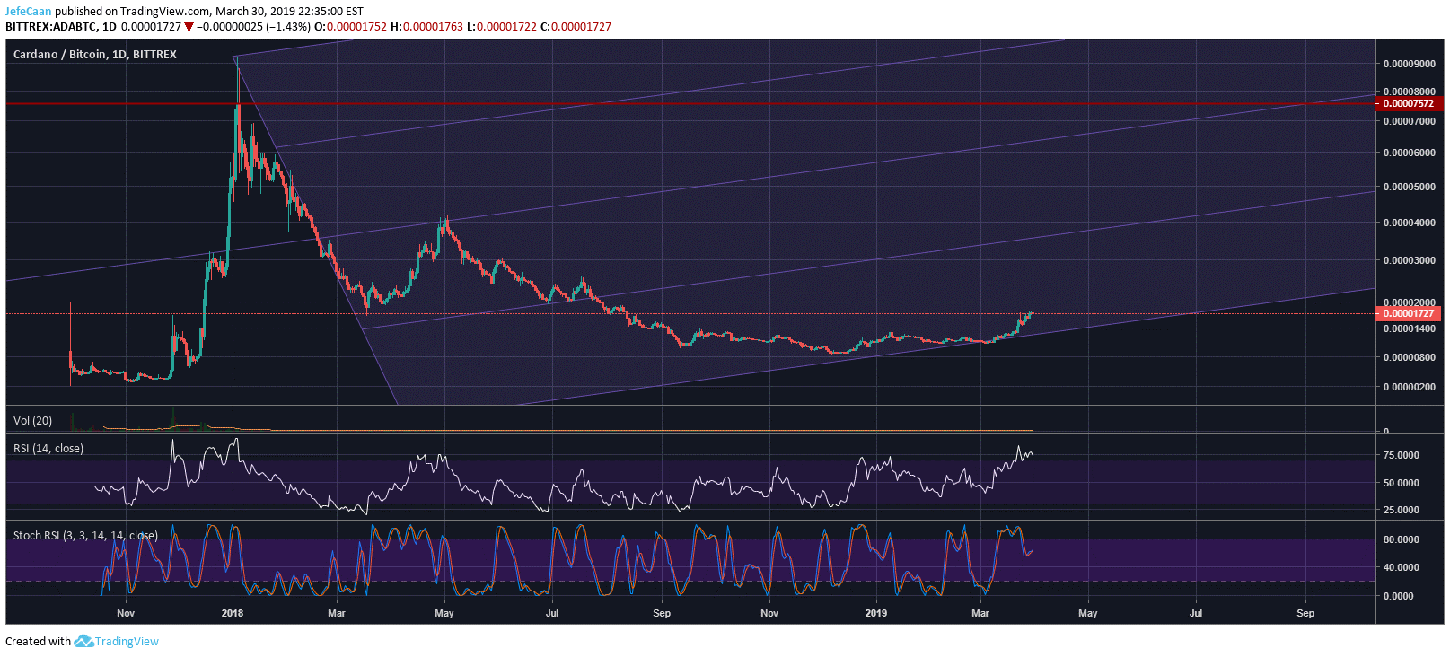 Cardano (ADA) is massively oversold against Bitcoin (BTC) which is a good reason in itself to start accumulating this cryptocurrency. The daily chart for ADA/BTC shows that the price is trading at the bottom of the pitchfork having seen more than a 95% loss in its value since its all-time high. If we are bullish on cryptocurrencies long term, then we believe that Cardano (ADA) will eventually reach a new all-time high which means the price will appreciate more than 100% from current levels. However, this is not the only reason investors are so eagerly accumulating Cardano (ADA).
The growing number of problems with other blockchain projects has now made it clear to the crypto community that the days of backing any blockchain project expecting to make a good return are over. At this stage, it is going to matter whether you are investing in something like Google or Yahoo. We have already discussed how Cardano (ADA) has the best product and people, but there is something more about the process that is quite appealing from an investment standpoint. Cardano (ADA)'s proof of stake model not only enables investors to escape the dominance of the miners that we see on most proof of work (PoW) blockchains, but it also rewards them through staking so they can have a steady return on their investment for holding ADA coins. At the moment, Cardano (ADA) has a yearly staking yield of 3.70% and a monthly staking yield of 0.31%.