Bitcoin (BTC) is once again at the mercy of overly cautious bulls after a recent pump that pushed the price close to $4,000. BTC/USD currently seems to be painting what can be characterized as a bull flag, but it could just as easily become a double top and result in a flash crash to the trend line support once again. The reason this could happen is because the bulls are too afraid to step up. Yesterday's pump was more of an orchestrated attempt on part of the whales to get the bulls back in the game. However, it does not seem to have had the desired effects as the bulls are still not moved by the current outlook. The whales would have to paint something more attractive for the bulls to buy it.
While the bulls were too afraid to step in, the bears took this pump as an opportunity to pile up their short positions. In the last 24 hours, the number of margined shorts has risen significantly on exchanges like Bitmex and Bitfinex. Although this rise in the number of margined shorts is expected to be short lived because we believe BTC/USD is due for one final move to the upside before it comes crashing down towards its true bottom. Trading conditions on the weekly time frame have not been this overbought since the beginning of the correction. That should tell us a lot about what is supposed to follow next. However, for now BTC/USD is due for one final correction to the upside.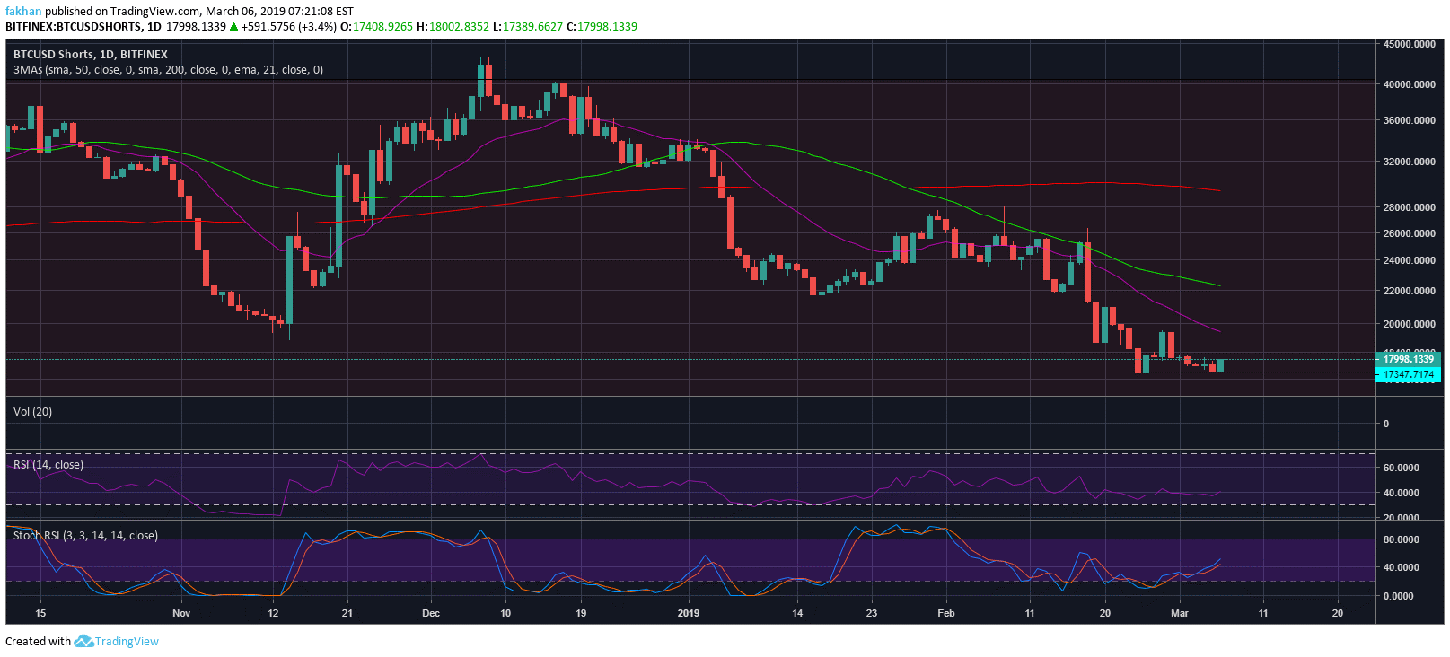 It does not matter whether it comes from the bulls or the whales but we are going to see that correction because without that there is no fifth corrective wave towards the true bottom. If BTC/USD continues to trade in a tight range as expected, we would see this consolidation last towards mid-March which will then be followed by a big spike to the upside. That final spike would be the last move to the upside before the next big correction kicks in. A few weeks back, we saw a lot of calls for how BTC/USD was going to $80,000 this year or even higher but all of a sudden those voices have faded now. This is because no matter how bad things get, they can always get worse.
The daily chart for BTCUSDShorts shows that the number of margined shorts has been on a steady rise over the past few days and it is expected to continue to rise long term. However, short term we expect this current rally in BTCUSDShorts to face a strong rejection around the 21 day exponential moving average. This would then result a fall towards the support again. This time however, the chances of a triple bottom would be significantly lower and BTCUSDShorts might end up breaking support to lure the bulls in around Bitcoin (BTC)'s next and final fake out before the major correction set in.