Bitcoin (BTC) is ready to shoot strongly above the $4,000 mark as price faces oversold conditions short term. The 4H chart for BTC/USD shows that the price still has to rally towards the 38.2% Fibonacci retracement level before a potential rejection. If the price does not stop there, we could see it rally all the way towards the 61.8% Fib level to rise above $5,000. The price is also trading in an ascending channel which is part of a major bear flag that will eventually result in BTC/USD falling towards another low in the weeks ahead. As BTC/USD closed last week above $4,000, we witnessed a sentiment shift as the bulls have once again started to step in to assume control. The bears on the other hand are scared as the number of margined shorts has topped out short term and a sharp decline in sell pressure is expected.
Current outlook for BTC/USD suggests that this might be a bad time to enter short positions just yet no matter how tempting it may appear. However, previous trading history suggests that retail traders have made this mistake over and over again. There is no reason to believe that it will not happen again if these things have been happening since time immemorial. The majority starts to see that the price has topped out on major time frames so they rush in to open short positions. The whales then push the price just enough to hit their stops. When that happens, a massive short squeeze pushes the price of Bitcoin (BTC) higher giving bulls the false idea that bullish momentum has returned. Just when the bulls enter long position, the whales drag the price down to hit their stops which leads to further panic selling.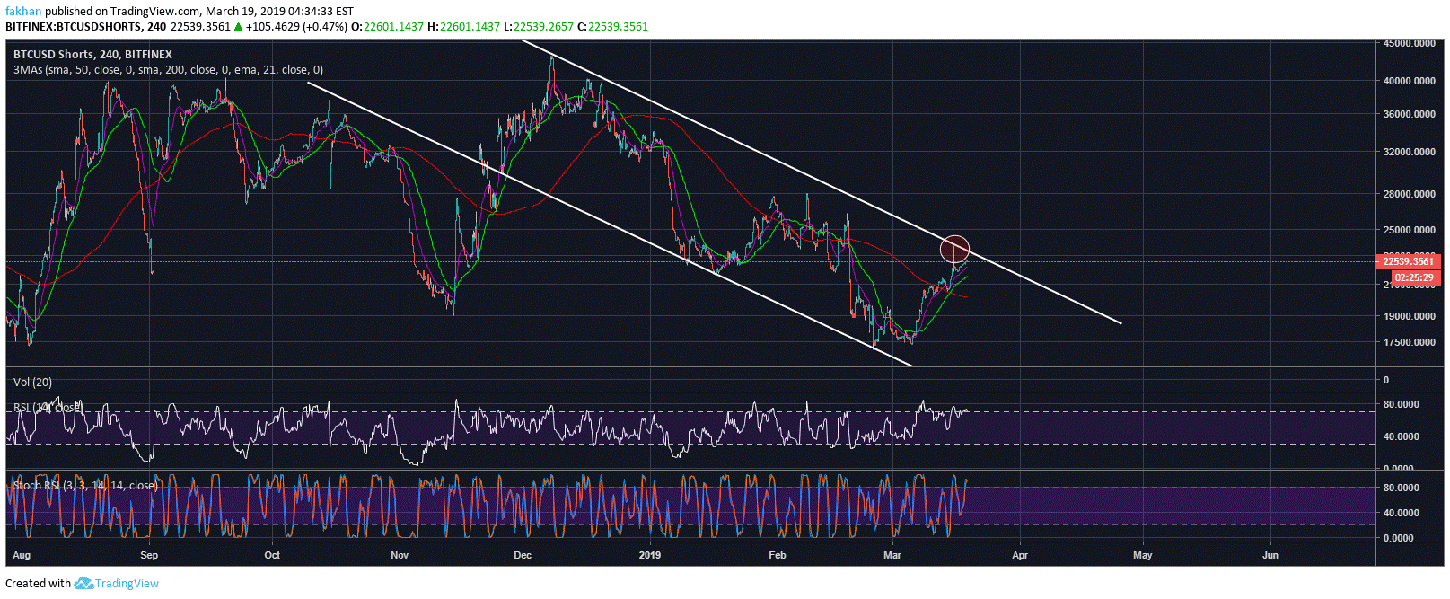 The 4H chart for BTCUSDShorts shows how risky shorting BTC/USD at current levels could be. The number of margined shorts has run into trend line resistance and already faced a strong rejection. BTCUSDShorts has topped out on major time frames and there is no reason to think that the number of shorts will not decline sharply in the days ahead. When that happens, the steady decline in sell pressure is going to propel the price of Bitcoin (BTC) north of $4,000. We will most likely see some big news act as a catalyst for that rise. At this time, we have abundance of such news and developments.
Bitcoin (BTC) has been trading sideways for a long time which led most bears to believe that we might see a strong decline after the consolidation but that has not happened. Instead, we have seen the price close above $4,000 on the weekly time frame. Now, the dilemma facing Bitcoin (BTC) bears is that they have already opened big short positions and are waiting for the price to drop, but if the price shoots up towards the 38.2% Fib retracement level instead of falling as we expect it to, things could get pretty ugly for the bears and we might see a lot of positions get liquidated which could potentially push Bitcoin (BTC) towards $5,000 in the near future.