Ripple (XRP) is once again at a point where it was between July and August last year. The price had found a strong support and was not expected to break below its market structure. However, it happened and XRP/USD declined to its yearly low in September, 2018. That low was followed by a massive rally to the upside which saw XRP/USD run into its trend line resistance next week but faced strong rejection. Afterwards, we saw a retest of the previous support and the price rallied again from there but faced rejection again. In the past few weeks we have seen a retest of the support at $0.28 once again but so far the price has held this support strongly. That being said, XRP/USD has now found a new market structure which has to be broken or maintained in the next few weeks.
The weekly chart for XRP/USD shows that Ripple (XRP) is out of room for further sideways movement. The price has to either break to the downside or to the upside from here on out. One thing is clear, if the price breaks to the upside we will see a gradually return of bullish momentum and XRP/USD will begin its new cycle. However, if the price breaks and closes below the current market structure, we will see the beginning of a new bear trend that could last throughout 2019. This would have devastating repercussions for Ripple (XRP) long term and all the favorable developments we see now such as the Euro Exim Bank's integration of xRapid services in their system will take a measure hit as markets prepare for the worst to come.
In my opinion, this is not an outcome anyone with a minor stake in this $100 billion dollar market would be prepared for because it has the potential to kill it. If it were a trillion dollars market, we could have a stock market styled correction but this is just a $100 billion dollar market cap which is nothing compared to other financial markets. Considering that the last bear trend dragged the market cap from close to a trillion dollars to just $100 billion, it would not be unreasonable to believe that another bear trend could very well kill this market. Considering the profits most of the major stake holders have made in this market and the opportunities that lie ahead, I think it would be a shame if they were to allow that to happen. Lest we forget, a small fraction of the combined $100 billion dollars market cap is actually traded on exchanges.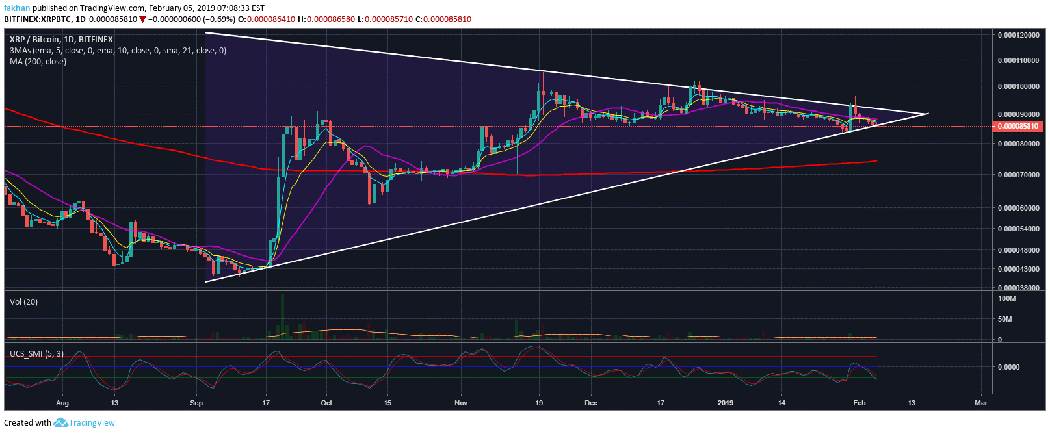 Chart for XRP/BTC (1D)
These are exchanges that have a major role in determining the price of cryptocurrencies like Ripple (XRP). If they cannot protect this tiny market against further declines just to save their own businesses, then maybe this market deserves to die its own death. However, considering that big players like NYSE, TD Ameritrade and Fidelity are about to get into the market while others like Google, Microsoft and Amazon are already working on their own technologies behind the scenes, it would be unreasonable to expect that the market makers would push this market to a point from where a recovery would be impossible. Now that major players on Wall Street realize that cryptocurrencies like Ripple (XRP) are here to stay, it is obvious to expect that they are going to put up a fight so they can fill their bags.
This is no different than when Wall Street hears about a new promising stock. Before Wall Street hears of it, you see it rising on retail interest but then all of a sudden it is pulled to the ground and the mainstream investor gives up thinking it was a scam or the stock is dead only to find it surging a few months after with institutional investors onboard. I think what we see with Ripple (XRP) at the moment is exactly like that. Similarities have deliberately been created with the help of bots and algorithms to instill fear in the minds of retail traders and investors who panic when they see that if the market structure had been broken before, it could break again. That may still happen, but just when all the people start betting on the same outcome, it is time to expect the opposite.