Stellar (XLM) has reached the far end of the falling wedge it has been trading in. This is a rare sight to see in cryptocurrencies but when the market is down and sentiment against a particular coin is this negative, anything is possible. All hope of a recovery around November, 2018 was lost when the price plunged below the 50 Day MA. As long as XLM/USD remains below the 50 Day MA, there is no hope for any bullish setup. That being said, as the overall market recovers, we will see that the gap between the 50 Day MA and 200 Day MA on Stellar (XLM) is a lot wider than the ones seen on most other large cap coins. This means that Stellar (XLM) has more room to run compared to other top ten cryptocurrencies.
As the bear market draws to an end, smart money is busy accumulating top performing coins. Stellar (XLM) is one of them and as we have seen in the past, it performs much like Ripple (XRP) in terms of growth. The difference is that it is a more 'decentralized' cryptocurrency than Ripple (XRP) which means it is not interested in protecting the banking status quo and wants to revolutionize it. Ripple (XRP) on the other hand wants to help the banks put up a fight to maintain their status quo. This makes XLM/USD and XRP/USD good hedges against one another for investors that are in it for the long haul. Besides, the simple game where people just put money in any crypto of their choice and the market starts surging higher along with their favorite crypto cannot last for long.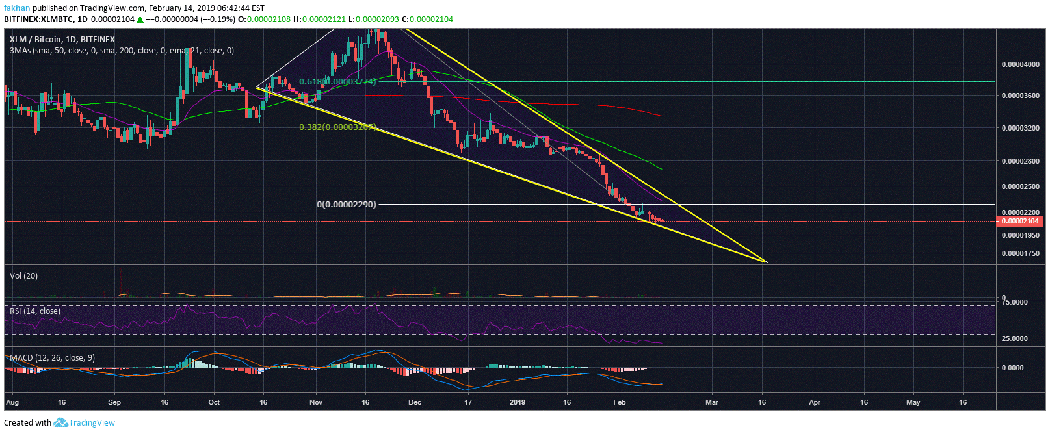 There was a time during the dot com boom when people could have bought anything and made a lot of money. However, there came a time when that approach no longer worked. Anything with a dot com in front of it did not necessarily have to succeed and people realized that. Those that did not, had to pay for the lesson in due time. In the cryptocurrency market, we have seen that a lot of new coins made a lot of gains during the previous bull runs. However, when things got tough and we entered a bear market, a lot of those projects went belly up. Some declared bankruptcies, others lost too much funds and couldn't operate anymore so they quit.
The daily chart for XLM/BTC shows that Stellar (XLM) is also trading in a falling wedge against Bitcoin (BTC) and is expected to correct to the upside any time now. The RSI is in oversold territory and the MACD crossover indicates a near term shift from bearish to bullish momentum. It is thus obvious that Stellar (XLM) has a lot of room to run against other large coins short term. However, considering that Stellar (XLM) wants to empower the end user to be in charge of their finances without having to rely on a middleman, there is a high probability that Stellar (XLM) might eventually beat Ripple (XRP) at this game and come out on top. Yahoo was a lot bigger than Google and had a larger customer base but we all know how that turned out in the end.